Chapter 3 Season 3 Battle Pass: Complete Overview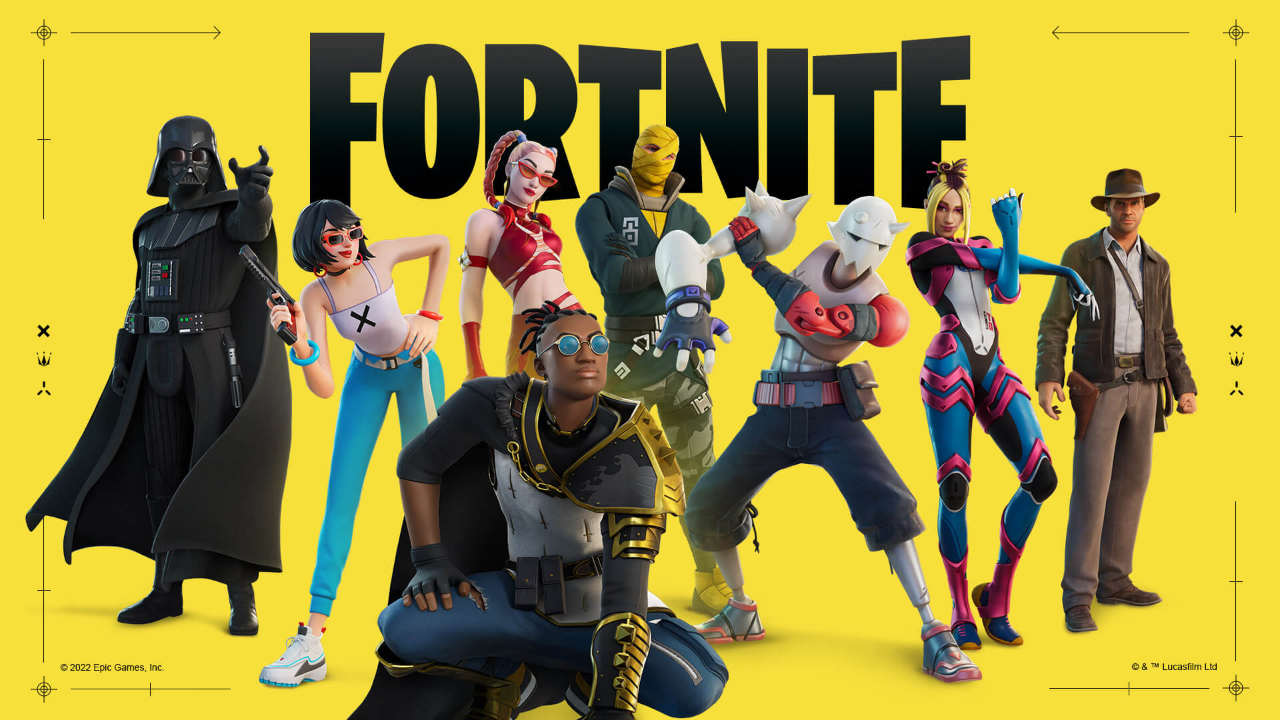 Fortnite Chapter 3 Season 3 has been released! Here's a complete overview of everything players can unlock in the new Battle Pass.
Page 1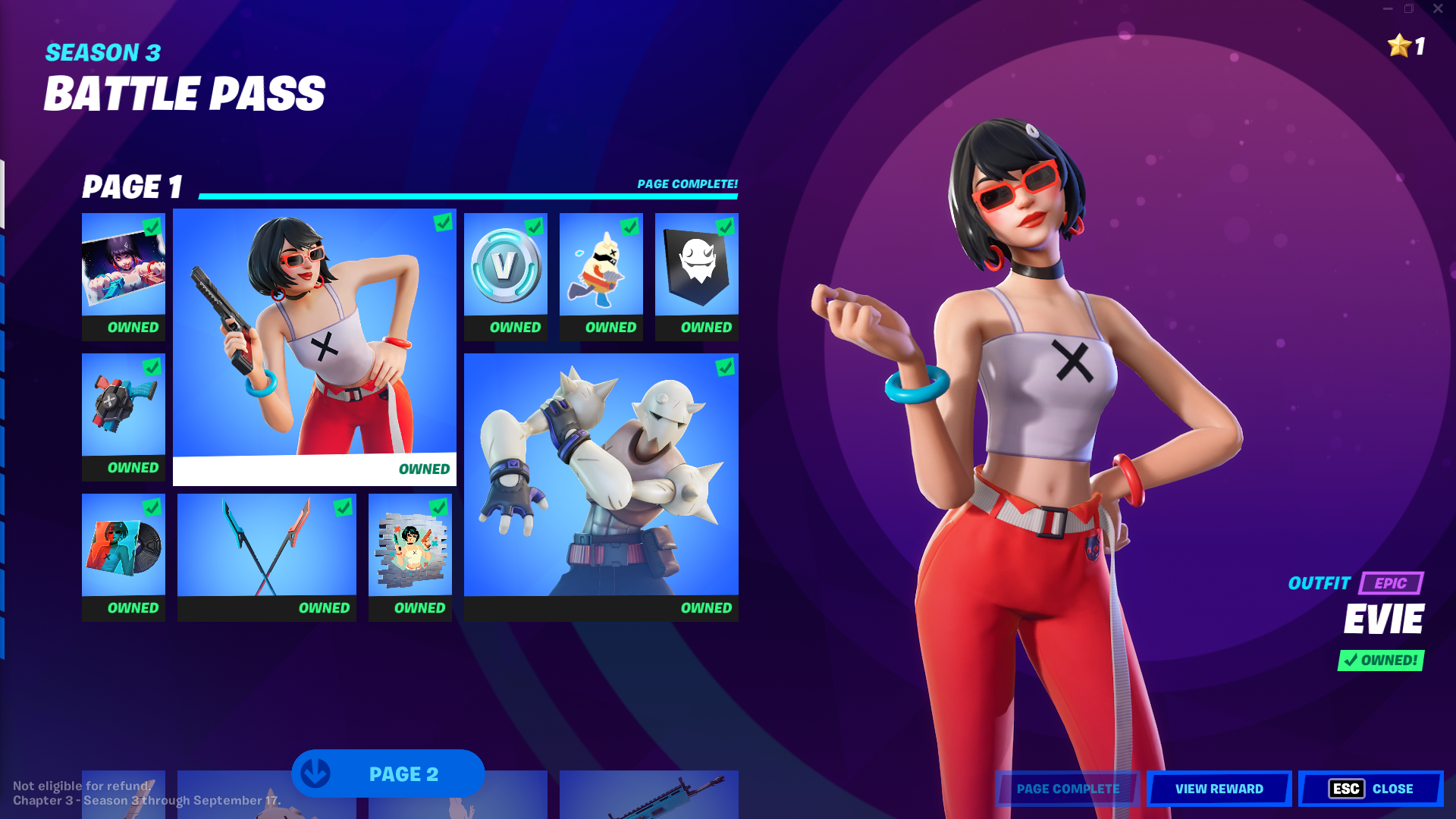 Evie Outfit
Double Shot Loading Screen
Twin Crossfire Back Bling
The Syndicate Music Pack
100 V-Bucks
Pairing Blades Pickaxe
Syndicate Strike Spray
Snap Outfit
Runaway Emoticon
Snap Banner Icon
Page 2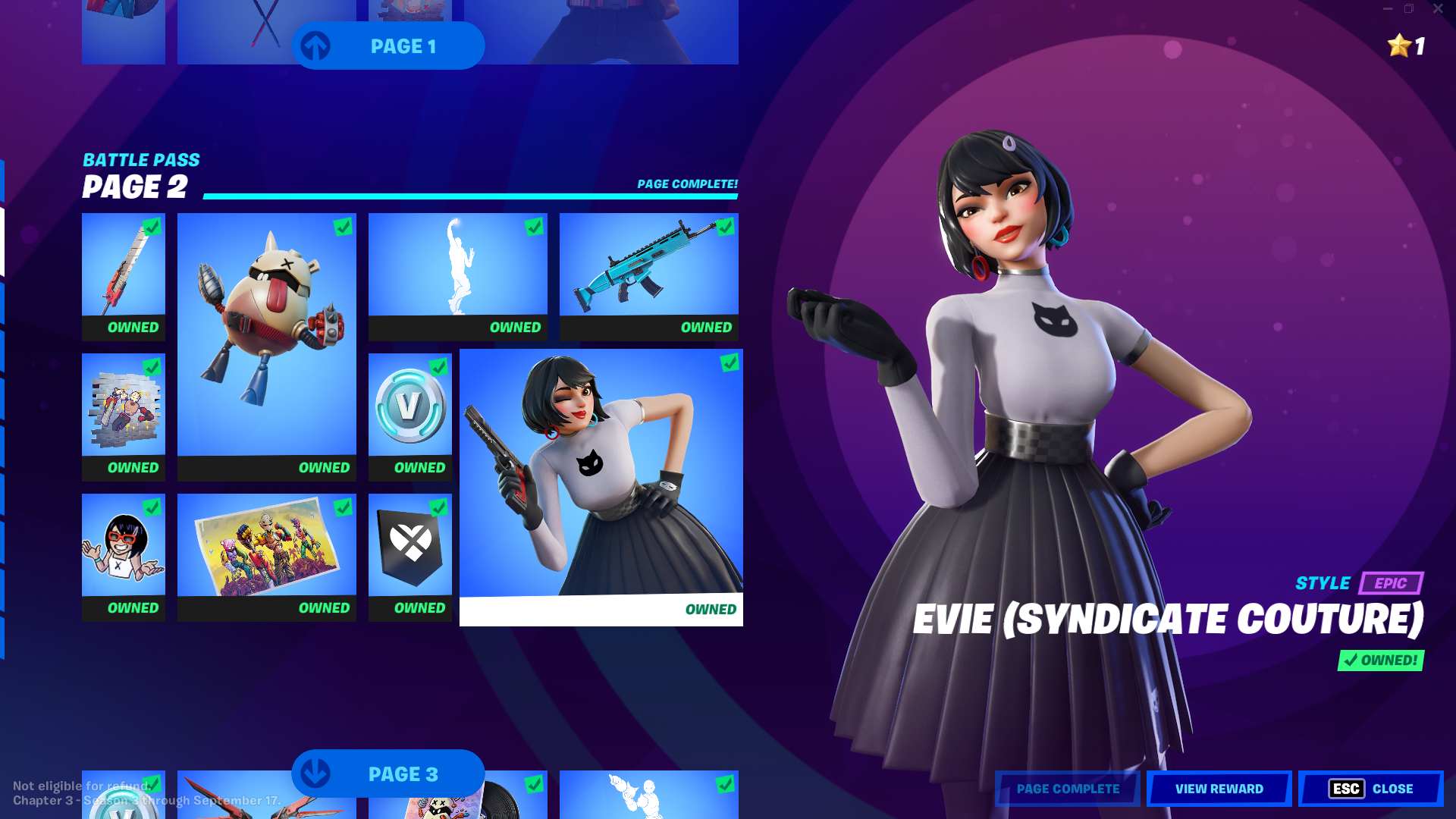 Evie (Syndicate Couture) Style
Tover Back Bling
Utility Claymore Pickaxe
Battle Mode Spray
100 V-Bucks
Eh? Emoticon
Match Up Loading Screen
Evia Banner Icon
Blowin' Up Emote
The Balance of Two Wrap
Page 3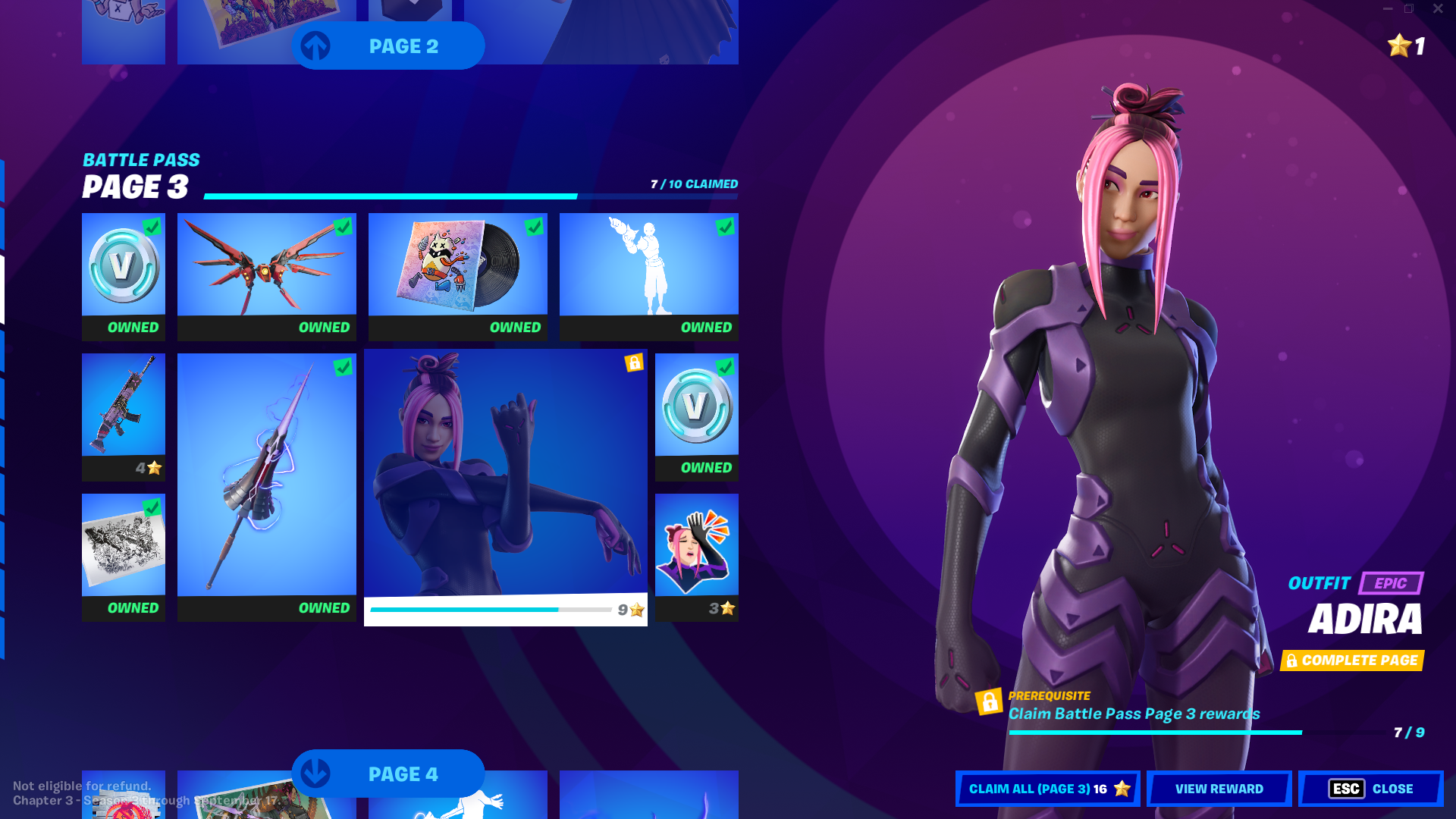 Adira Outfit
100 V-Bucks
Adira's Armor Wrap
Last Stop! Loading Screen
Dragon Rune Lance Pickaxe
Articulated Blade Wing Glider
Pop It Music Pack
Arm-y Guy Emote
100 V-Bucks
Ugh! Emoticon
Page 4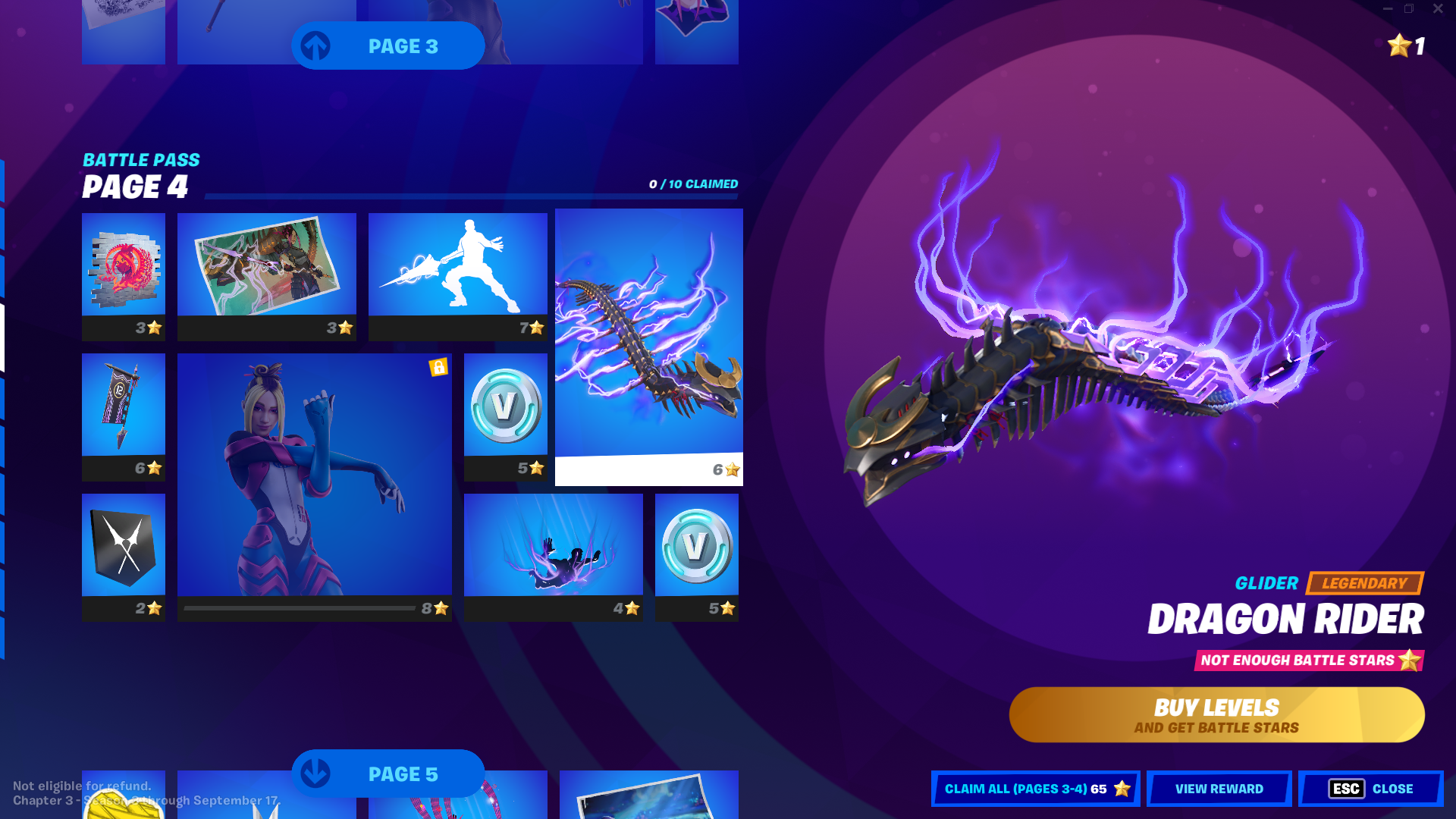 Dragon Rider Glider
100 V-Bucks
Falling Fate Contrail
Adira (Infiltrator) Style
Adira Banner Icon
Aidra's Battle Flag Back Bling
100 V-Bucks
Dragon Spirit Spray
Adira and The Dragon Loading Screen
Lance Dance Emote
Page 5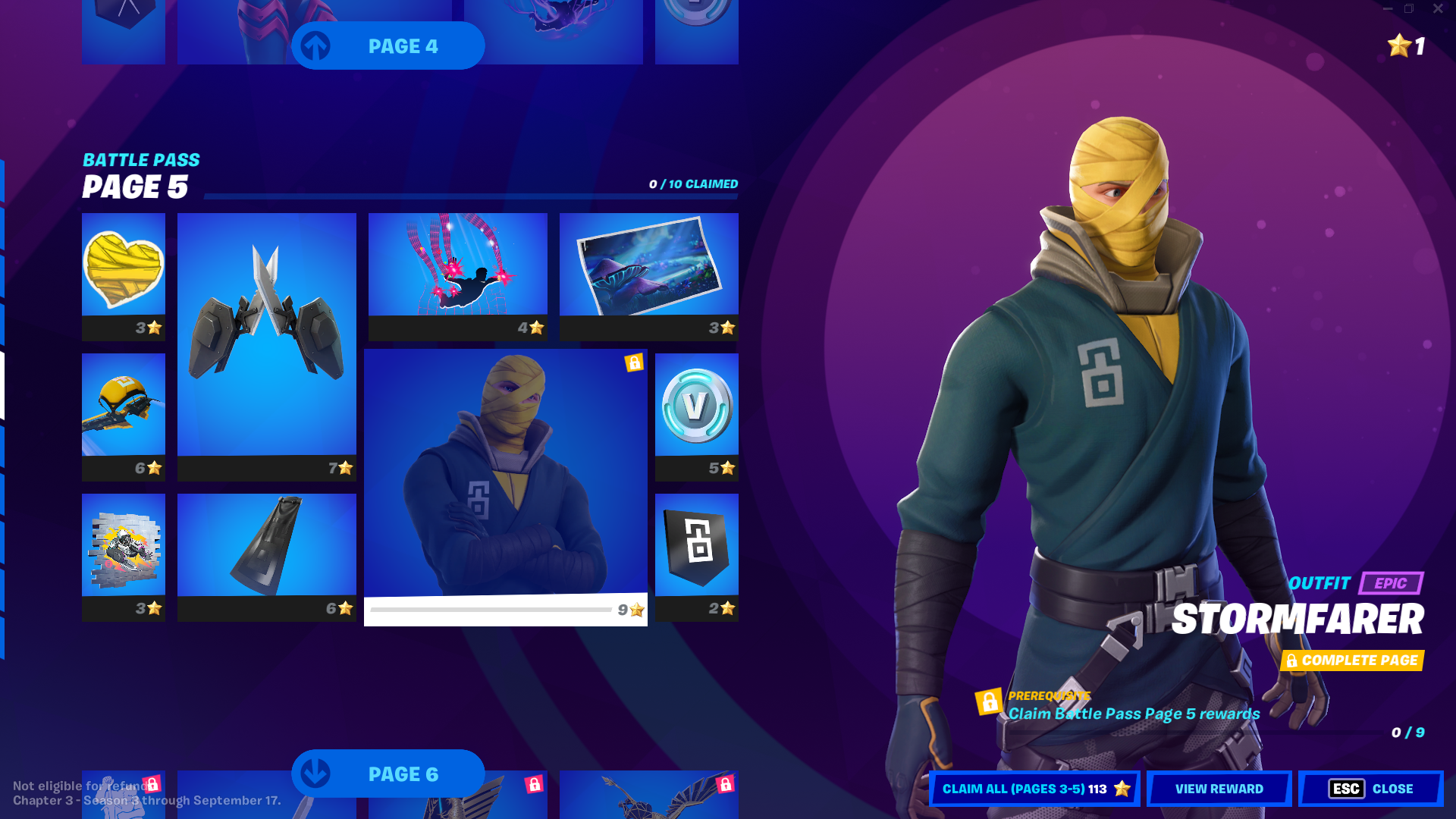 Stormfarer Outfit
Wrapped With Love Emoticon
Stormshielder Blades Pickaxe
The Stormfarer's Cloack Back Bling
Storm Crash Glider
Stormfarer Strike Spray
100 V-Bucks
Stormfarer Banner Icon
Niteshroom Valley Loading Screen
Glitz Grid Contrail
Page 6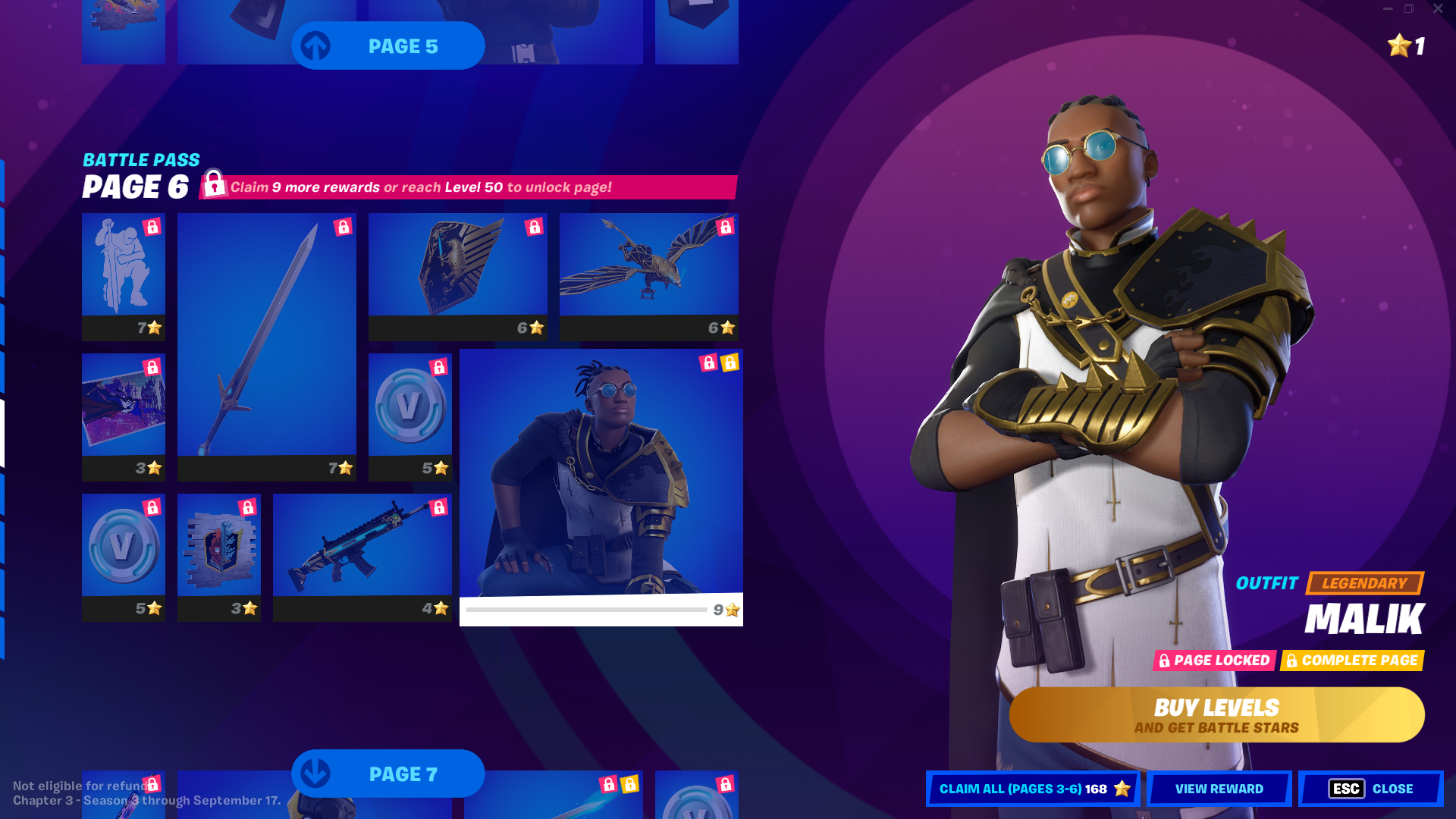 Malik Outfit
100 V-Bucks
The King's Oath Pickaxe
It Is Finished Emote
The King's Charge Loading Screen
Malik's Sigil Spray
100 V-Bucks
Sovereign Griffin Glider
Griffin's Talon Back Bling
Malik's Honor Wrap
Page 7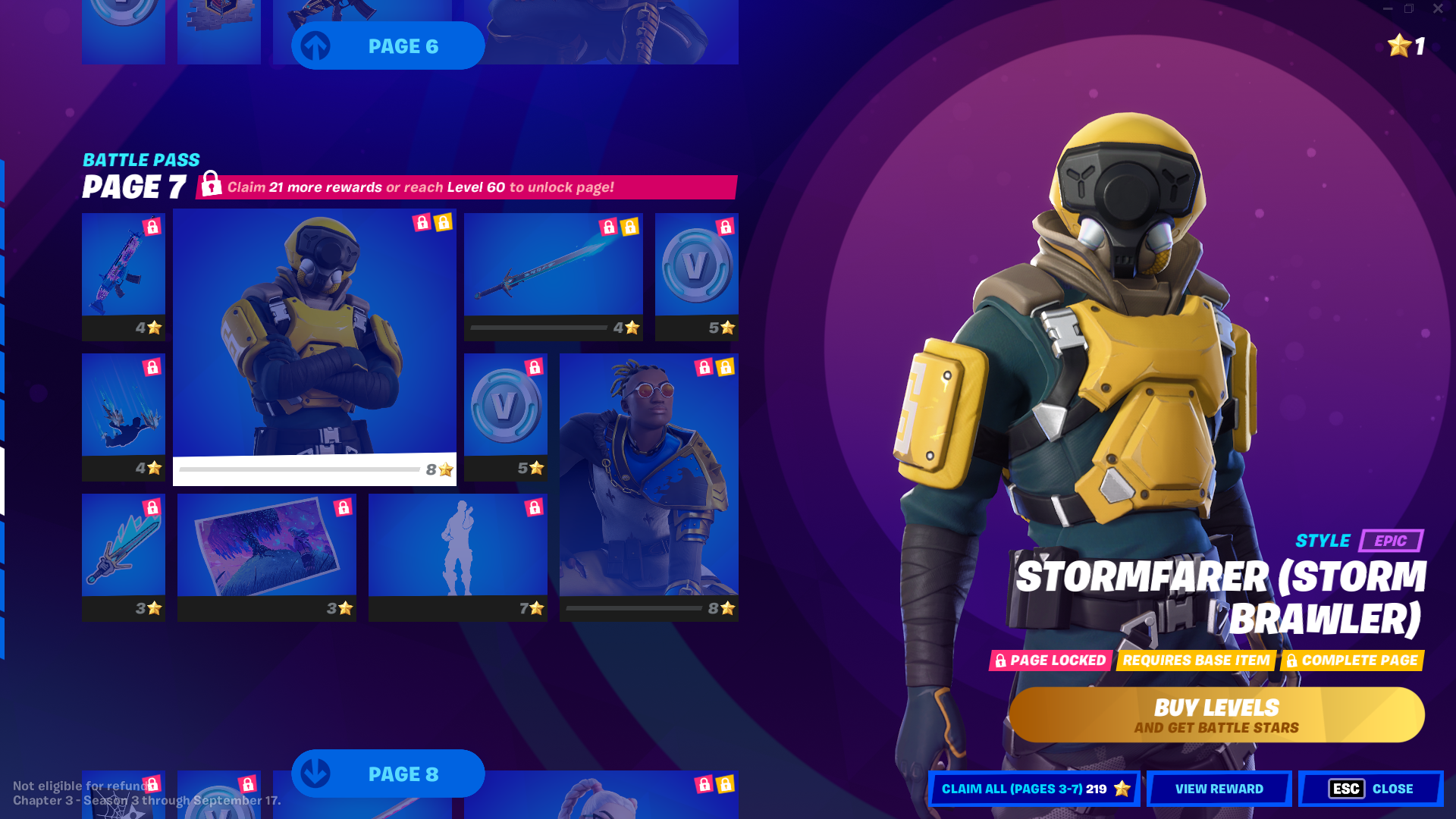 Stormfarer (Storm Brawler) Style
100 V-Bucks
The King's Oath (Blazing Oath) Style
Daisies Wrap
Exalted Skies Contrail
Charge! Emoticon
The Tree Loading Screen
Steady Emote
Malik (Exalted) Style
100 V-Bucks
Page 8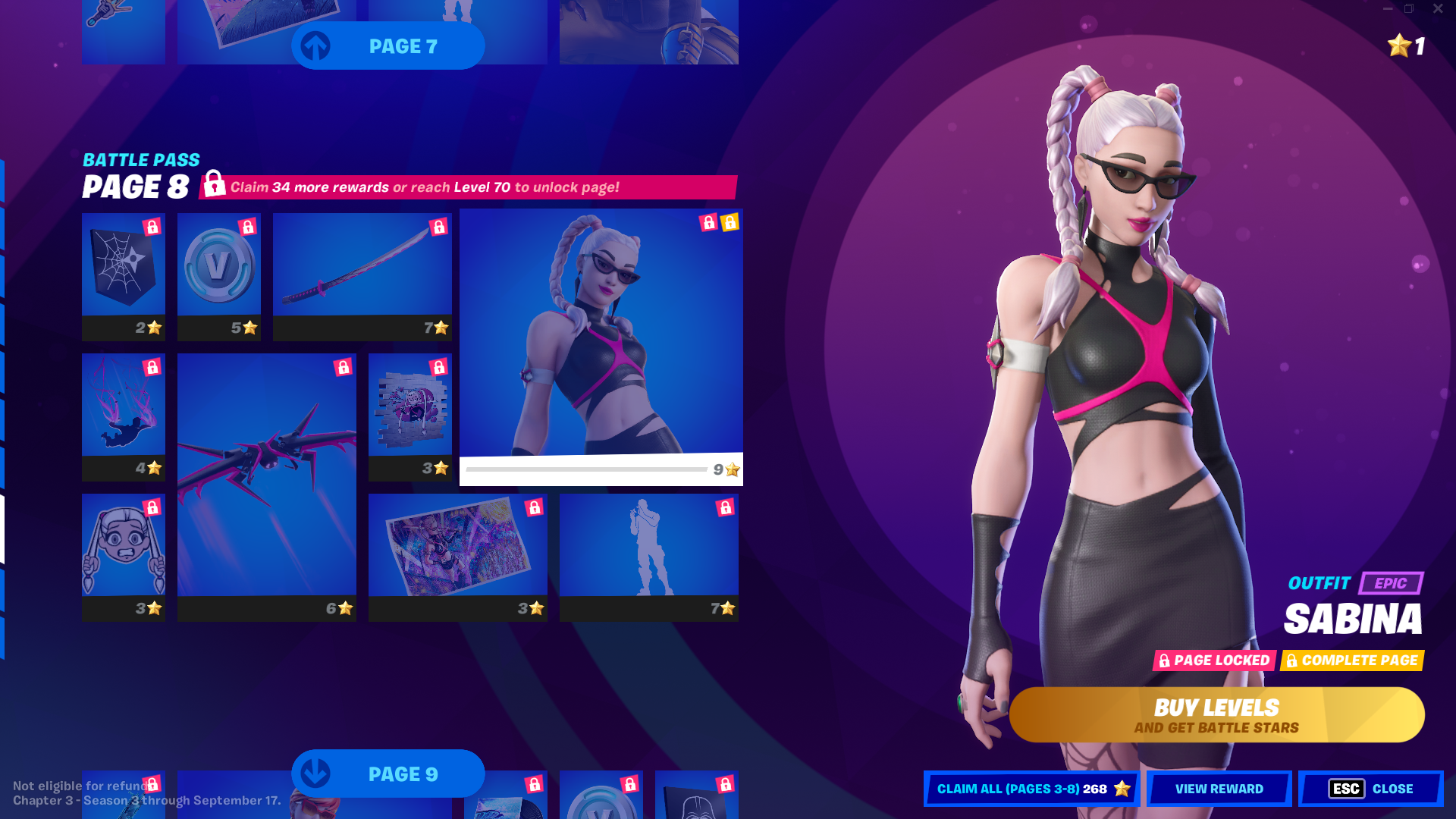 Sabina Outfit
100 V-Bucks
Shrunken Spinner Emote
Party Crasher Loading Screen
You're Next Spray
Wind Crawler Glider
Widow's Promise Pickaxe
Distressed! Emoticon
Gossamer Shine Contrail
Sabina Banner Icon
Page 9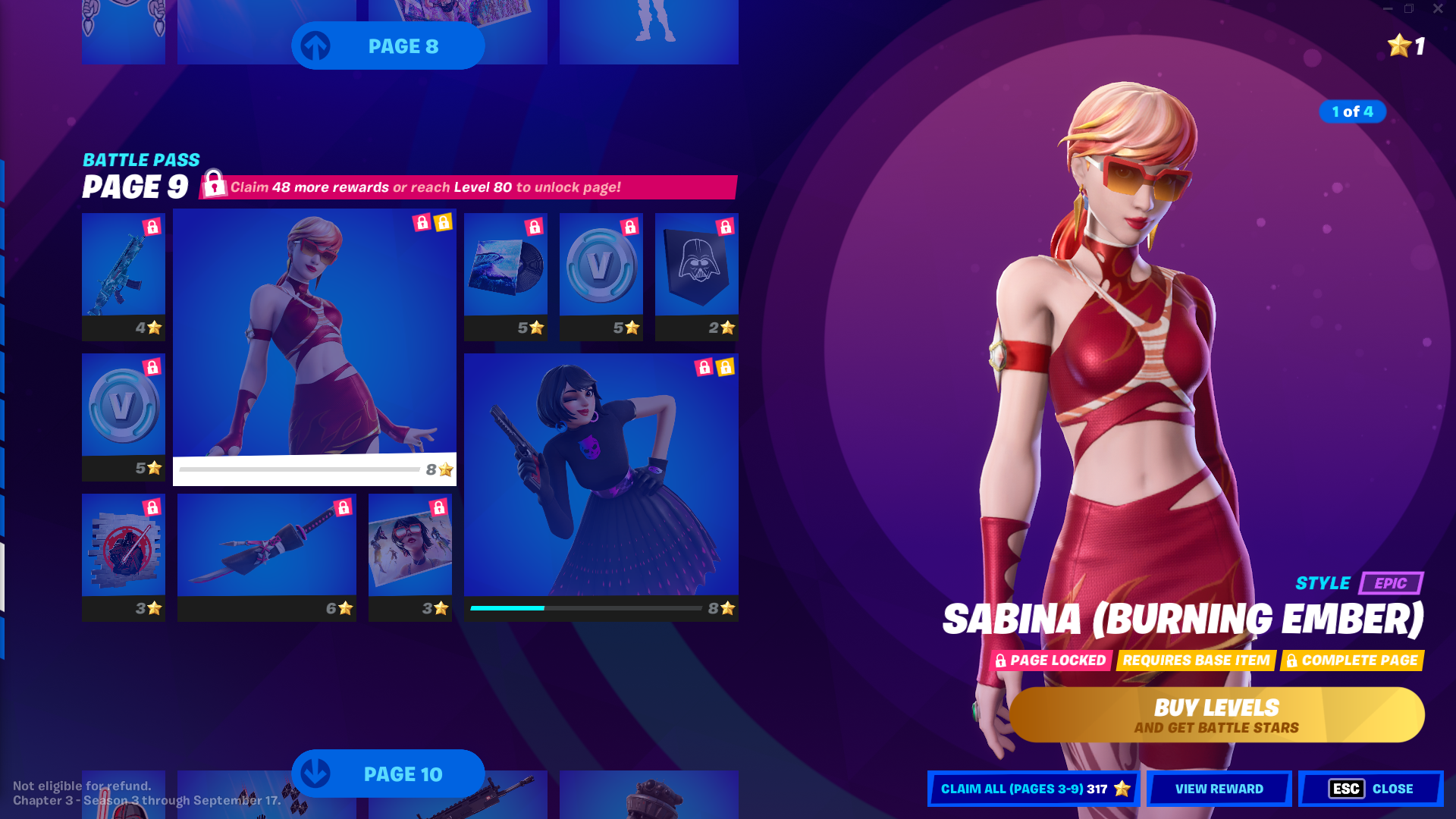 Sabina (Burning Ember) Style
100 V-Bucks
Polished Stone Wrap
Lord Vader Spray
Widow's Promise Back Bling
We're Vibin' Now Loading Screen
Evia (Neon Couture) Style
Darth Vader Banner Icon
Long Ride Home Music Pack
100 V-Bucks
Page 10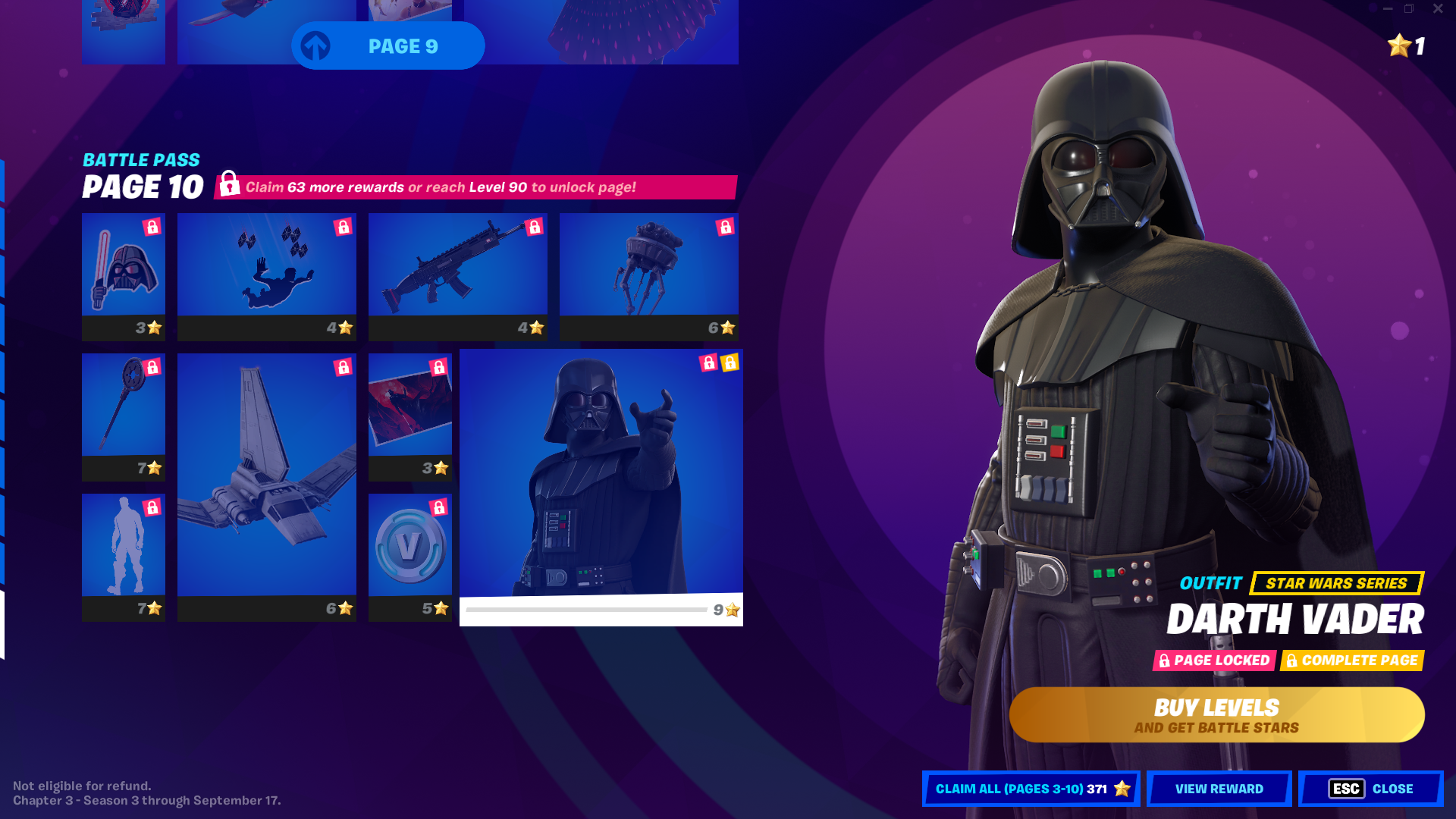 Darth Vader Outfit
100 V-Bucks
Lambda-Class Shuttle Glider
Imperial March Emote
Sigil of The Empire
The Squadron Contrail
Vader's Saber Emoticon
Darth Shader Wrap
Sith Ascension Loading Screen
Viper Probe Droid Back Bling
---
What do you think of the Chapter 3, Season 3 Battle Pass? Let us know by reacting below!
Follow us on Twitter (@FortniteBR) and Instagram (@FortniteBR) to keep up with the latest Fortnite news, leaks and more.