Chapter 4 Season 2 Battle Pass: Complete Overview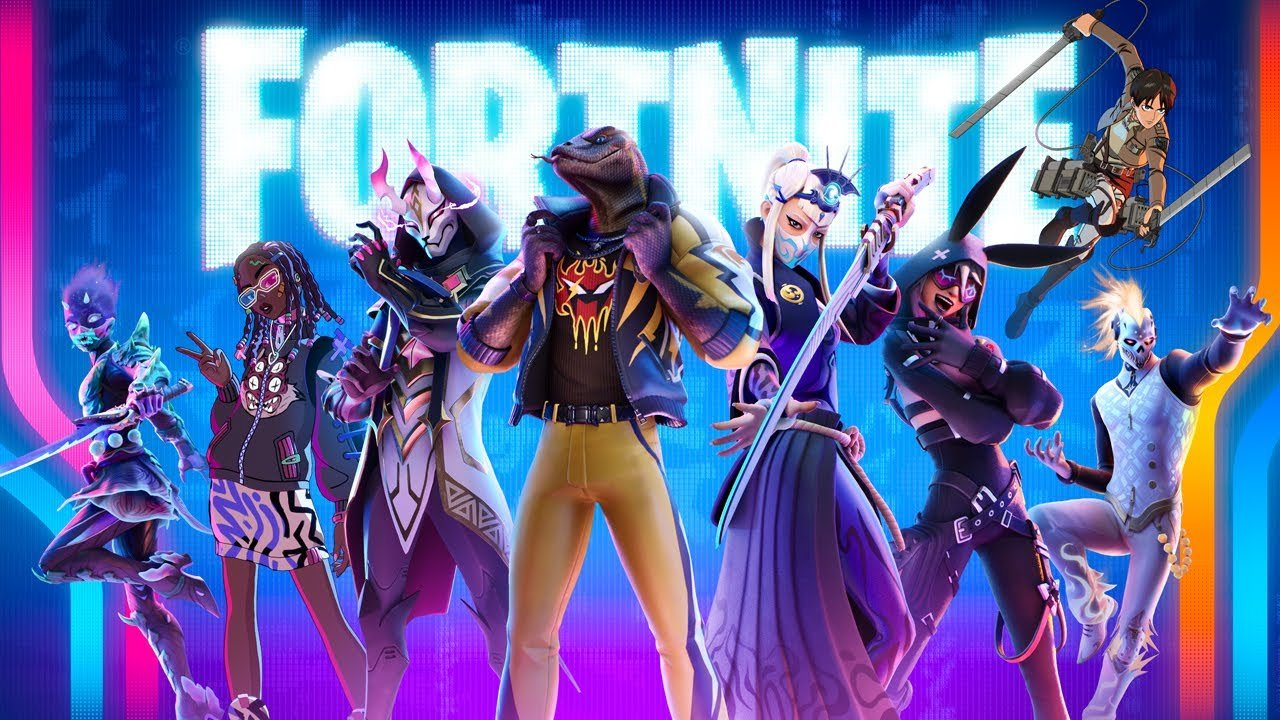 Fortnite Chapter 4 Season 2 has been released! Here's a complete overview of every cosmetic included in the new Battle Pass.
Page 1
Renzo The Destroyer Loading Screen
100 V-Bucks
Banner Icon
The Destroyer's Destroyer Pickaxe
Swag Shot Emote
Destroyer Signature Wrap
Jaw Off Emoticon
Nemisis Box Back Bling
Renzo The Destroyer Outfit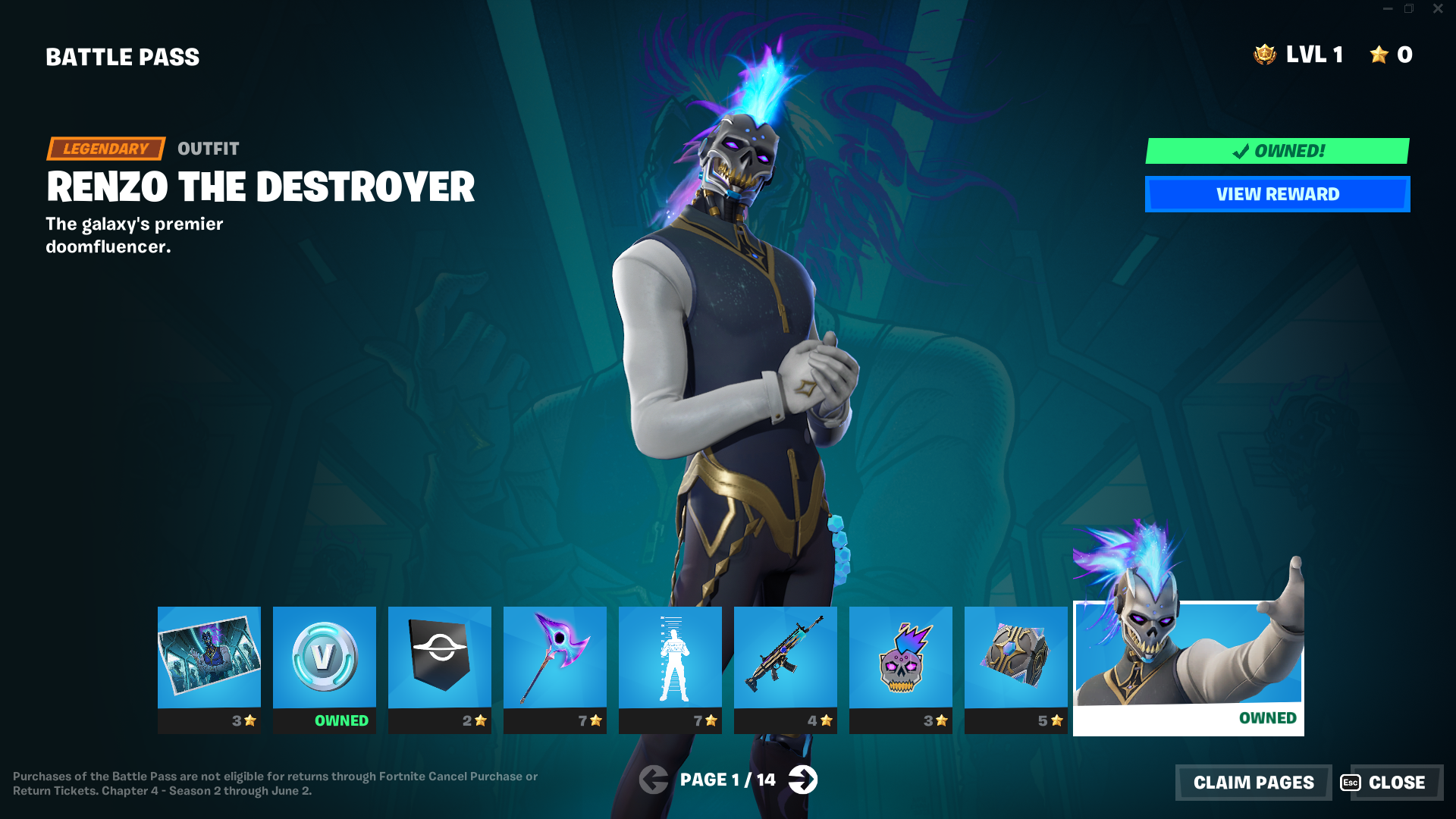 Page 2
Renzo The Magnificent Loading Screen
Starry Sockets Spray
Skull-a-Tron Glider
100 V-Bucks
Nemesis Box Style
Renzo Velocity Contrail
Renzo The Magnificent Style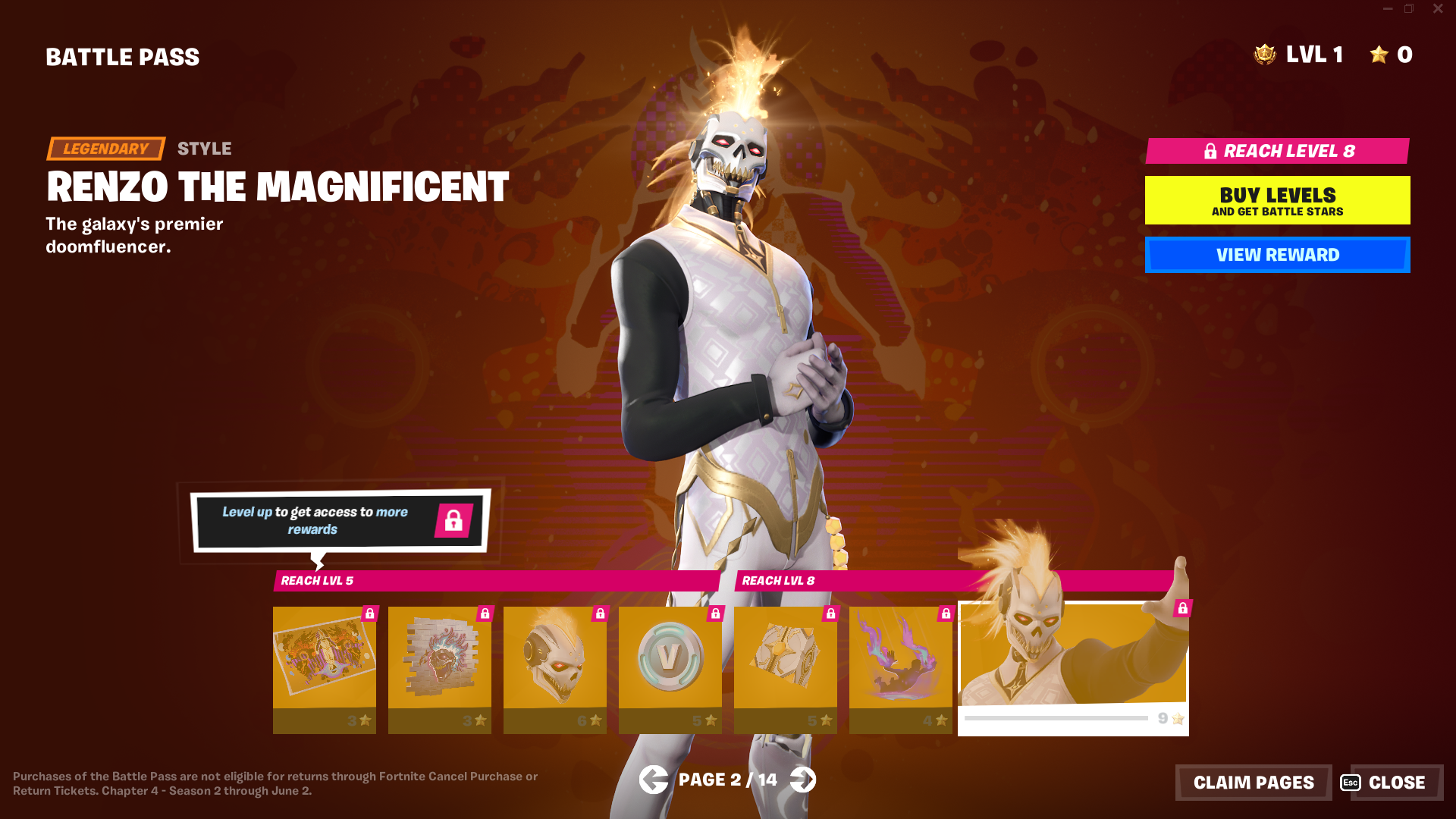 Page 3
Imani Loading Screen
Banner Icon
Vicious Vintage Pickaxe
100 V-Bucks
Needle Dropper Glider
All-Nighter Wrap
Imani Outfit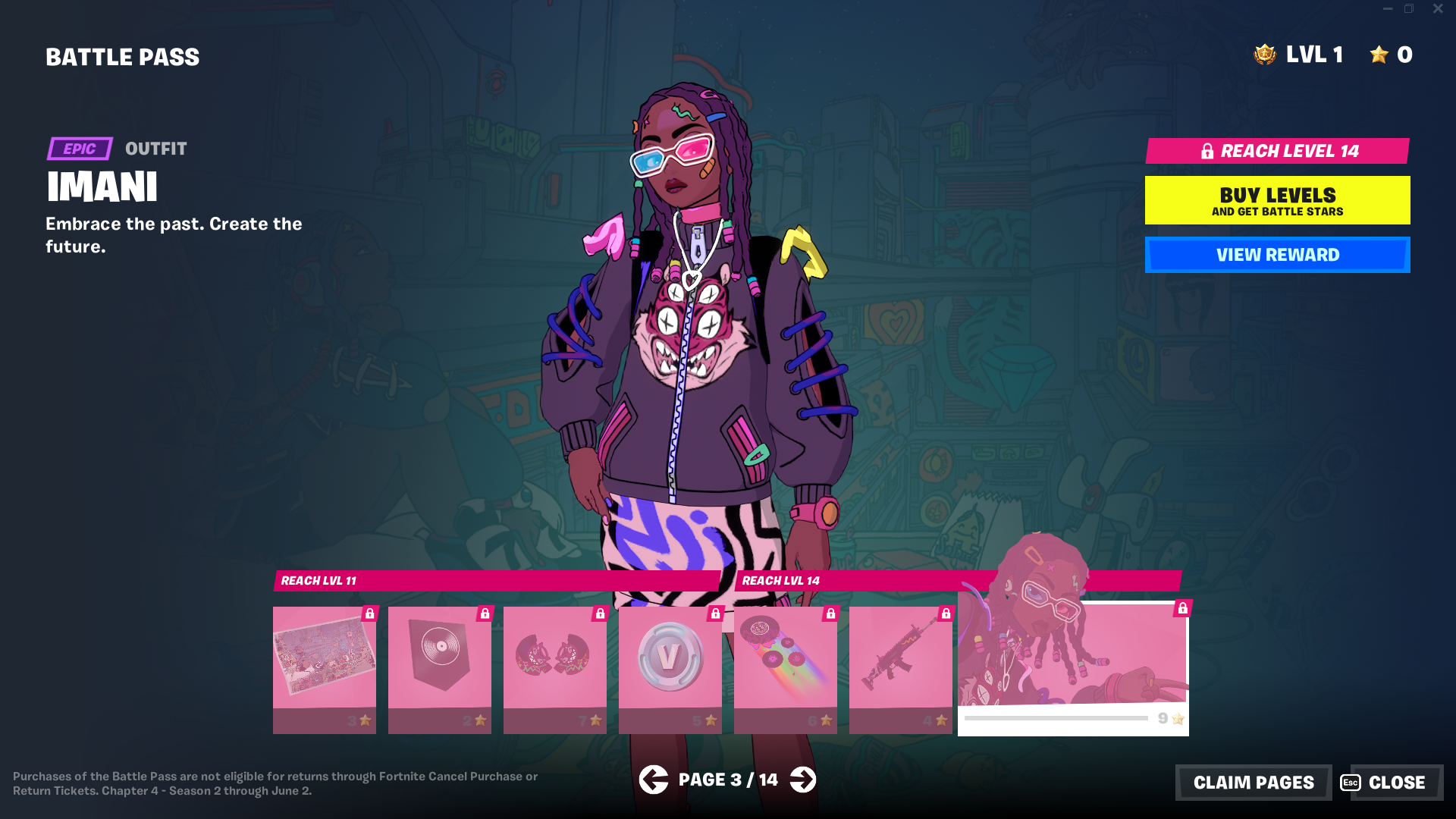 Page 4
Future-fi Imani Loading Screen
Acrade Cat Spray
100 V-Bucks
Expressionism Emote
Future Dreams Music Pack
The Boom Back Bling
Future-fi Imani Style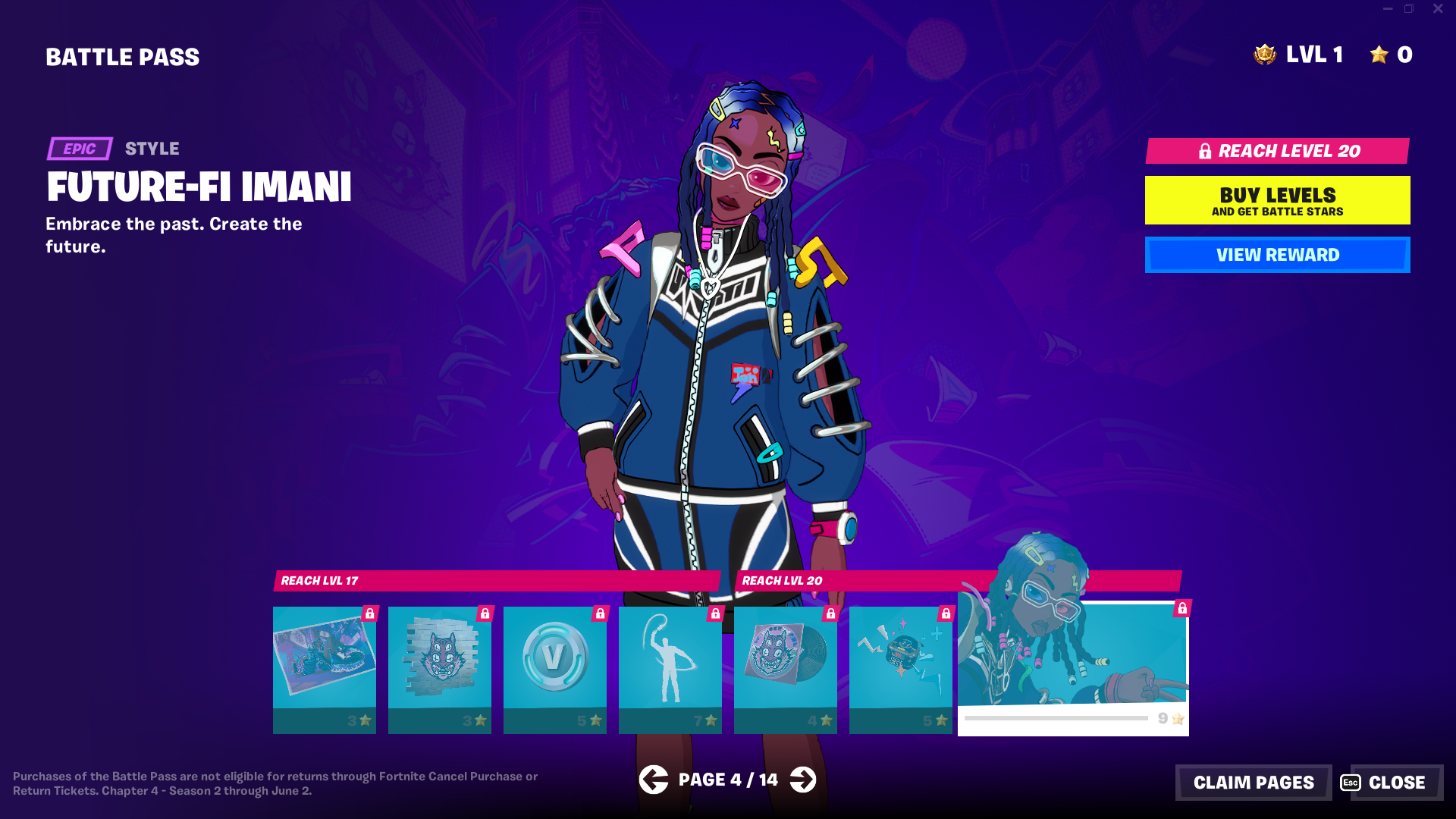 Page 5
Thunder Loading Screen
Monstrous Hunger Spray
Kaiju Cutter Pickaxe
Thunder Bowl Emoticon
Stormcloud Glider
100 V-Bucks
Thunder Outfit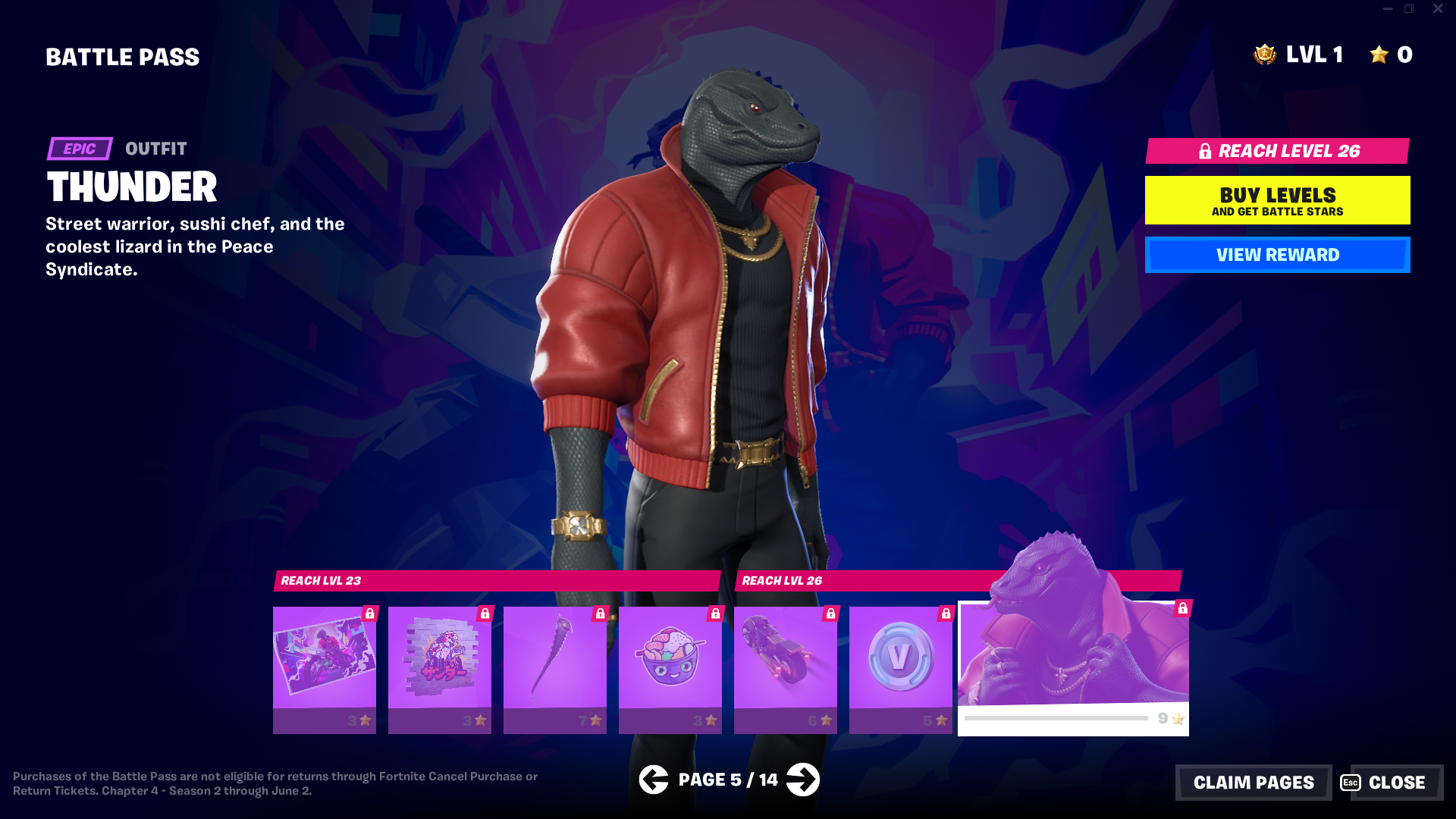 Page 6
Midnight Snack Thunder Loading Screen
Sushi Sign Back Bling
100 V-Bucks
Chef's Special Emote
Gila Classic Wrap
Thunder Roll Music Pack
Midnight Snack Thunder Style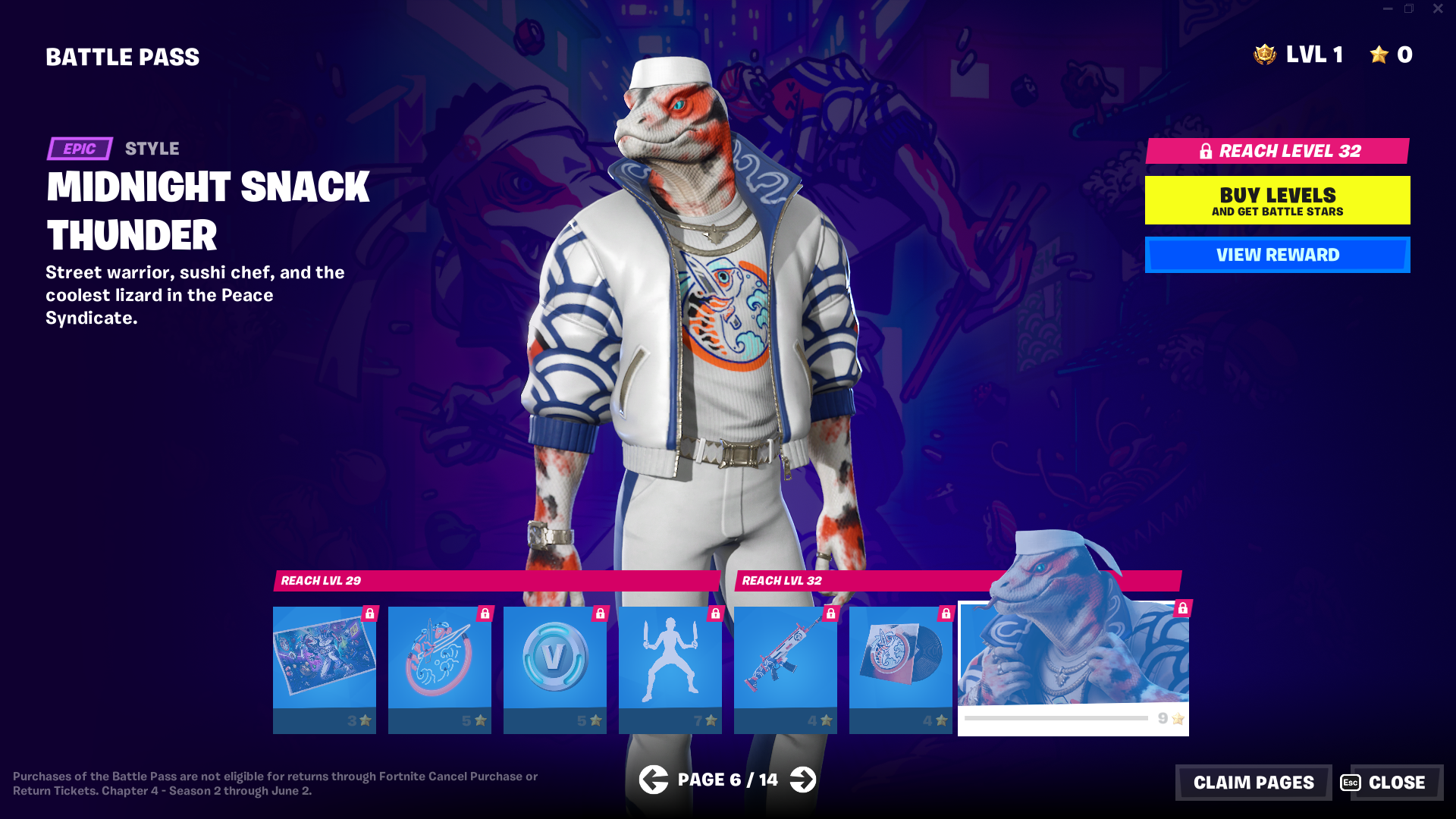 Page 7
Mystica Loading Screen
Oni Teeth Emoticon
The Ashglow Blade Pickaxe
100 V-Bucks
Remnant Blossom Back Bling
Lost Meteor Glider
Mystica Outfit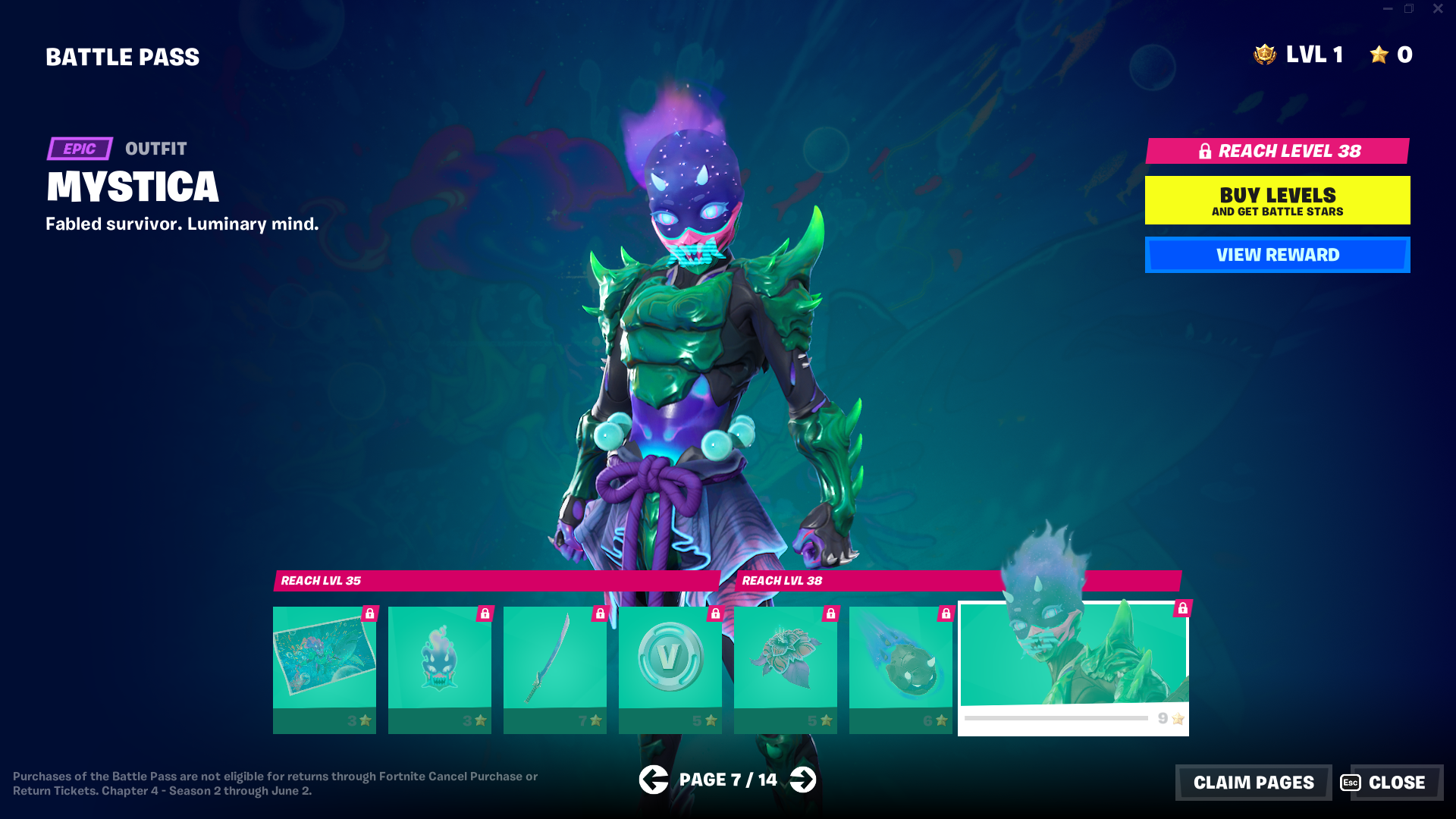 Page 8
Crimsonbloom Mystica Loading Screen
100 V-Bucks
Meteor Shower Contrail
Horizon's Call Wrap
The Ashglow Blade Pickaxe
Banner Icon
Crimsonbloom Mystica Style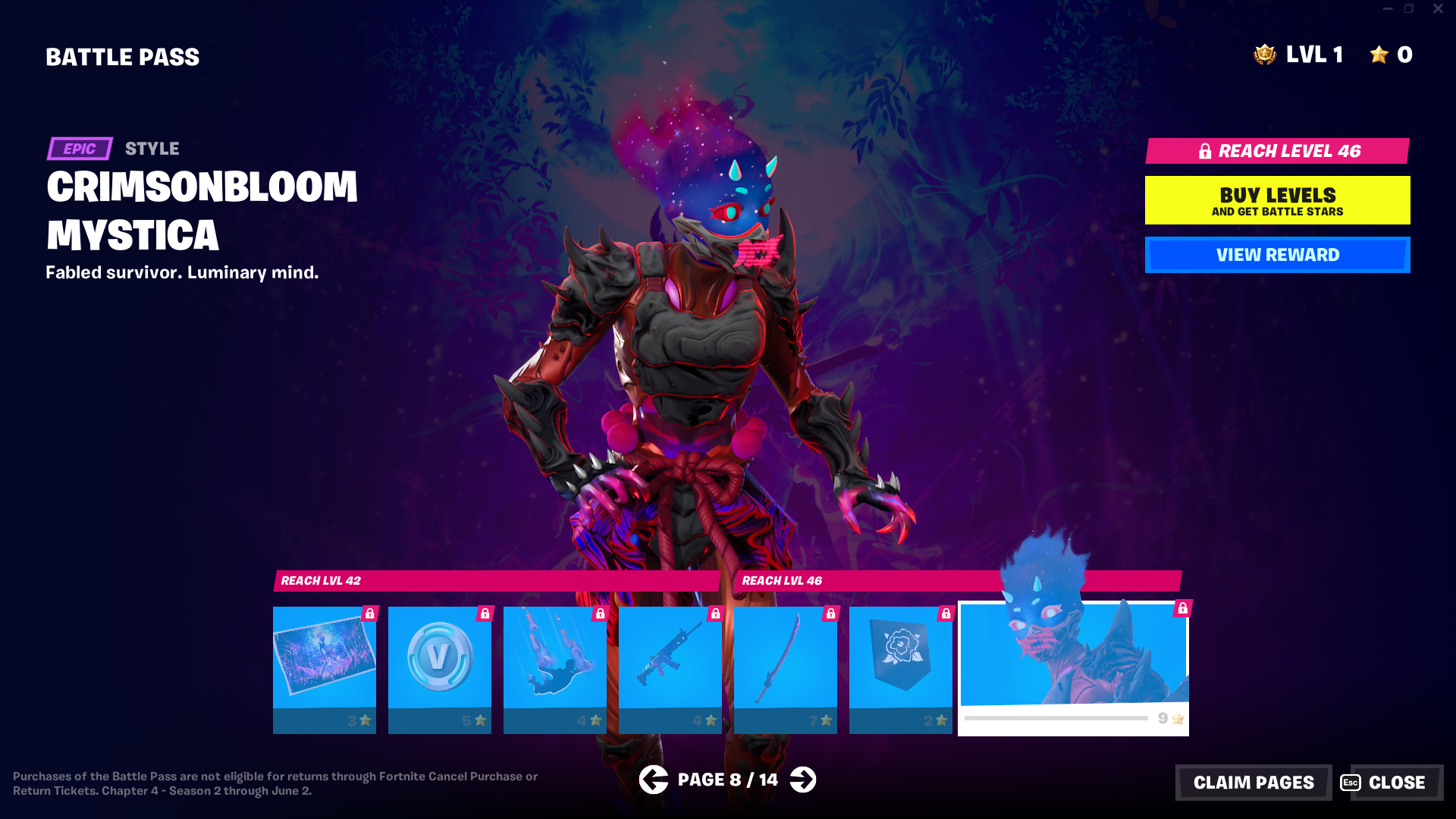 Page 9
Stray Loading Screen
Fox Wayfinder Back Bling
Stray Fox Wrap
100 V-Bucks
Stray's Side Eye Spray
Skycarver Glider
Stray Outfit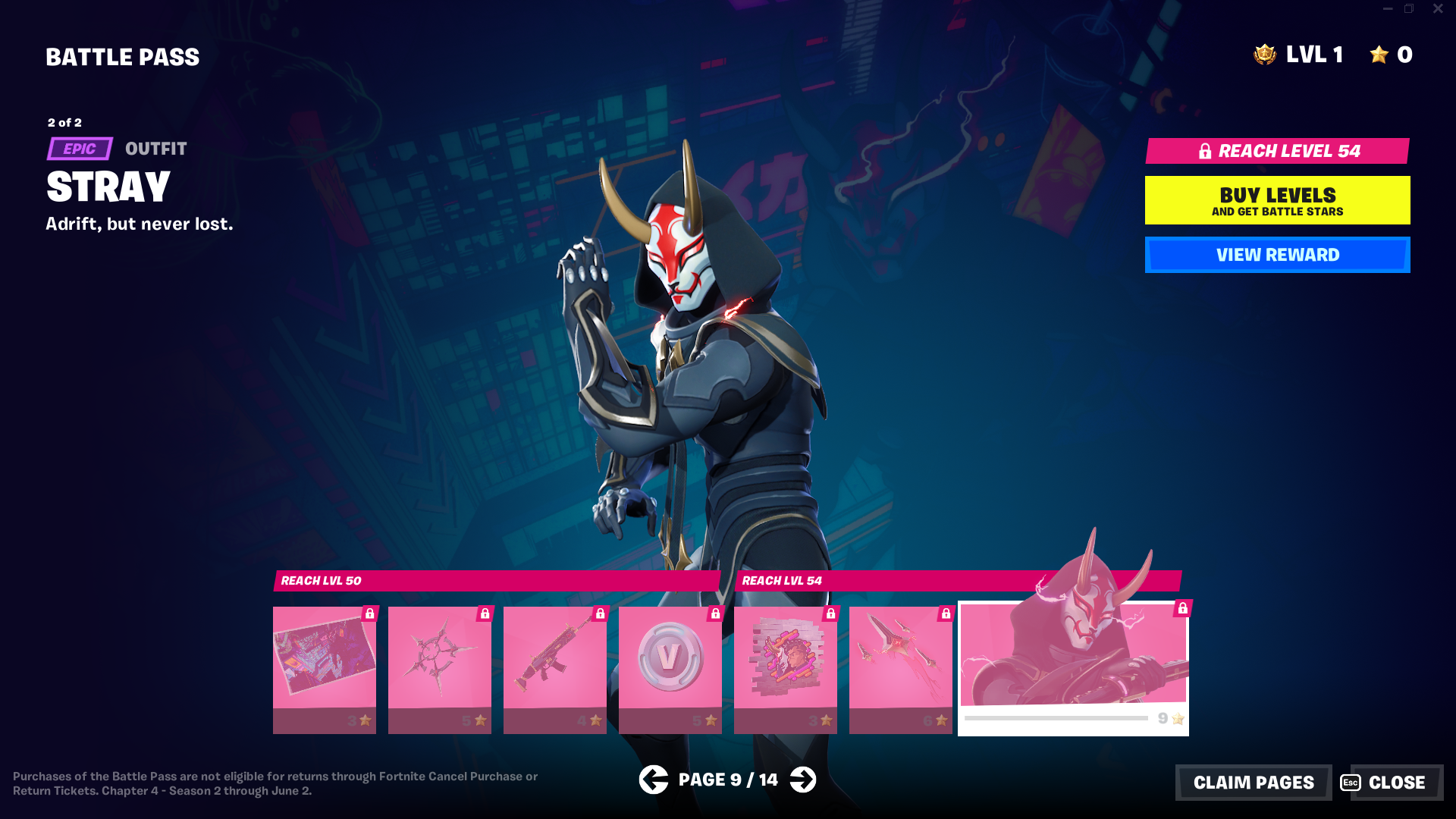 Page 10
Renegade Stray Loading Screen
Standing Bow Emote
100 V-Bucks
Banner Icon
100 V-Bucks
Foxfire Edge Pickaxe
Renegade Stray Style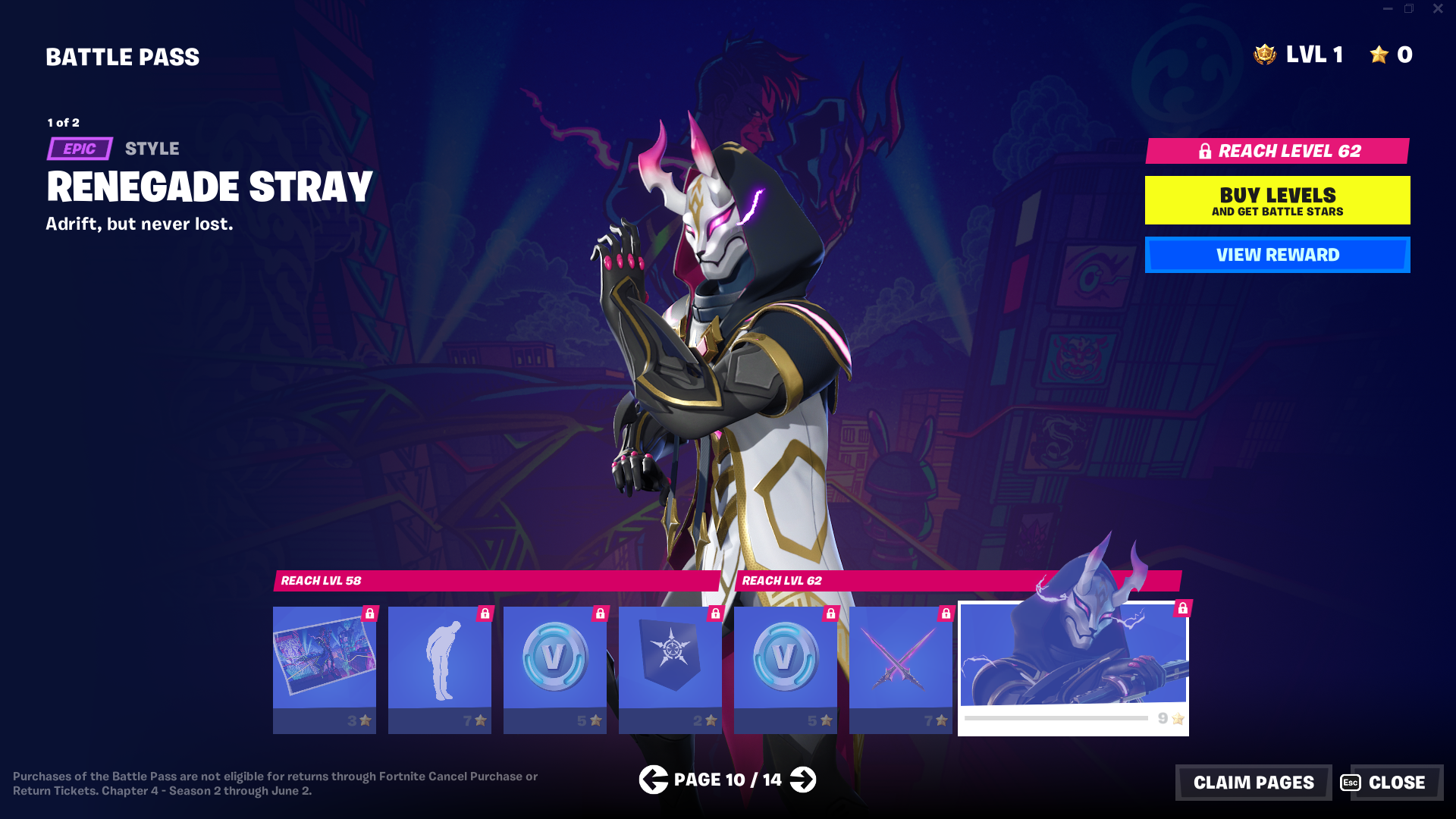 Style 11
Highwire Loading Screen
Highwire Hop Spray
100 V-Bucks
Neon Menagerie Back Bling
Vital Music Pack
Plasmacore Claws Pickaxe
Highwire Outfit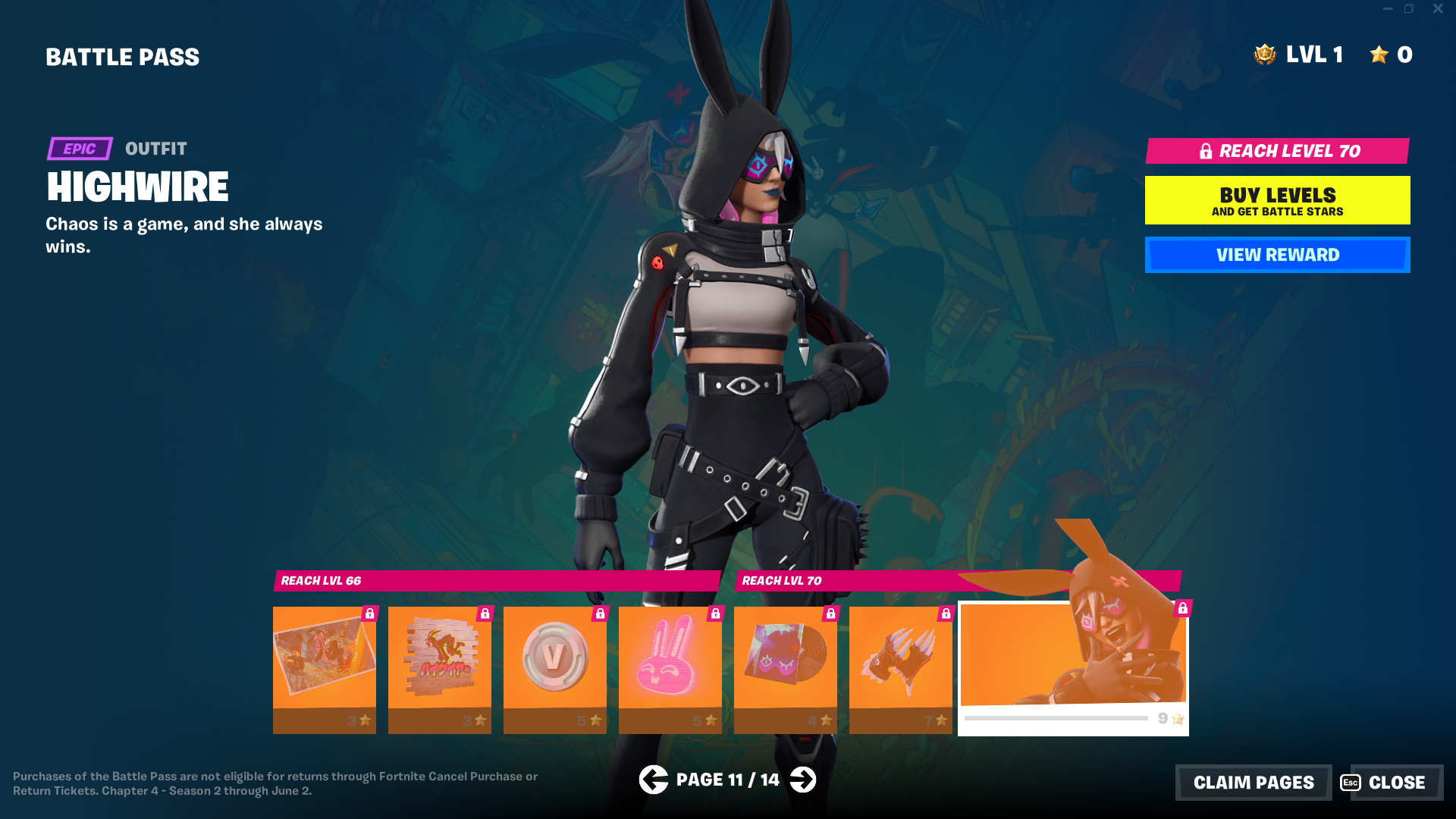 Page 12
Pack Leader Highwire Loading Screen
Highwire Skymark Contrail
Scowl Skull Emoticon
Unseen Airdrifter Glider
Neon Menagerie Style
100 V-Bucks
Pack Leader Highwire Style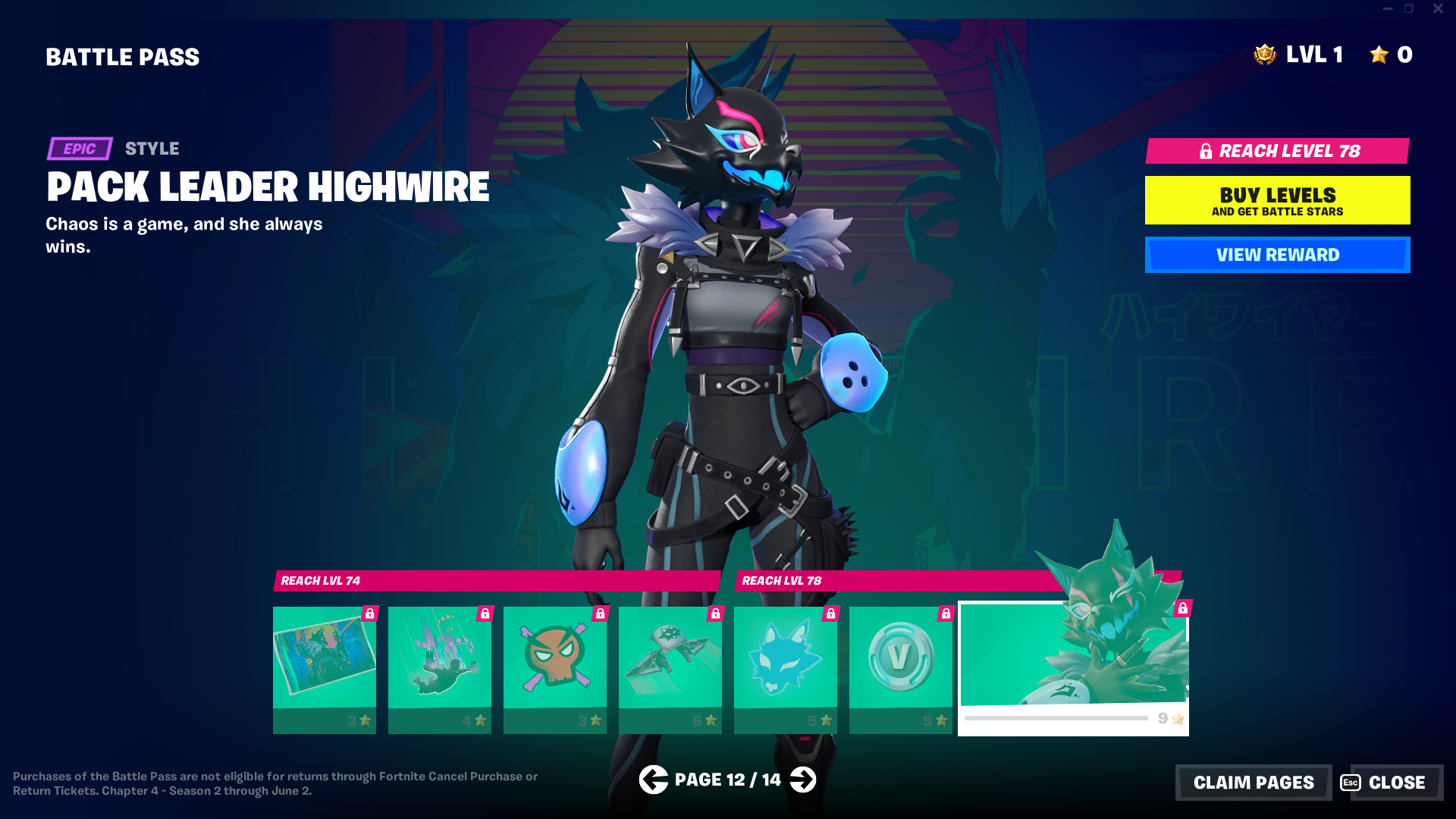 Page 13
River Empress Mizuki Loading Screen
Flood Wrap
River Guardian Back Bling
100 V-Bucks
Fan Attack Spray
Breaking Waves Pickaxe
River Empress Mizuki Style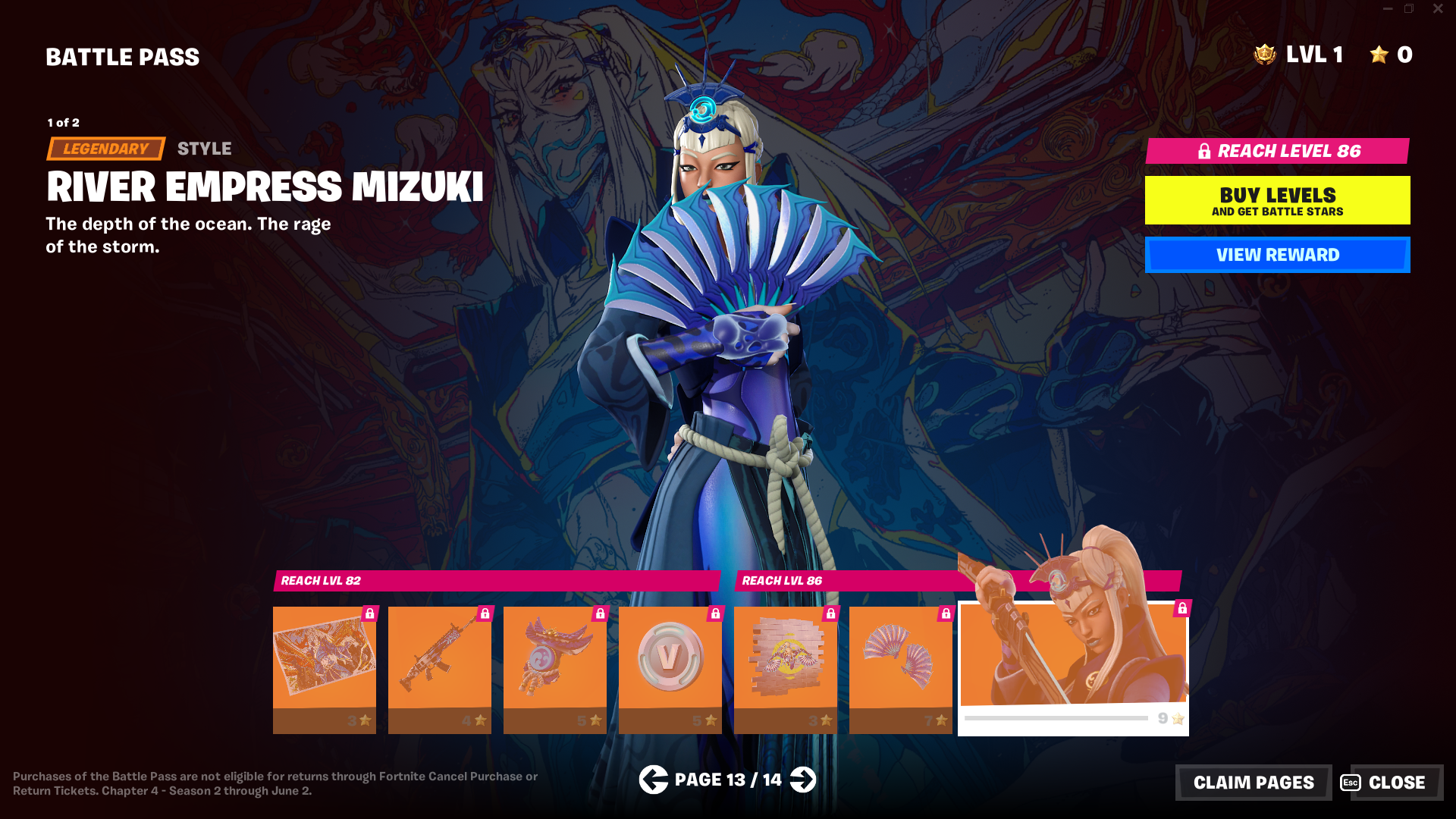 Page 14
Mizuki Loading Screen
Wings of The Storm Glider
Reality Flow Contrail
Banner Icon
Miffed Mizuki Emoticon
100 V-Bucks
Arrival of The Empress Emote
Mizuki Outfit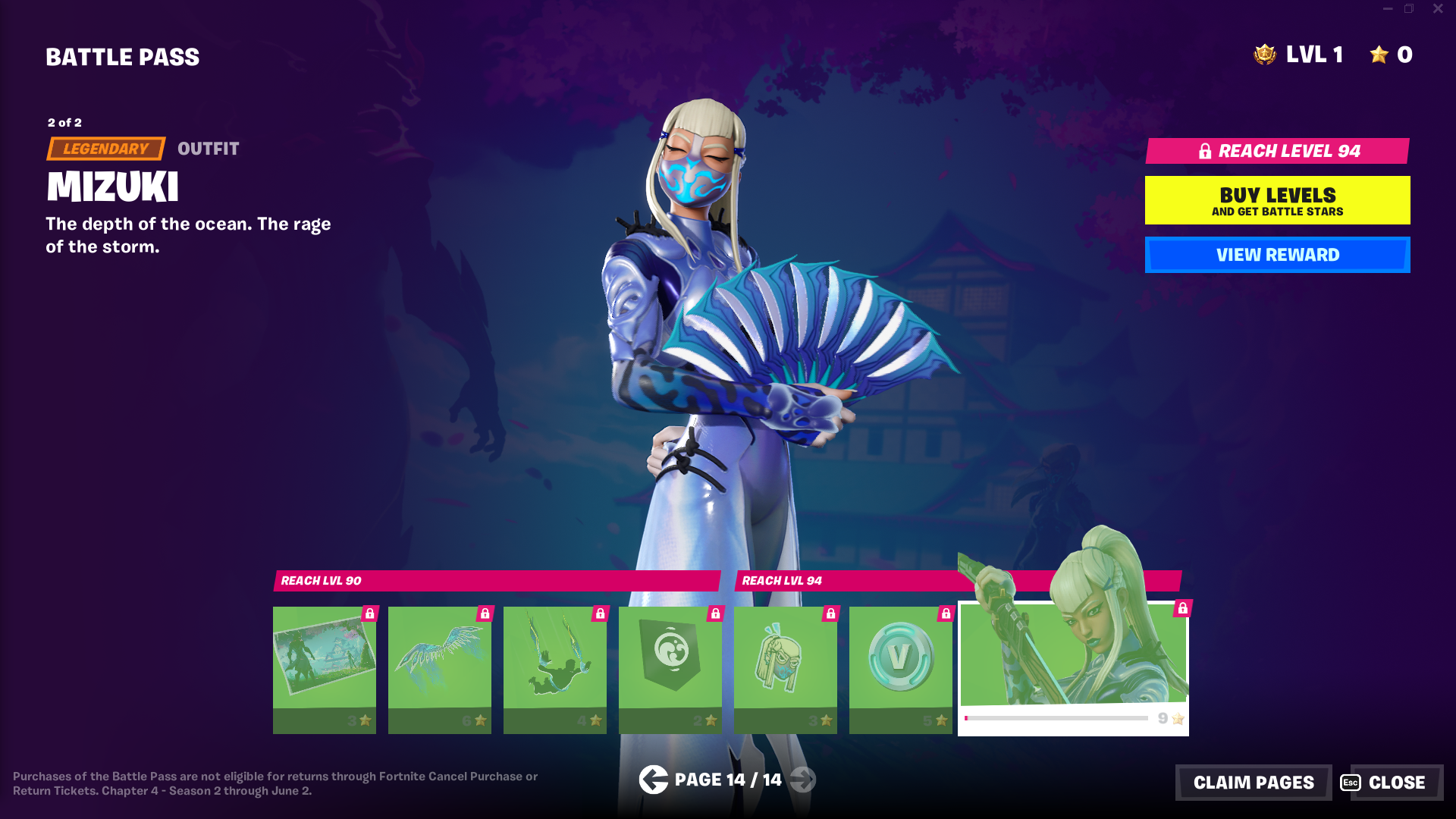 ---
What do you think of the Chapter 4, Season 2 Battle Pass? Let us know by reacting below!
Follow us on Twitter (@FortniteBR) and Instagram (@FortniteBR) to keep up with the latest Fortnite news, leaks and more.