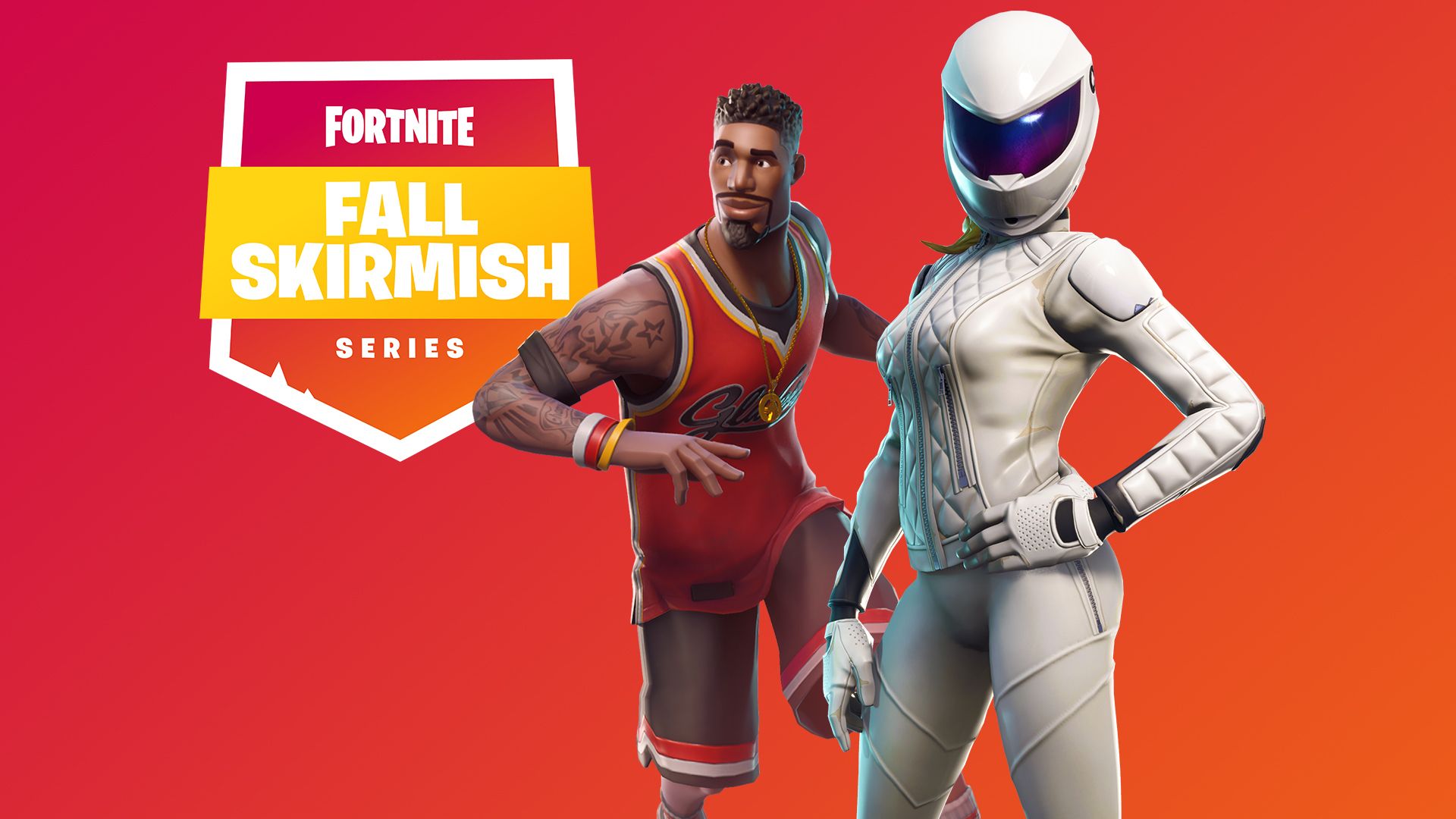 Epic Games has provided some additional details on the Fall Skirmish competition in a blog post today where they explain the new clubs, formats and more. Here's everything you need to know:
Starting in October, everybody will be able to play and compete. Though no specific details have given yet, this is very exciting news for those who want to take the game to the next level.
Start Date
Fall Skirmish kicks off tomorrow, September 21 on Twitch.
"We'll kick off Week 1 this Friday at 12:00 PM EST with Group 1 play, and follow up at 4:00 PM EST with Group 2 play."
Clubs
Fall Skirmish introduces Clubs, a new way for competitors to team up:
"We've invited over 500 Fortnite community creators and competitors and divided them into 5 distinct Clubs. Each player will represent one of these Clubs for the entire 6 weeks of Fall Skirmish."
Fort Knights
Lucky Llamas
Dusty Dogs
Rift Raiders
Bush Bandits

"Clubs will be awarded points for each weekly trial and high skill event based on their members' performances. In addition to awarding players with prizes for each event, Clubs will be awarded with $4,000,000 in prizes at the conclusion of the Fall Skirmish series based on total points earned."
"We will have a complete breakdown of each player and their Club on our official Fall Skirmish website."
Formats
Fall Skirmish will see the return of some fan-favourite formats from Summer Skirmish with Week 1's Hold the Throne to kick things off.
Along with the normal skirmishes, a trial will be held each week to allow Clubs to gain additional points. Here's how Week 1 will play out:
Week 1 Skirmish - Hold the Throne (Duos)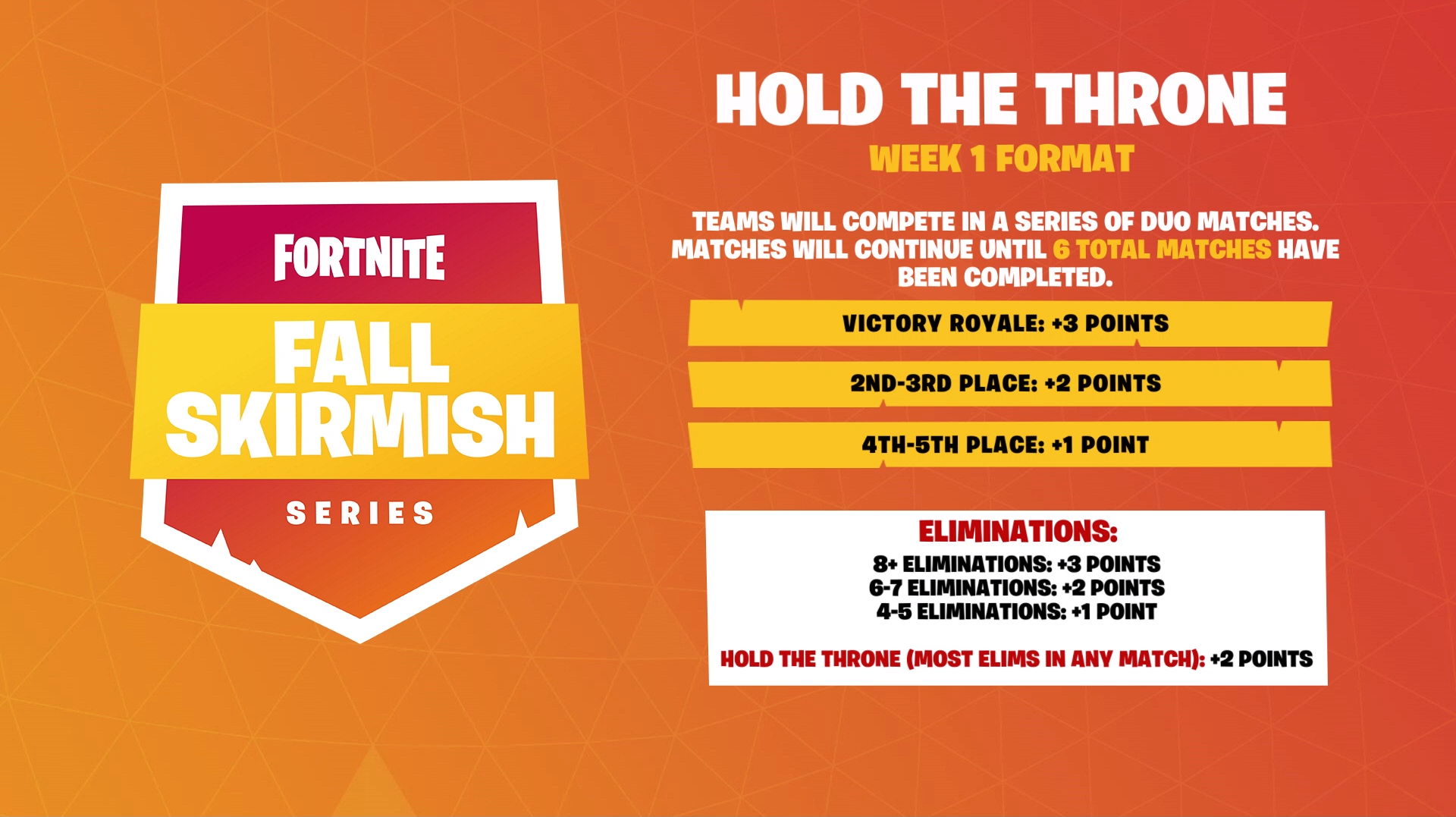 The Duo team with the most points at the end of 6 matches wins. Victory Royales and Eliminations will be scored to determine placement at the end of the event. The top 10 teams at the end of the competition will be awarded.
Victory Royale: +3 points
2nd-3rd place: +2 points
4th-5th place: +1 point
---
8+ eliminations: +3 points
6-7 eliminations: +2 points
4-5 eliminations: +1 point
---
Hold the Throne (most eliminations in any match): +2 points
Rewards: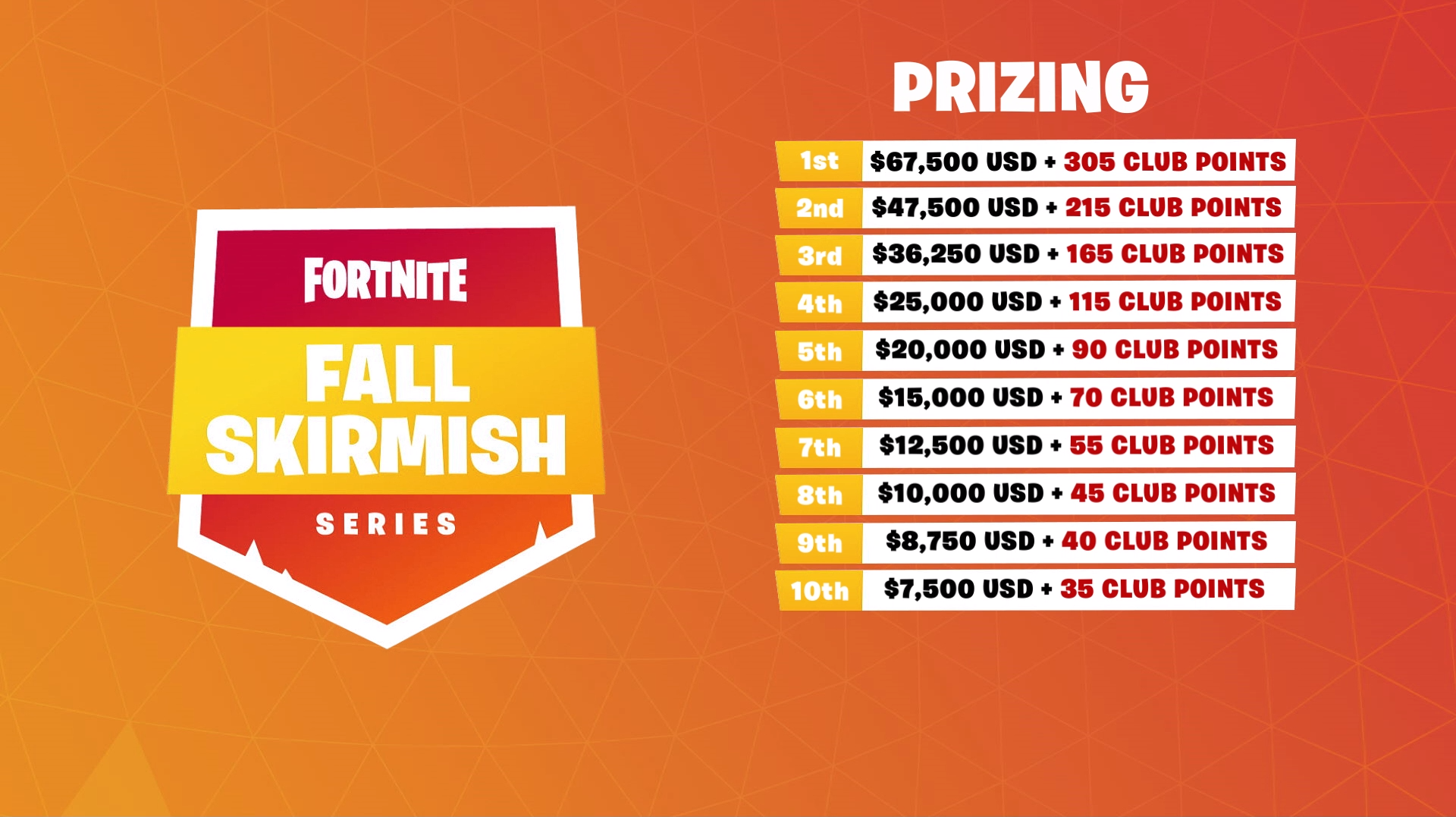 Additionally, the Duo who Holds the Throne at the end of the 6 matches will be awarded a bonus of $50,000.
---
Week 1 Trial - Squad Goals
Players on the same Club will assemble into Squads to play matches on the default Squad playlist. The top squad with the highest amount of eliminations in a single match from each Club will earn prizes and Club points based on their performance.