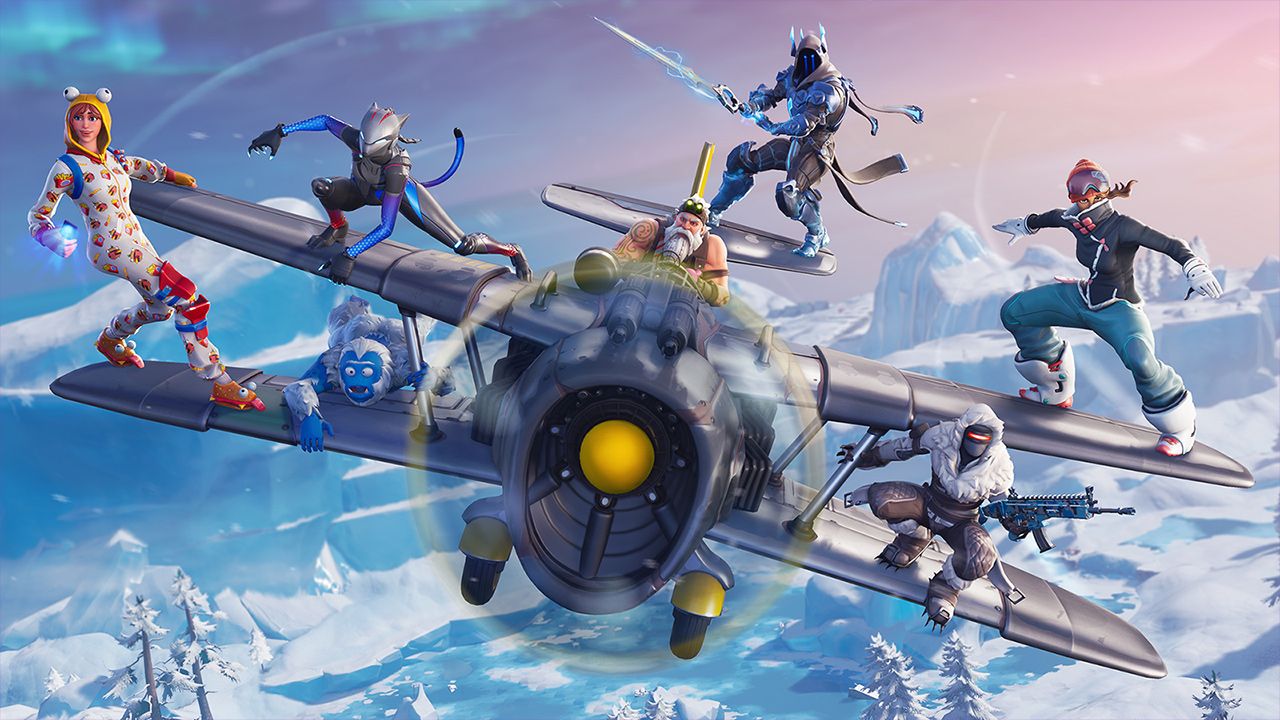 Epic have just released the patch notes for today's Season 7 release featuring the new Battle Pass, Creative Mode, and more. Here's everything you need to know:
Battle Pass
New Season, new Battle Pass. 100 levels, over 100 new rewards. Available  in-game right now for 950 V-Bucks. Find out more information on this  season's Battle Pass here.
Creative (New Mode)
Imagine, Build, and Battle like never before in the early release of Fortnite Creative! Battle Pass owners will have early access to their own Creative island for one week, then all players will receive islands on December 13, 2018. Let us know your feedback on any of our social channels!
X-4 Stormwing Plane
Do a barrel roll! Control the skies alone or with your wingmen with the X-4 Stormwing!

Wraps (Battle Royale)
Give your weapons and vehicles a new look with Wraps. Level up your Battle Pass to unlock different Wraps, then equip them in your locker to items like vehicles, shotguns, rifles and more.  
Weapons + Items
X-4 Stormwing Plane

5 total seats.

Seats 4 passengers (on the wings) and a pilot.

Has a mounted machine gun. Be careful, it can overheat.
Players will go into the skydiving state when exiting the X-4 Stormwing.
Use the roll buttons for sharp turns.

Pressing both will fly upside down.
Double tapping roll buttons will do a barrel roll.

Can boost and airbrake for extra mobility.

Balloons

Balloons have been reworked so that while they are equipped, it is possible to use weapons and items.
Players can attach up to 3 Balloons to their back, lifting off the ground when the 3rd Balloon is attached.
Press jump while in the air to release Balloons one at a time.
Reduced stack size from 20 to 10.

Updated scope crosshair on Scoped AR and Thermal AR.
Vaulted Items

Note: Each new season gives us an opportunity to evaluate the current item rotation. Our goal is to have a reasonable number of items to learn, while avoiding duplicates or overlapping functionality. Based on recent (and upcoming) item additions, we've selected the following for vaulting.
Shadow Stones
Port-a-Fort
Chiller
Clinger
Double Barrel Shotgun
Shockwave Grenade
Gameplay
Map Updated

New Biome: Iceberg
New Location: Frosty Flights
New Location: Polar Peak
New Location: Happy Hamlet
Other unnamed Points of Interest (POIs) have also appeared across the island.
Icy Surfaces can be found in snowy areas.

Players will slide on certain frozen surfaces.

Ziplines can be found around the Iceberg and near Expedition Outposts.

Latch on and zip from one end to the other.
Aim, fire, or use items all while conveniently traveling on Ziplines.

Minimap updated.

Increased the chance of final circles ending on the outer edges of the map.

Bug Fixes
Fixed a bug causing weapon impact effects to play when shooting friendly players, even though no damage was being dealt.
Events
New Tournament: Explorer Pop-Up Cup

Material cap set to 700/500/300 for Wood/Stone/Metal.
Players receive 100/50/50 Wood/Stone/Metal on elimination.
Resource rate increased by 40%
+50 effective health on elimination.
Safezone Changes

Increased chances of Supply Drops in later circles.
Circle 9 now travels twice as far but takes twice as long to close.

Some tournaments will now feature a limit on the number of matches that can be played during an event session.

Bug Fixes
Fixed an issue which prevented players from receiving elimination rewards if a player they downed was eliminated by the Down-But-Not-Out timer ending or if their team was fully eliminated.
Performance
Optimized spawning pickups when a player is eliminated.
Optimized the performance of the Dynamite fuse.
Switch audio performance improvements - falling sounds no longer hitch.
Minor Switch rendering optimizations to help general framerate.
Audio
Reduced the volume of bullet and pickaxe impact audio on the starting island.
Added a hit notification audio cue when a vehicle you're riding in recieves damage.

Bug Fixes
Fixed an issue that would cause in-air glider audio to continue playing when eliminating a gliding player.
Fixed an issue that would cause vehicle audio loops to get stuck on.
Fixed "crackling" audio heard on Mobile/Switch when shooting weapons or emoting.
UI
The Calamity, Dire, Ragnarok, and Drift Challenges have been moved to a new section at the bottom of the Challenges tab.
Added filtering and updated the layout of the Locker.
Vehicle Damage Numbers have been added!

Vehicles now have a unique damage number pop color and show damage numbers.

Polished the Store layout to support a larger number of tiles without needing to scroll.
Minor update to the player feedback UI to add reporting categories and a list of other players in the current or last-played match.

Bug Fixes
Fixed Battle Pass information from being displayed in the Lobby tab for players that have not purchased a Battle Pass.
Fixed the header entry in the daily Challenges screen to work correctly when clicked.
Moved the Nvidia Highlights button to the top right of the Battle Royale lobby to avoid conflicts with chat click zone.
Fixed an issue where the Two Factor Authentication screen could sometimes cause input to become unresponsive.
Replay
Bug Fixes
Nameplates will no longer sit above other HUD elements, such as the map.
Mobile
60 FPS enabled on the iPad Pro 2018.
4x MSAA Anti-Aliasing turned back on for iOS.
Improved performance on all Galaxy Note 9 devices as well as the North American variant of the Galaxy S9 Plus.
Added support for the Samsung Galaxy A9 (2018).

Bug Fixes
Fixed the black border on the iPad Pro 2018.
Fixed graphics settings on previous supported iPad Pro models.
Fixed incorrect quality settings for iPad 6th Generation.
Fixed occasional shadow flickerings in the game lobby.
SOURCE: Epic Games