Chapter 3 Season 2 Battle Pass: Complete Overview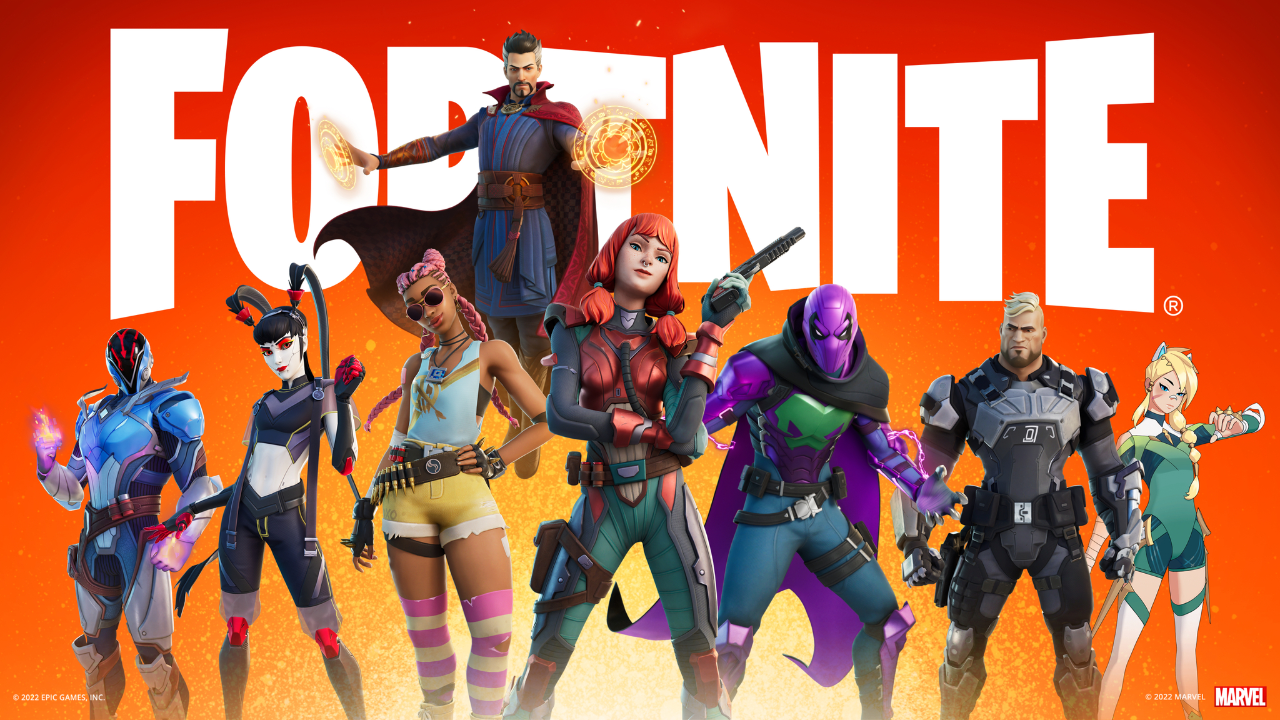 Fortnite Chapter 3 Season 2 has been released! Here's a complete overview of everything players can unlock in the new Battle Pass. You can read the full patch notes for everything new in Battle Royale here.
Page 1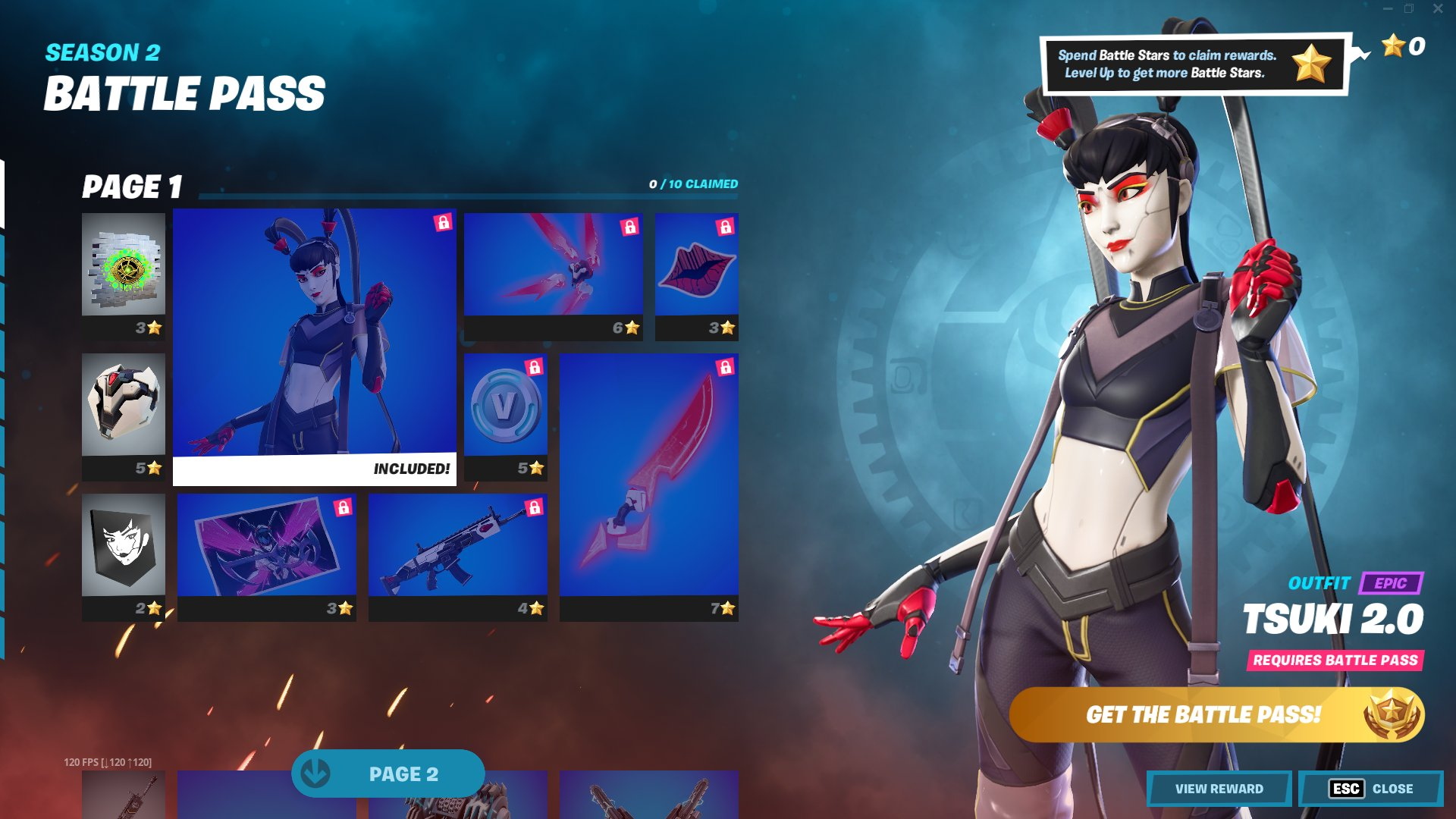 Tsuki 2.0 Outfit
Kata Tech Burstwing Glider
Cyber Smooch Emoticon
Omni Sword Pickaxe
2.0's Revenge Wrap
Tsuki Reborn Loading Screen
Banner Icon
Kata-Pack Back Bling
Eye of Agamotto Spray
100 V-Bucks
Page 2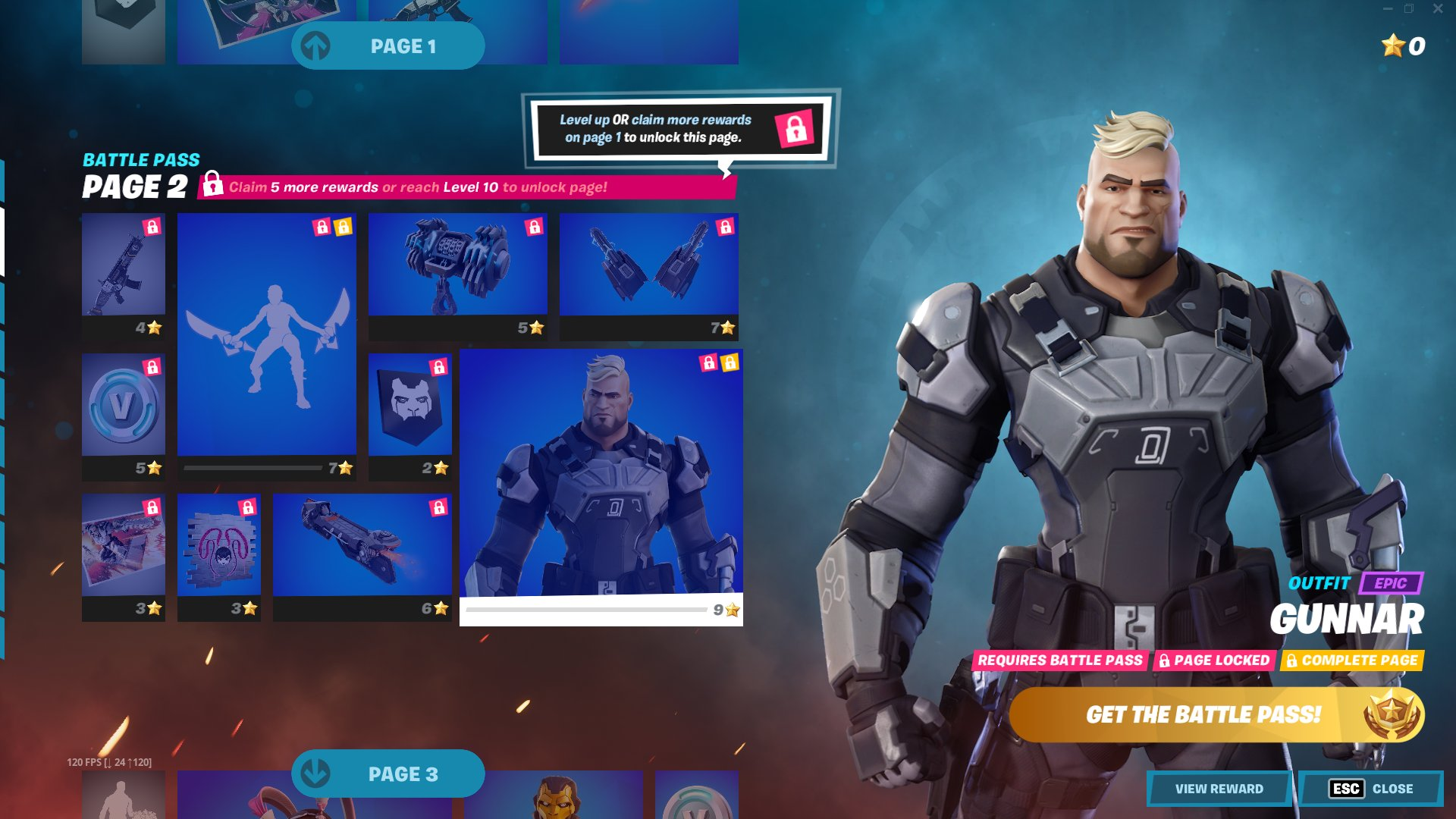 Blade Break Emote
Gunnar's Special Wrap
Feel The Chain Loading Screen
100 V-Bucks
If Looks Could... Spray
Chain Surfer Glider
Banner Icon
Buzz Pack Back Bling
Gunnar Outfit
Punch Saw Pickaxe
Page 3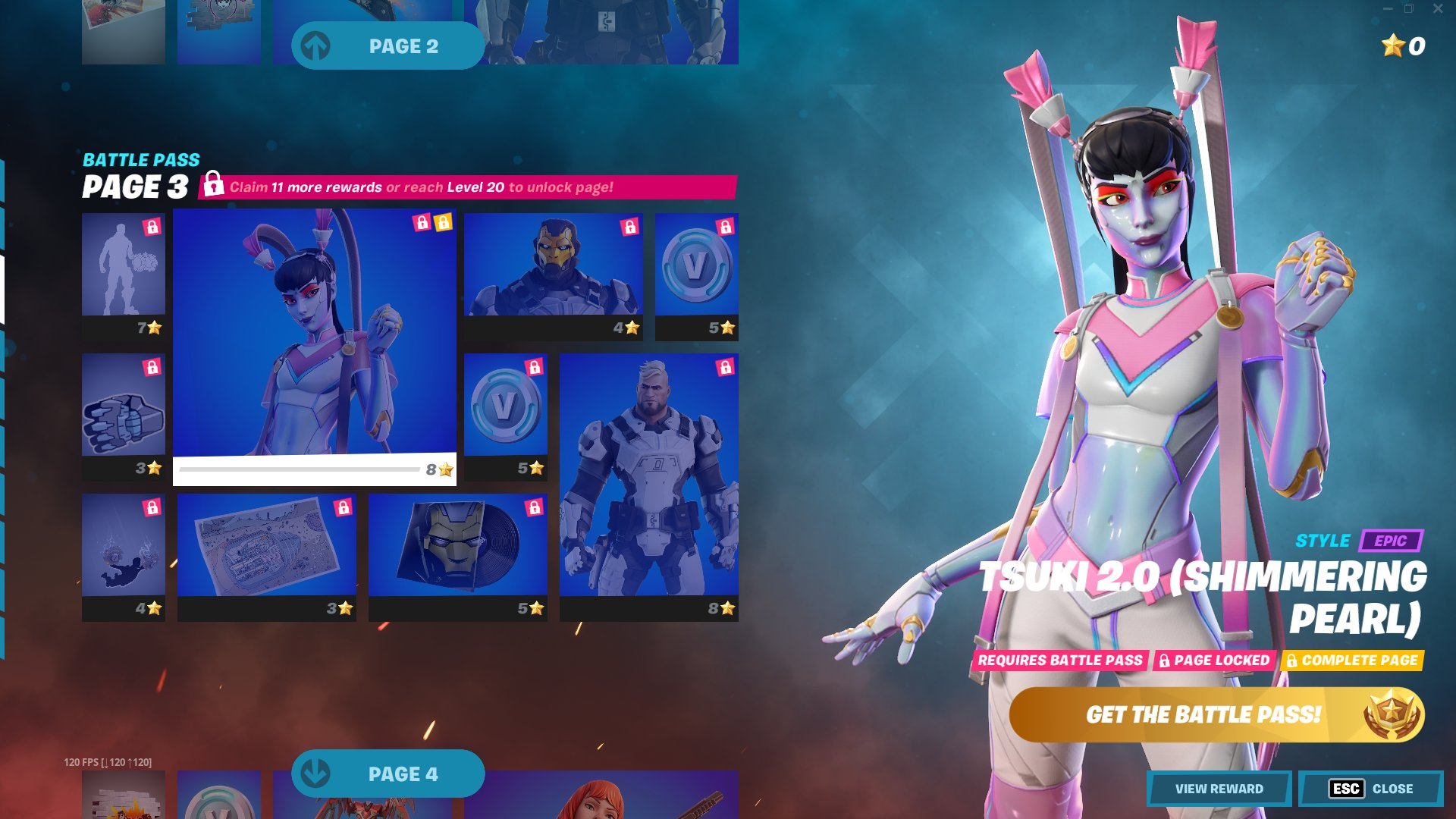 Tsuki 2.0 (Shimmering Pearl) Style
Cyclo Curl Emote
100 V-Bucks
100 V-Bucks
Gunnar Approved Emoticon
Chainpalms Contrail
Before The Strike Loading Screen
Get Ripped Music Pack
Gunnar (Arctic Tac) Style
Gunnar (Order Guard Helmet) Style
Page 4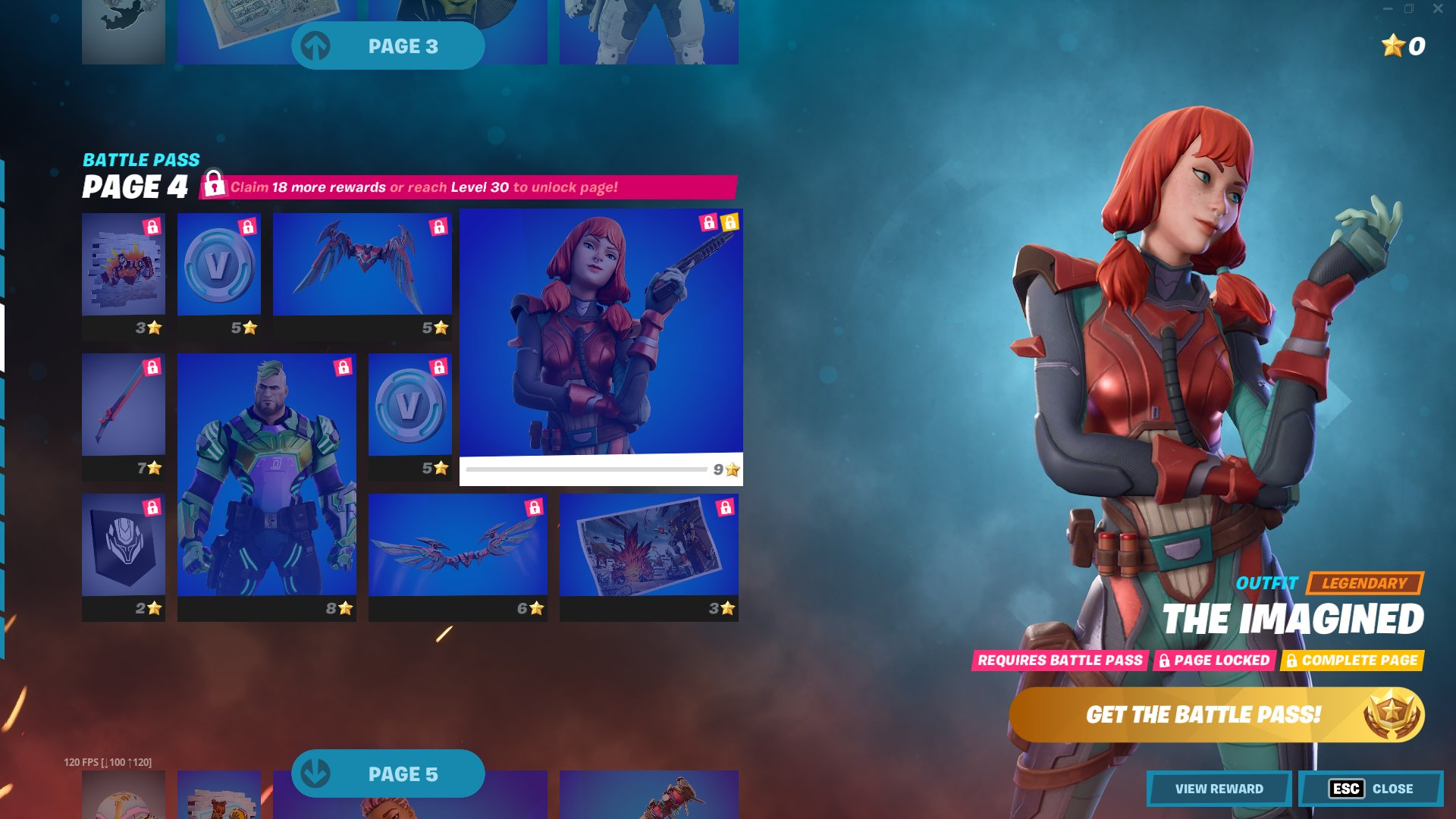 Big Guns Spray
100 V-Bucks
The Imagined Blade Pickaxe
Banner Icon
100 V-Bucks
Gunnar (Ultra-Charge) Style
The Imagined Wingspan Back Bling
The Imagined Wingspan Glider
The Imagined Outfit
Turning Point Loading Screen
Page 5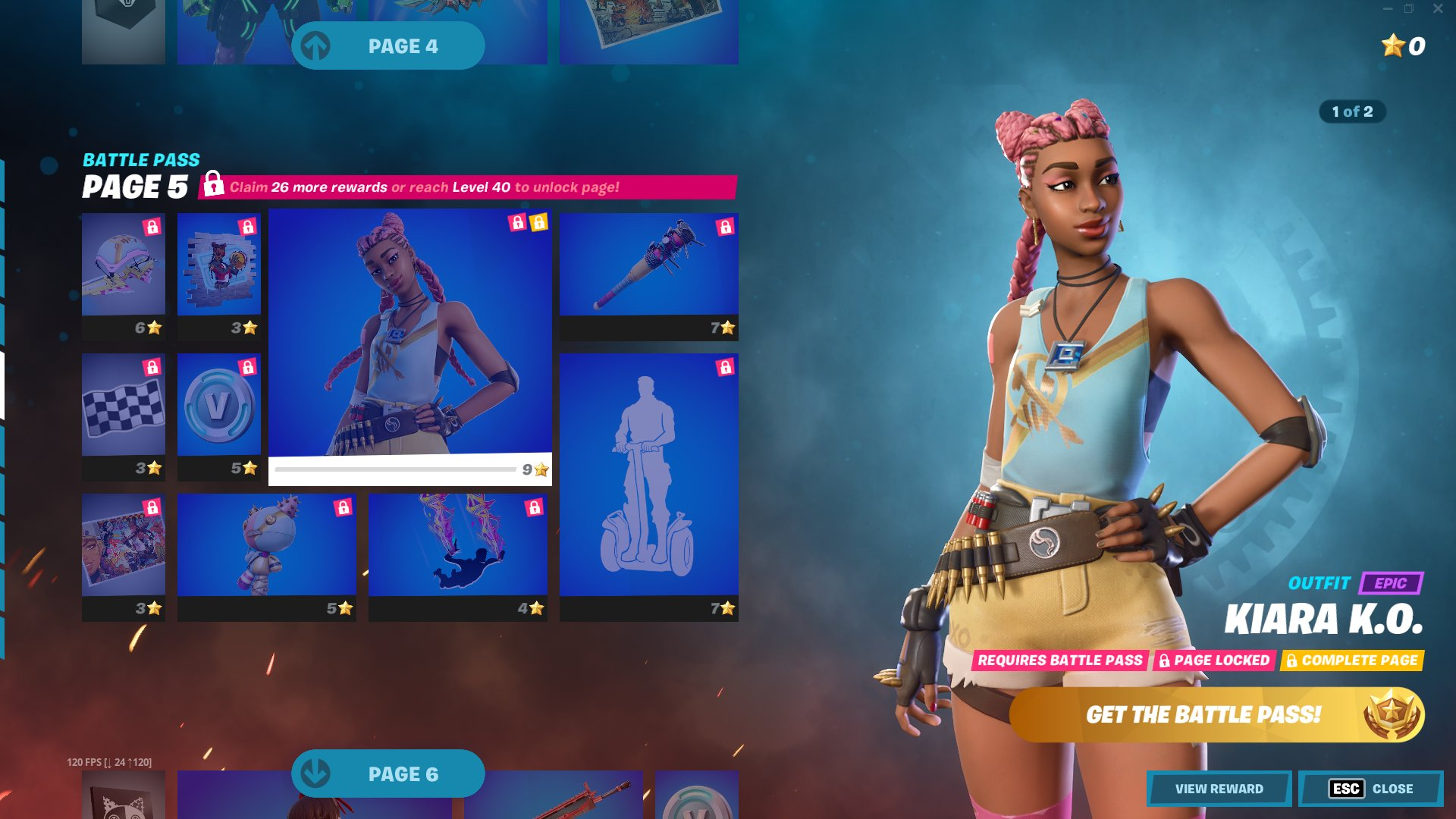 Geared Up Spray
K.O. Cruiser Glider
Finish Line Emoticon
100 V-Bucks
Rebels Loading Screen
Fizzix Back Bling
Kiara K.O. Outfit
Captain's Tag Contrail
K.O. Club Pickaxe
Segway Tour Emote
Page 6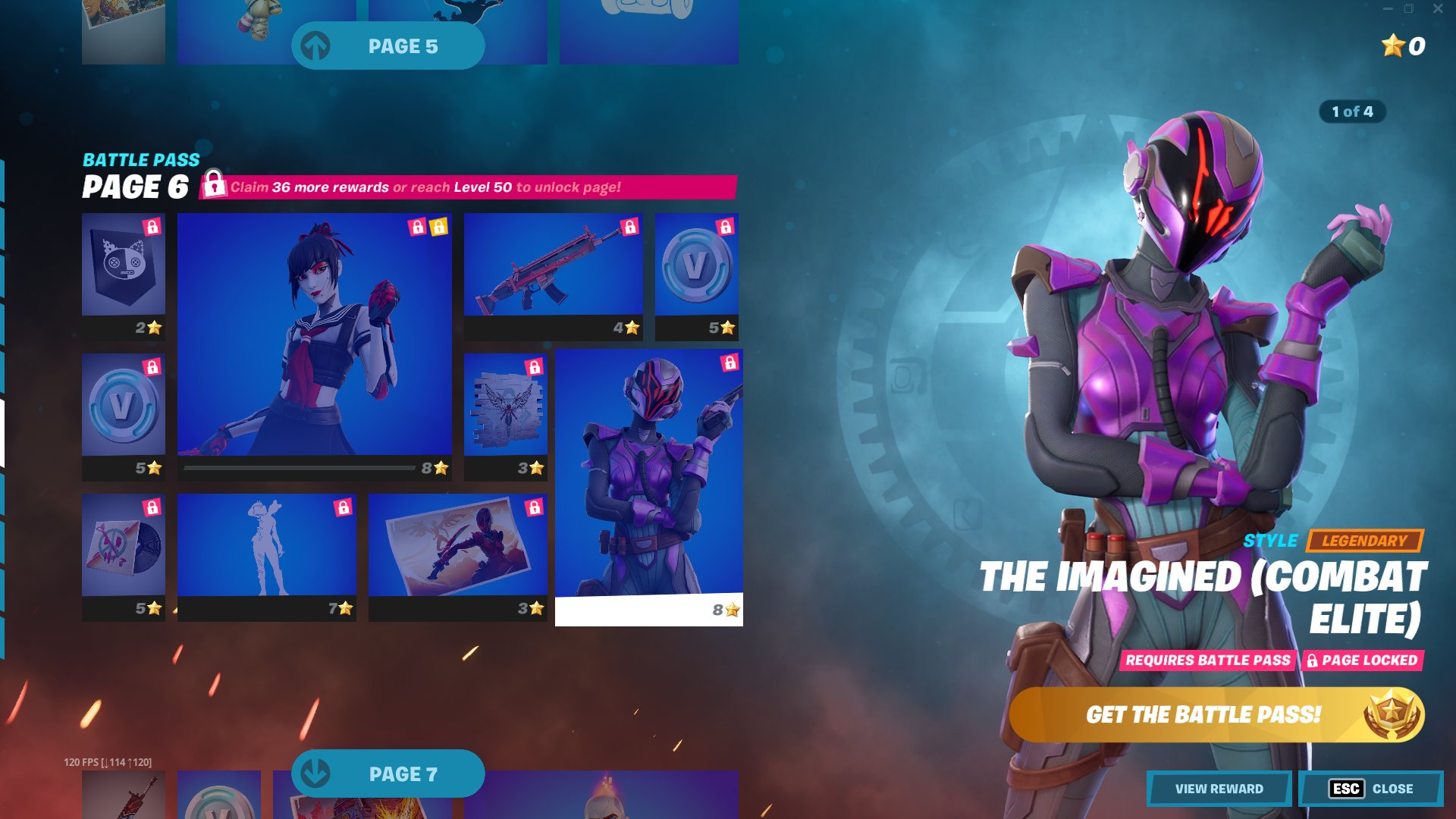 Tsuki 2.0 (Iridium) Style
Banner Icon
100 V-Bucks
I Just Wanna Fight Music Pack
Bag of Essentials Emote
100 V-Bucks
Imagination Unlimited Loading Screen
Imagined Spray
The Imagined Aura Wrap
The Imagined (Combat Elite) Style
Page 7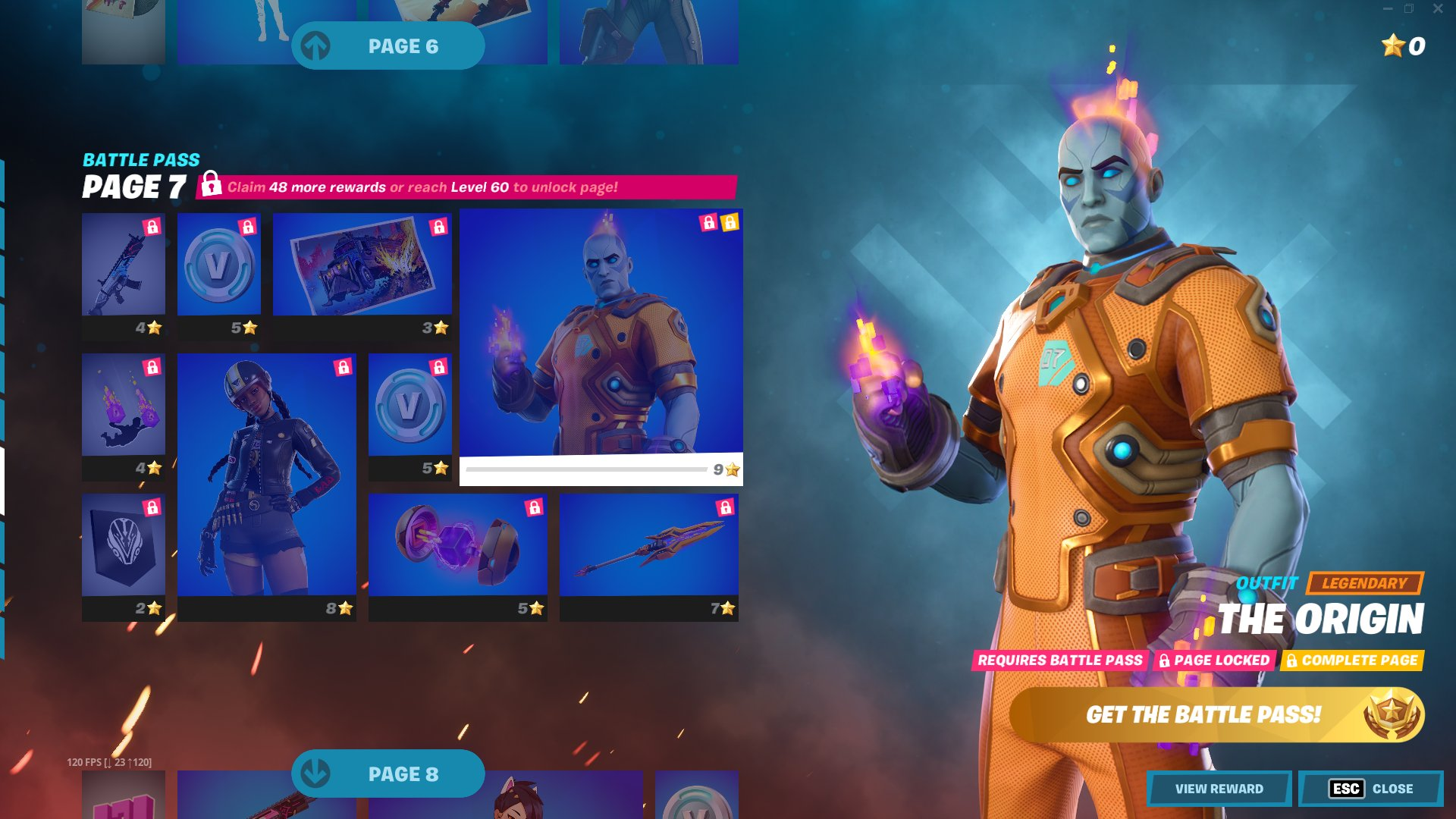 Original Issue Wrap
Cubefall Contrail
100 V-Bucks
Banner Icon
100 V-Bucks
Kiara K.O. (Battle Gold) Style
Armored Battle Bus Loading Screen
The Origin Outfit
Cube Aether Back Bling
Cubic Scepter Pickaxe
Page 8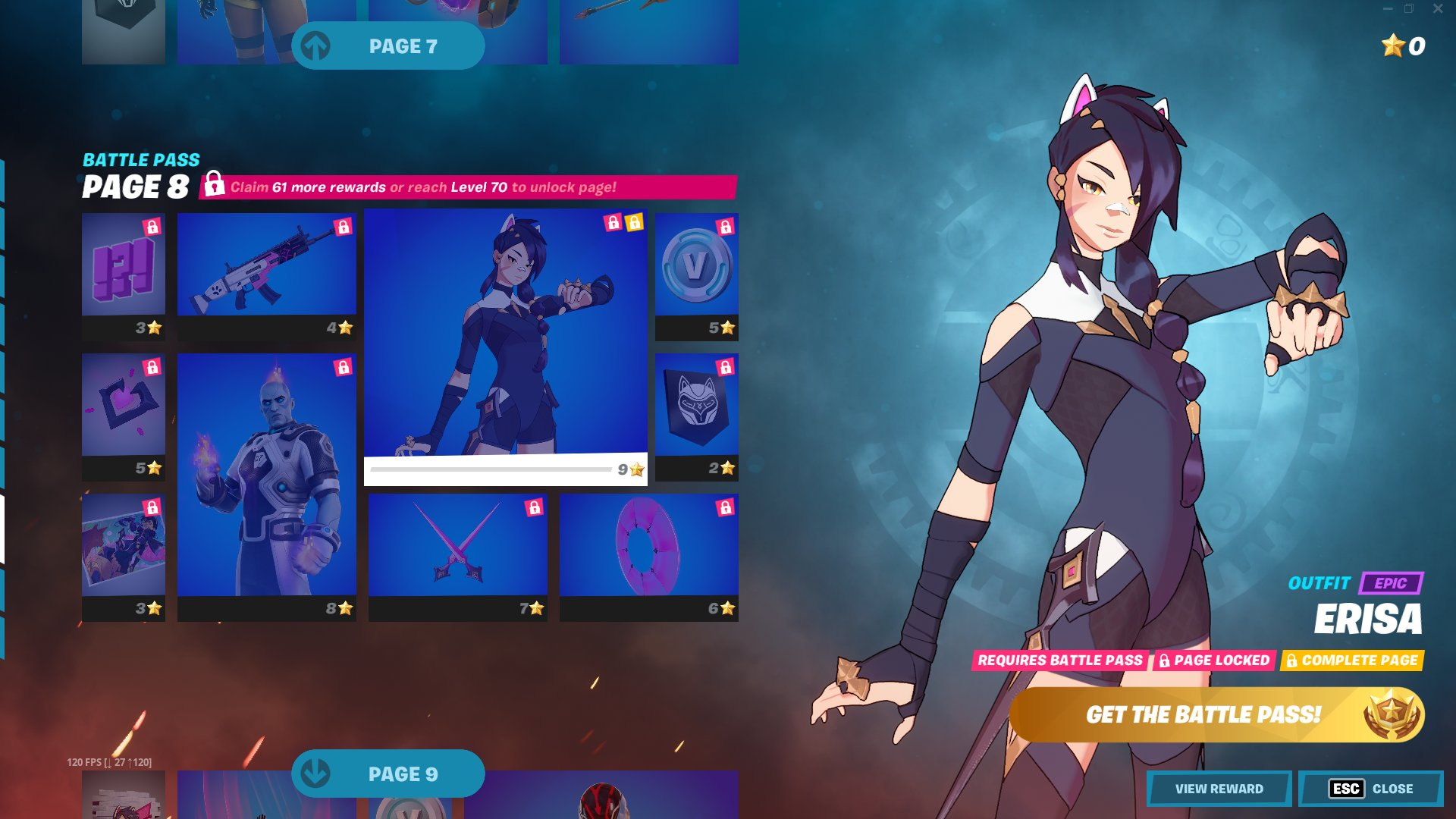 Erisa's Crest Wrap
!?! Emoticon
Love Lock Back Bling
The Hunter Returns Loading Screen
The Origin (Granite Grey) Style
Erisa Outfit
Banner Icon
Guardian Daggers Pickaxe
Wheel of Daggers Glider
Page 9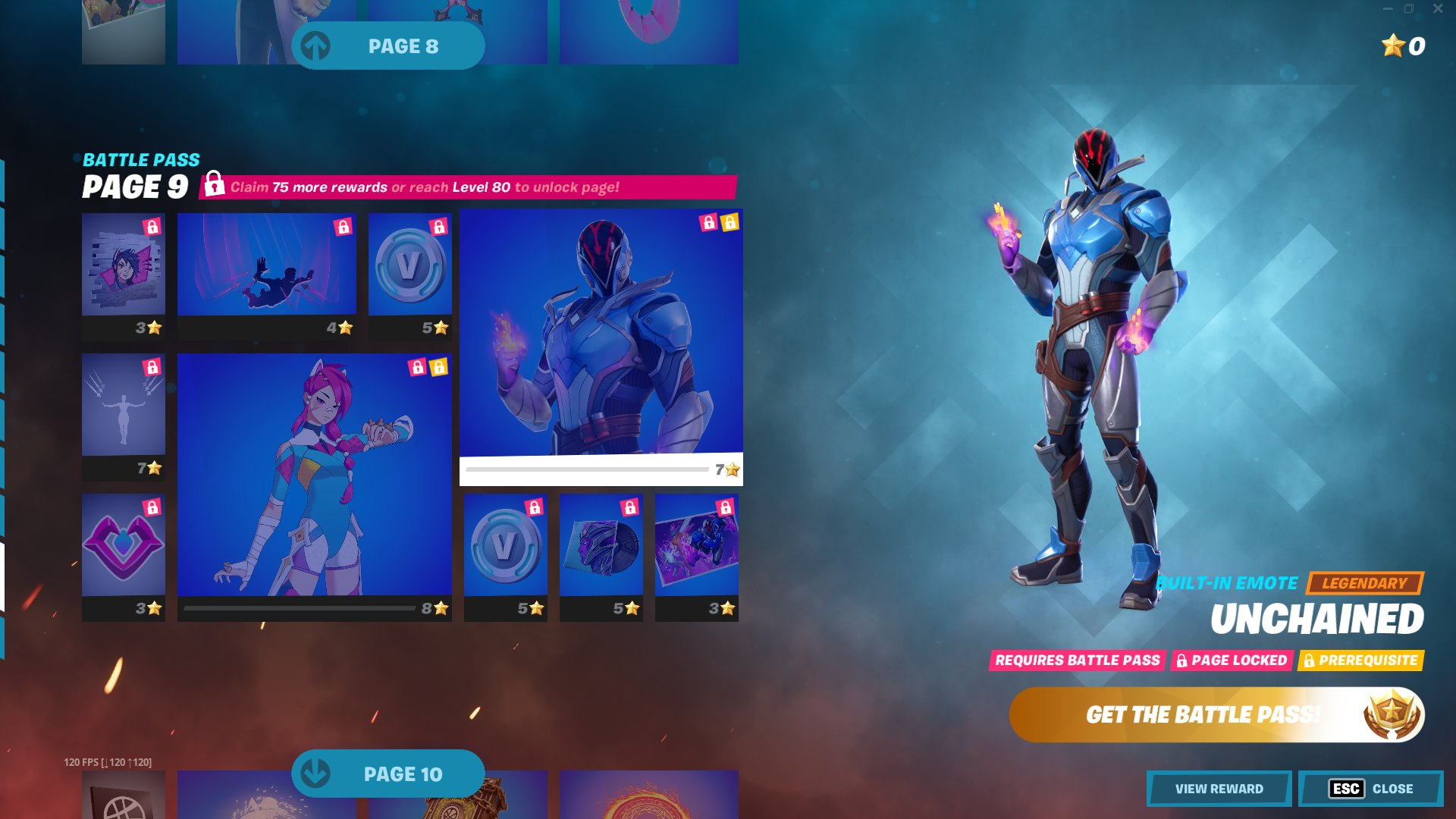 Fallen Daggers Contrail
Erisa Alert Spray
Dagger Dance Emote
100 V-Bucks
Erisa (Cerulean) Style
Happy Heart Emoticon
100 V-Bucks
Unchained Emote
Origin's Anthem Music Pack
Fallen Kingdom Loading Screen
Page 10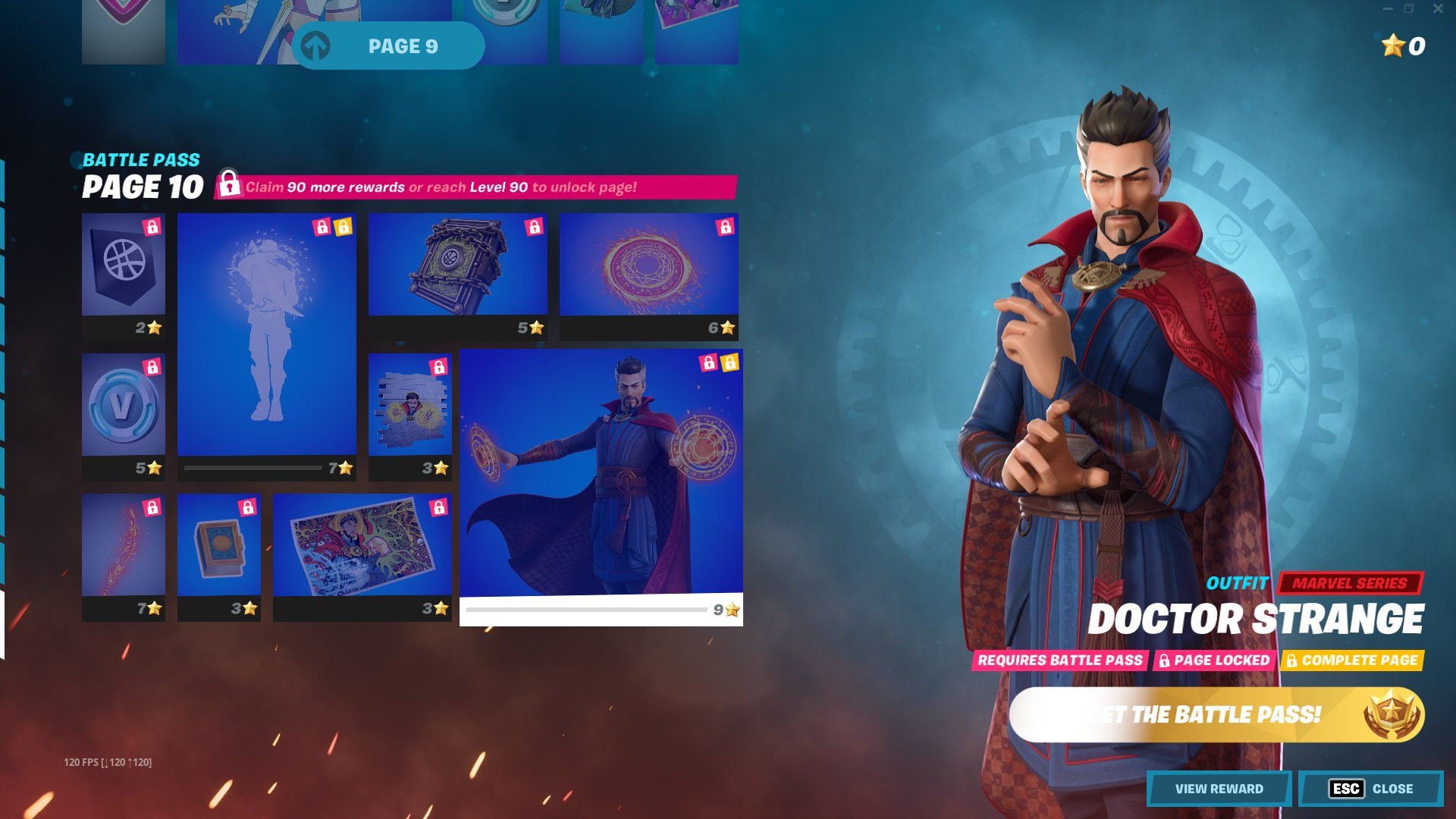 Conjure Weapon Emote
Spellwork Scimitar Pickaxe
100 V-Bucks
Banner Icon
Book of The GG Emoticon
Sorcerer Supreme Loading Screen
Tao Mandals Spray
Book of Cagilostro Back Bling
Mandala Disc Glider
Doctor Strange Outfit
---
What do you think of the Chapter 3 Season 2 Battle Pass? Let us know by reacting below!
Follow us on Twitter (@FortniteBR) to keep up with the latest Fortnite news, leaks and more.