Chapter 4 Season 3 Battle Pass: Complete Overview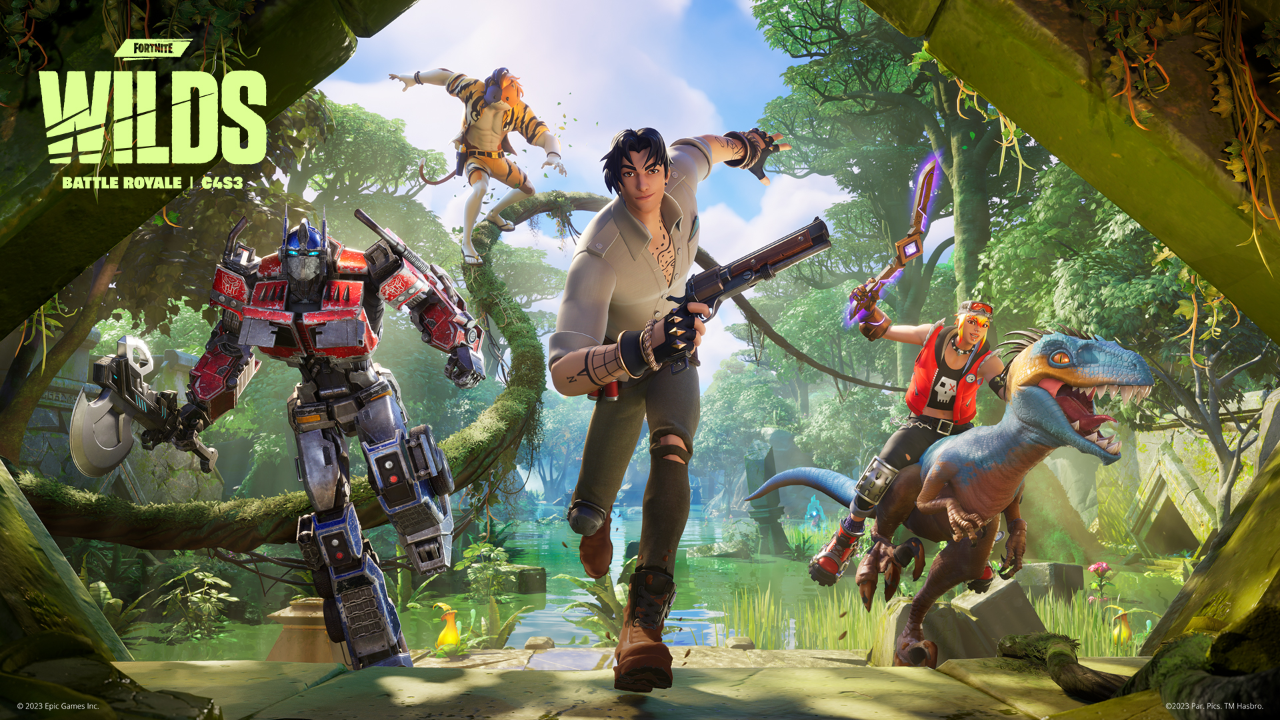 Fortnite Chapter 4 Season 3 has been released! Here's a complete overview of every cosmetic included in the new Battle Pass.
Page 1
Era Loading Screen
Classic Age Wrap
Timesweeper Glider
Seize the Future Music Pack
100 V-Bucks
Chronos Lock back Bling
The Countdown Contrail
100 V-Bucks
Era Outfit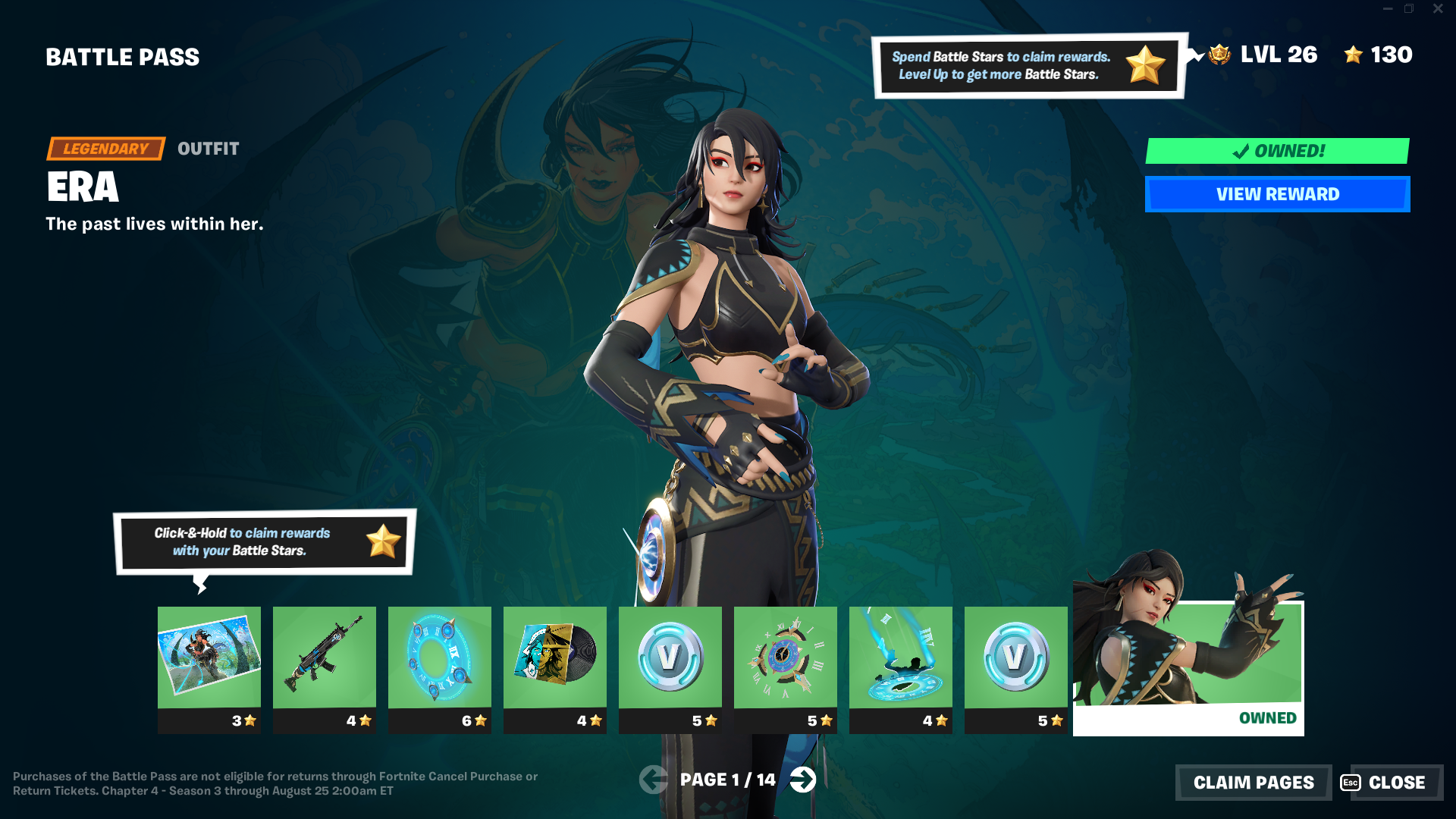 Page 2
Trace Loading Screen
Menacing Trace Spray
Nomad's Spear Pickaxe
Get Out of Your Mind Emote
Psionic Surfer Glider
Flutterfall Contrail
Trace Outfit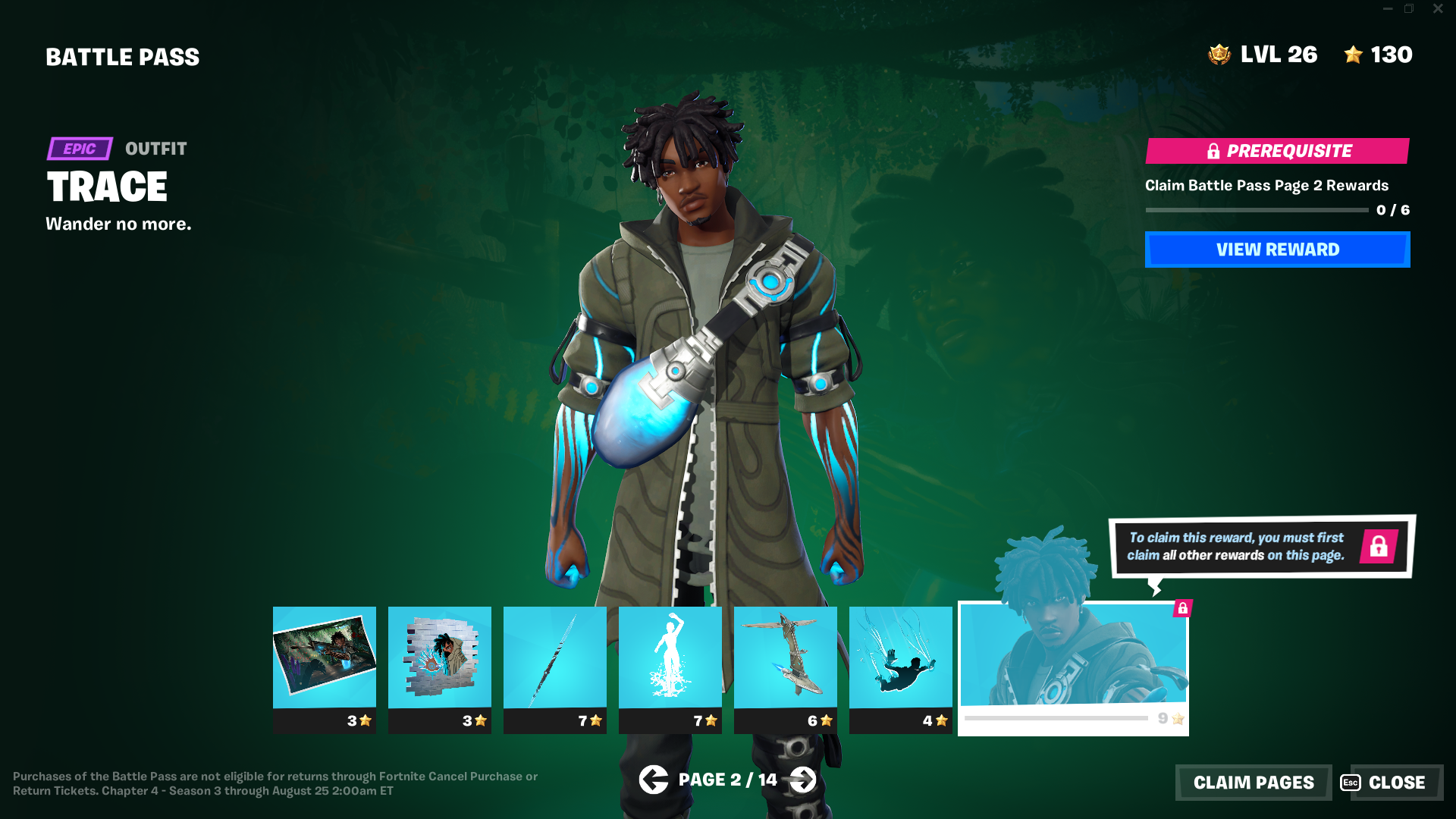 Page 3
Rebel Trace Loading Screen
Banner Icon
100 V-Bucks
Beacon Glass Back Bling
Contour Camo Wrap
Thinking Face Emoticon
Rebel Trace Style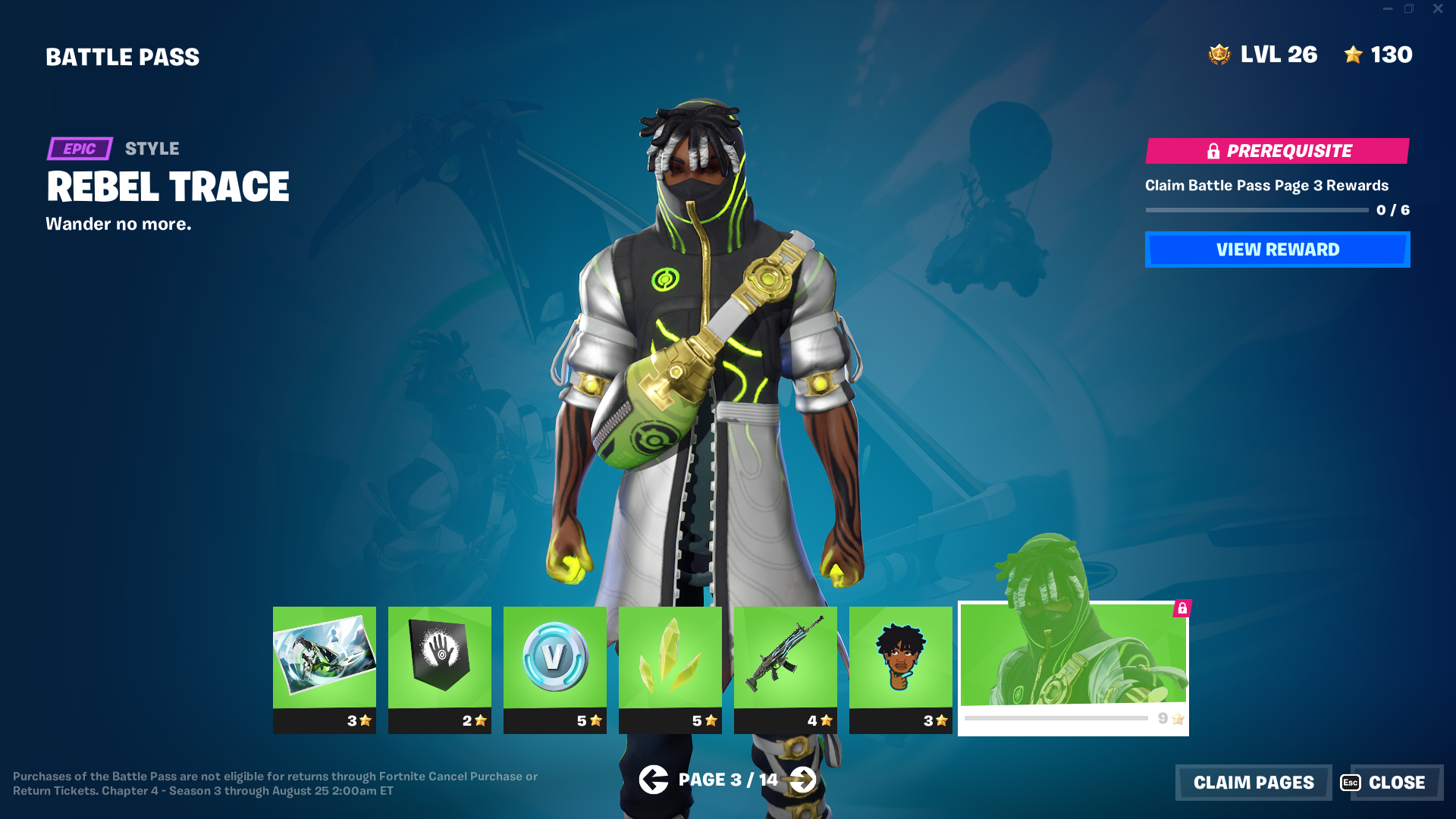 Page 4
Rian Loading Screen
Jolt Jam Emoticon
100 V-Bucks
Molten Max Axe Pickaxe
Electric Shredder Back Bling
Rian's Roar Wrap
Rian Oufit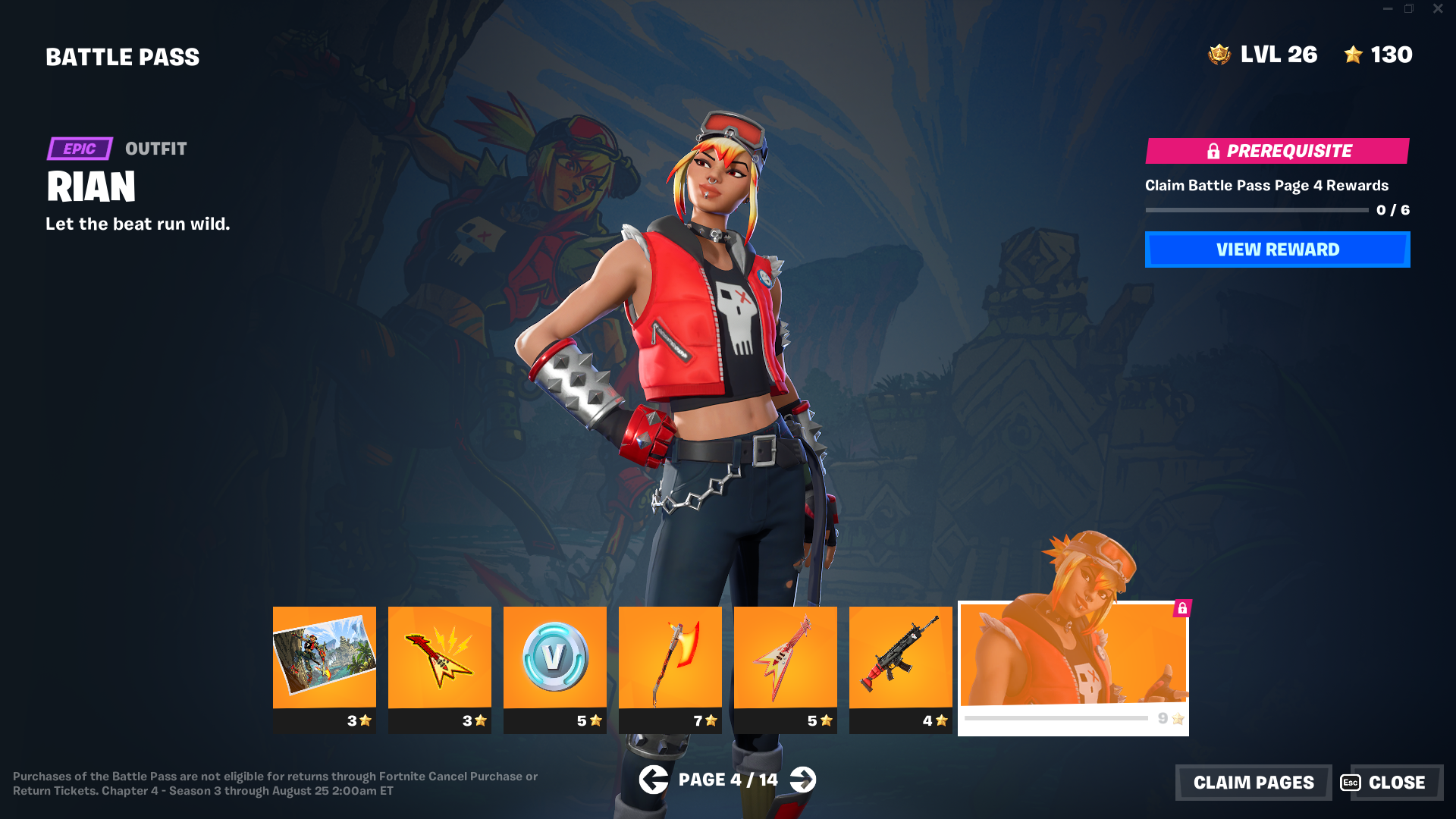 Page 5
Rockslide Rian Loading Screen
Molten Max Axe Style
Banner Icon
Buzzsaw Breacher Glider
Venom Riff Spray
This is Fine Emote
Wild Rian Style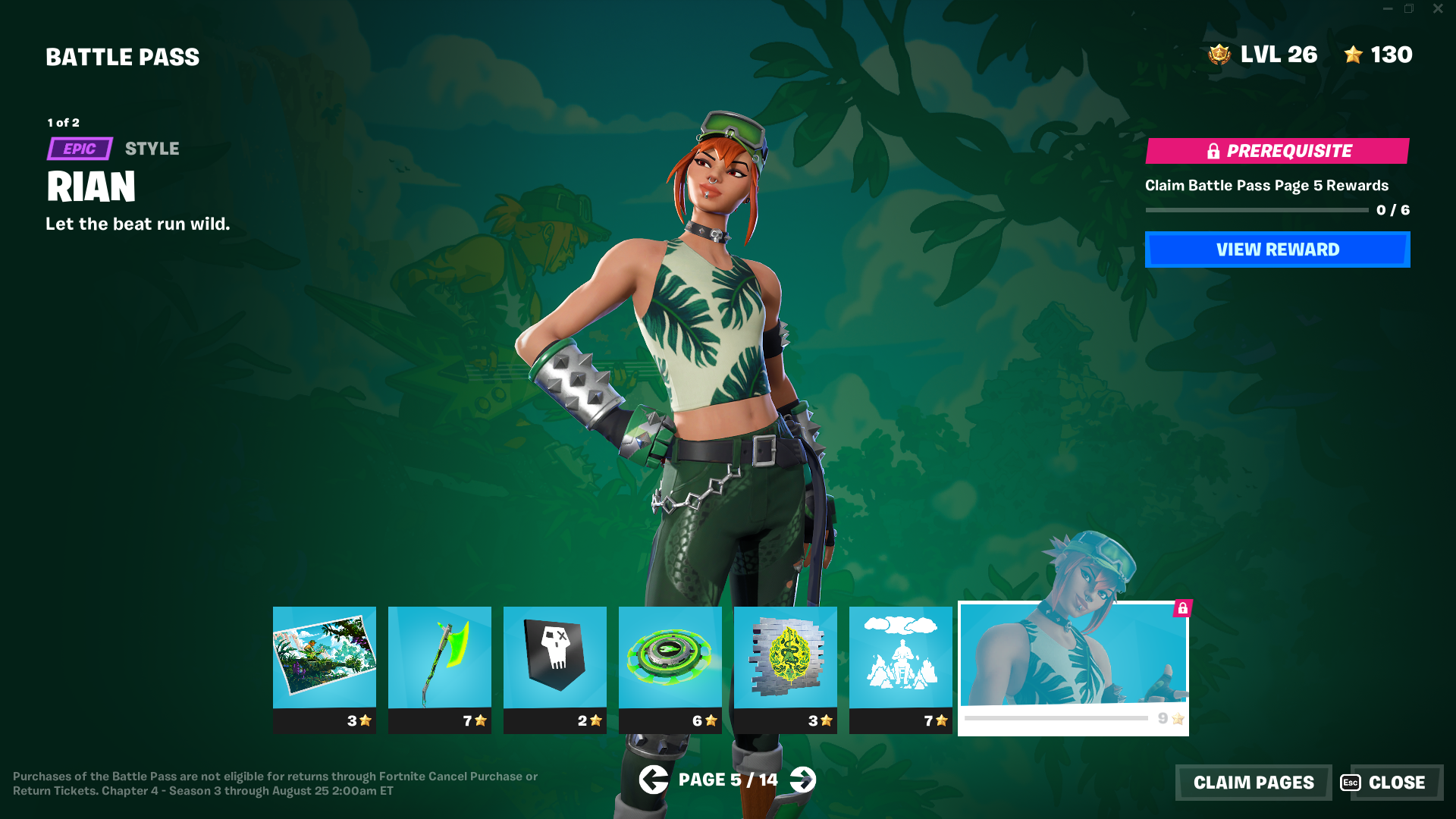 Page 6
Relik Loading Screen
Blow Your Top Emoticon
Rockfall Contrail
100 V-Bucks
Lithic Wrap
Signal Tracer Back Bling
Relik Outfit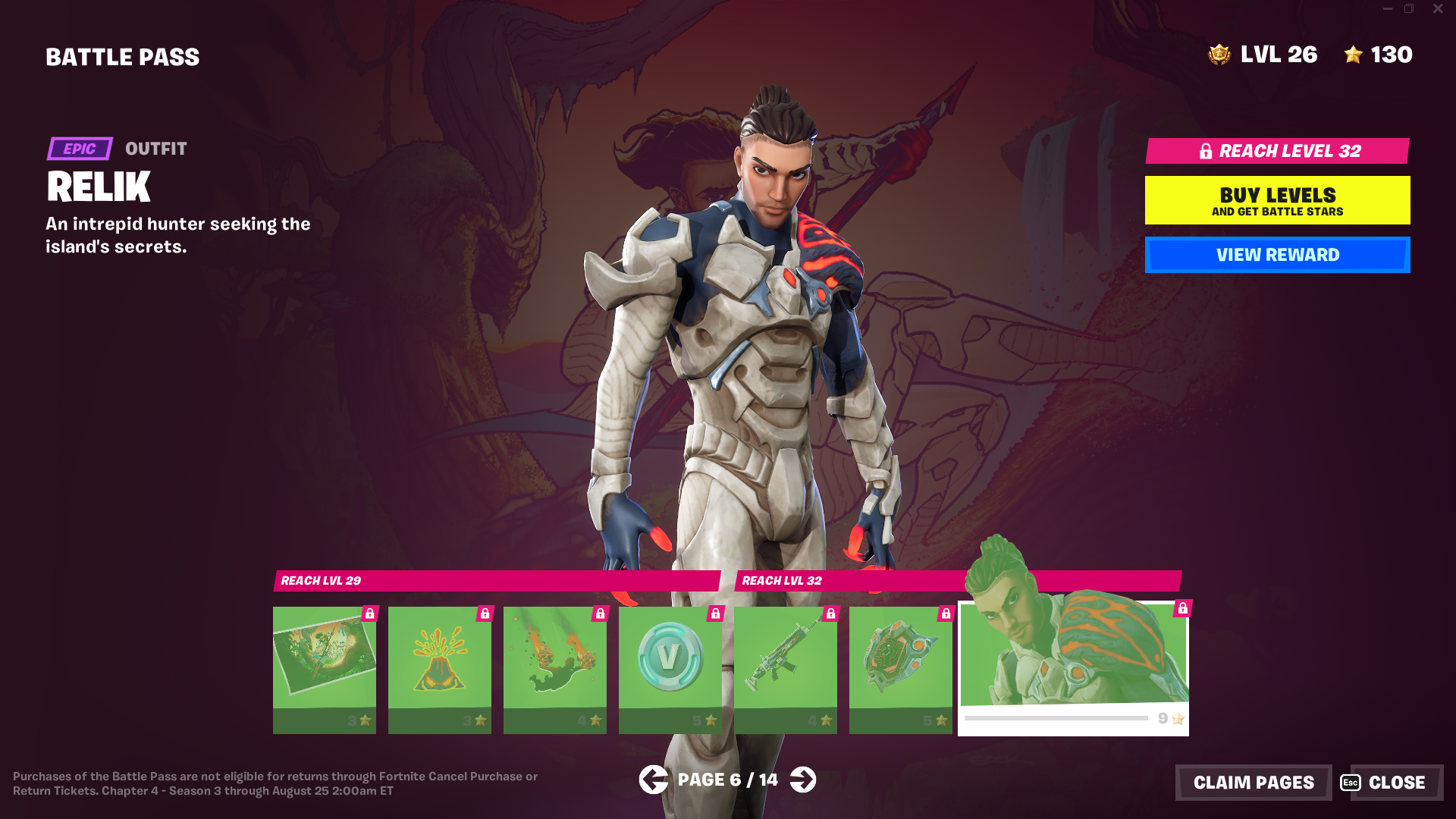 Page 7
Deepwater Relik Loading Screen
Banner Icon
Hunter's Reach Pickaxe
Relik Beacons Spray
100 V-Bucks
Sky Scout Glider
Deepwater Relik Style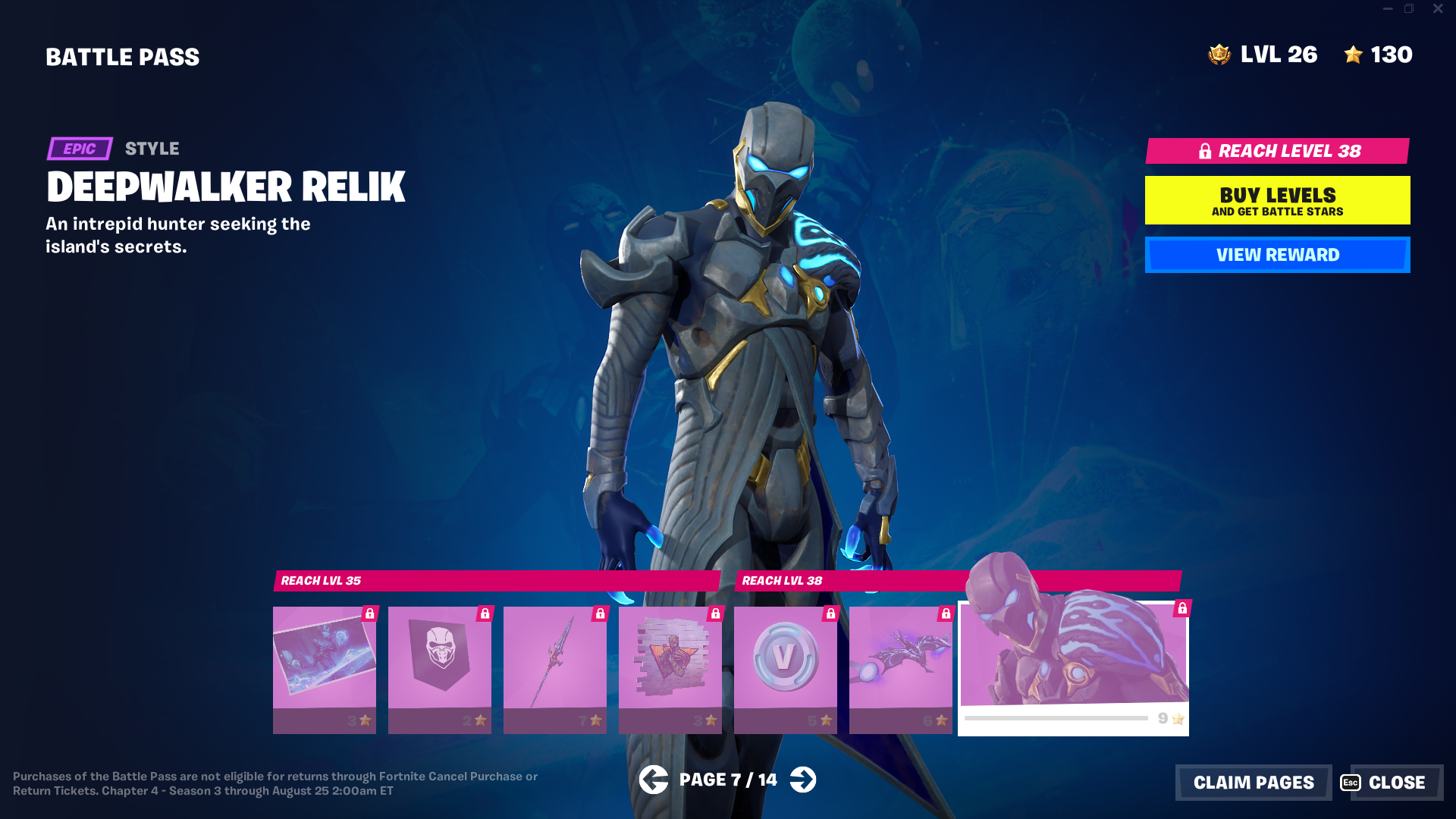 Page 8
Mariposa Loading Screen
Estrellita Dynamo Emoticon
Cazadora Wings Back Bling
Banner Icon
Cazadora Glider
100 V-Bucks
Mariposa Outfit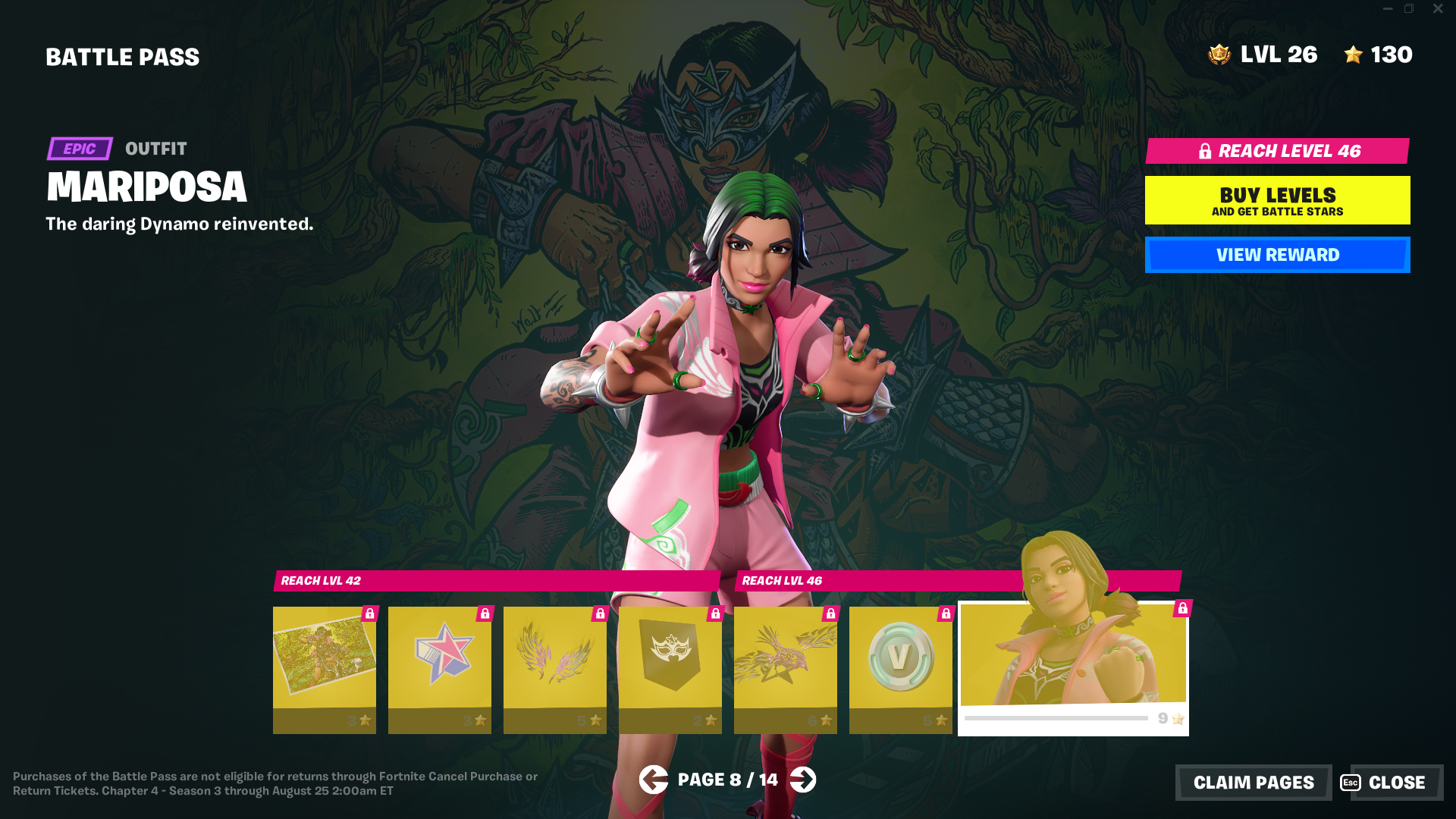 Page 9
Midnight Mariposa Loading Screen
Midnight Rumble Spray
100 V-Bucks
Lucha Slashers Pickaxe
Count It! Emote
100 V-Bucks
Midnight Mariposa Style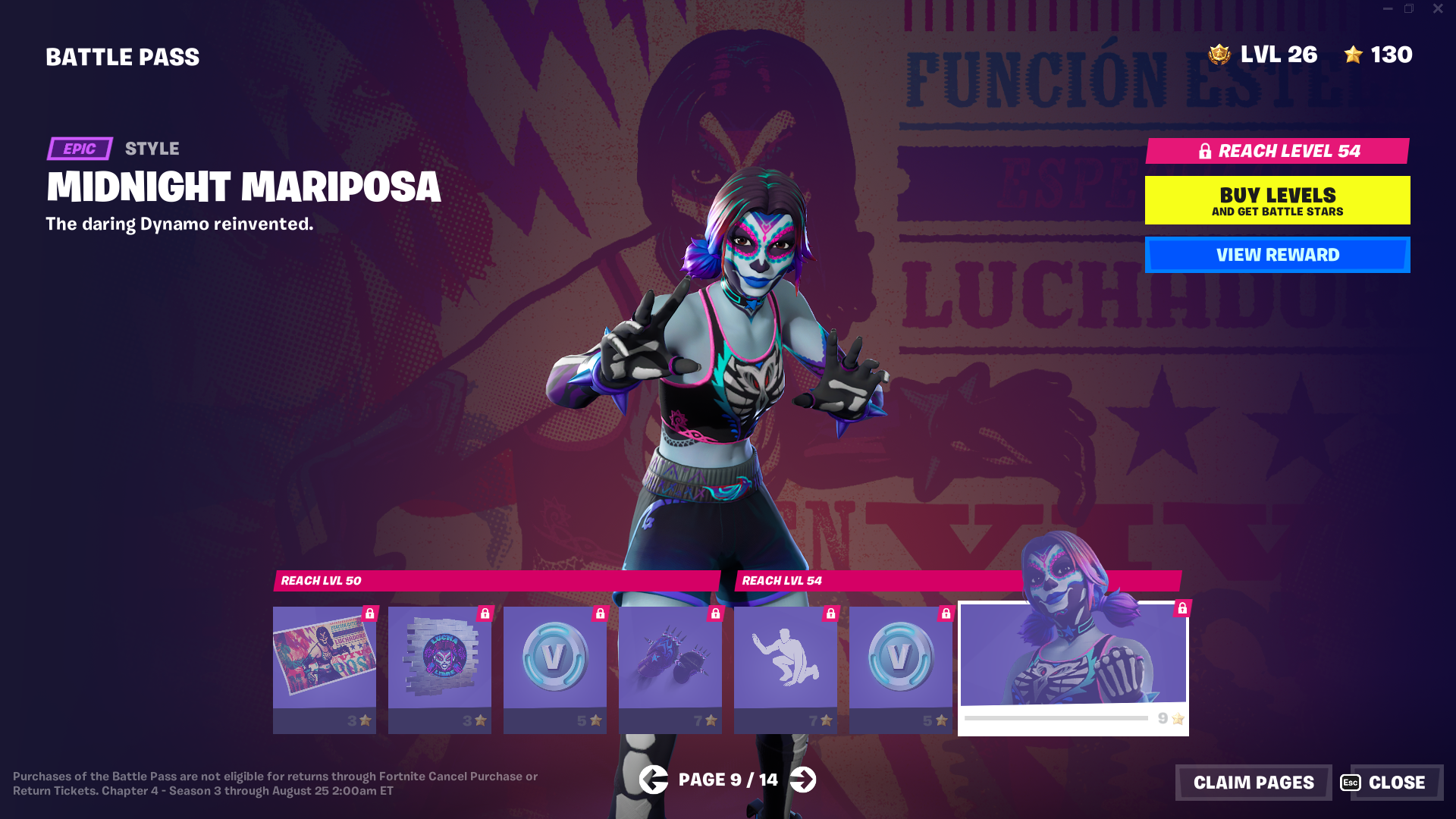 Page 10
Lorenzo Loading Screen
Bushwhack'd Emotion
Adventure Calls Music Pack
100 V-Bucks
Northquester Deluxe Back Bling
Marauder's Machete Pickaxe
Lorenzo Outfit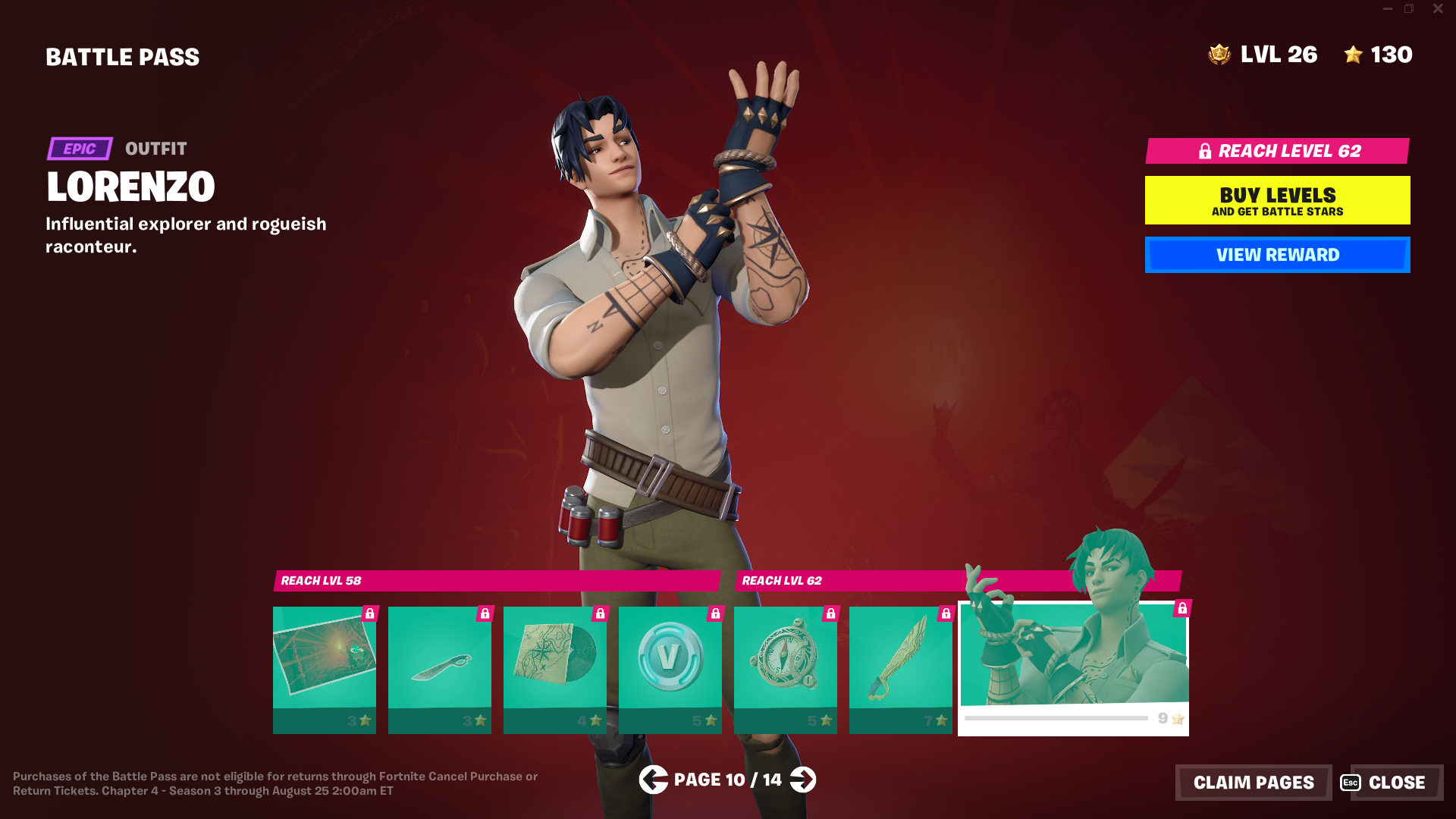 Page 11
Lorenzo the Dashing Loading Screen
Drone Drop Contrail
Adventure Aerial Glider
Lorenzo Explores Spray
100 V-Bucks
Dramatic Flares Emote
Lorenzo the Dashing Style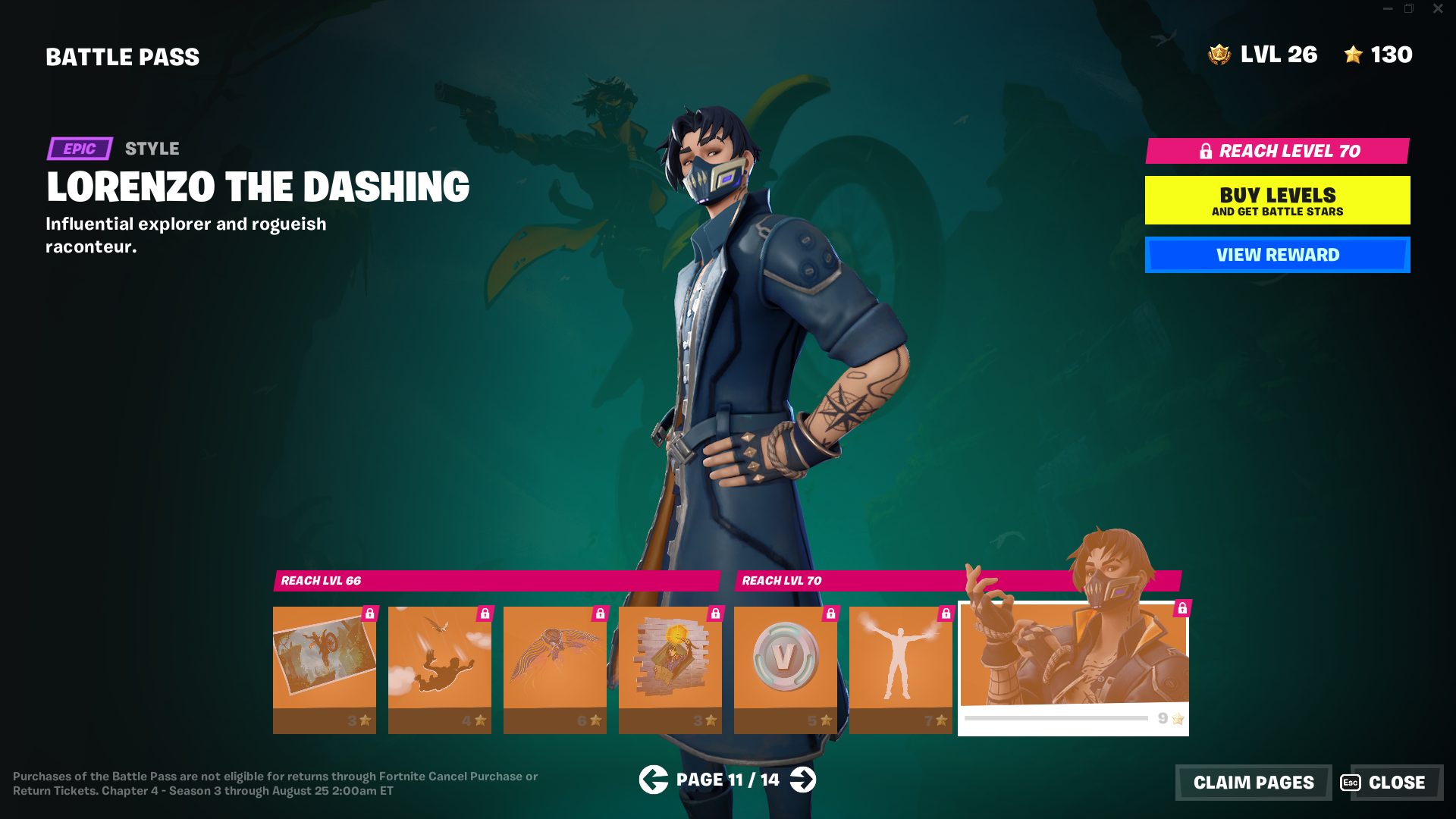 Page 12
Iconic Era Loading Screen
Banner Icon
Iconic Age Wrap
Time Swirl Spray
Synchronous Sai Pickaxe
100 V-Bucks
Ancestral Shift Built-in Emote
Iconic Era Style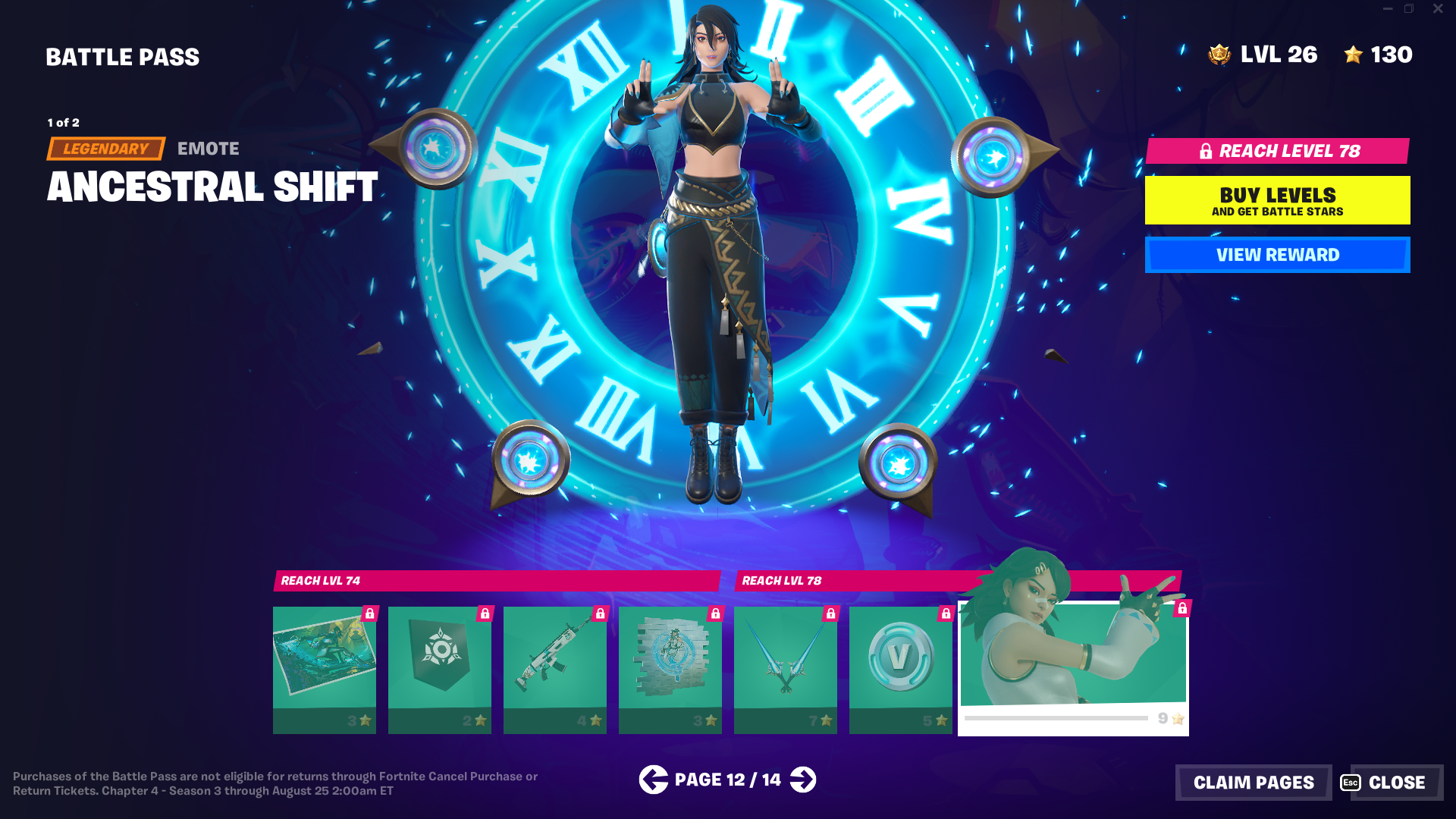 Page 13
Timeless Era Loading Screen
100 V-Bucks
Chronos Lock Style
Synchronous Sai Style
Timesweeper Style
100 V-Bucks
Timeless Era Style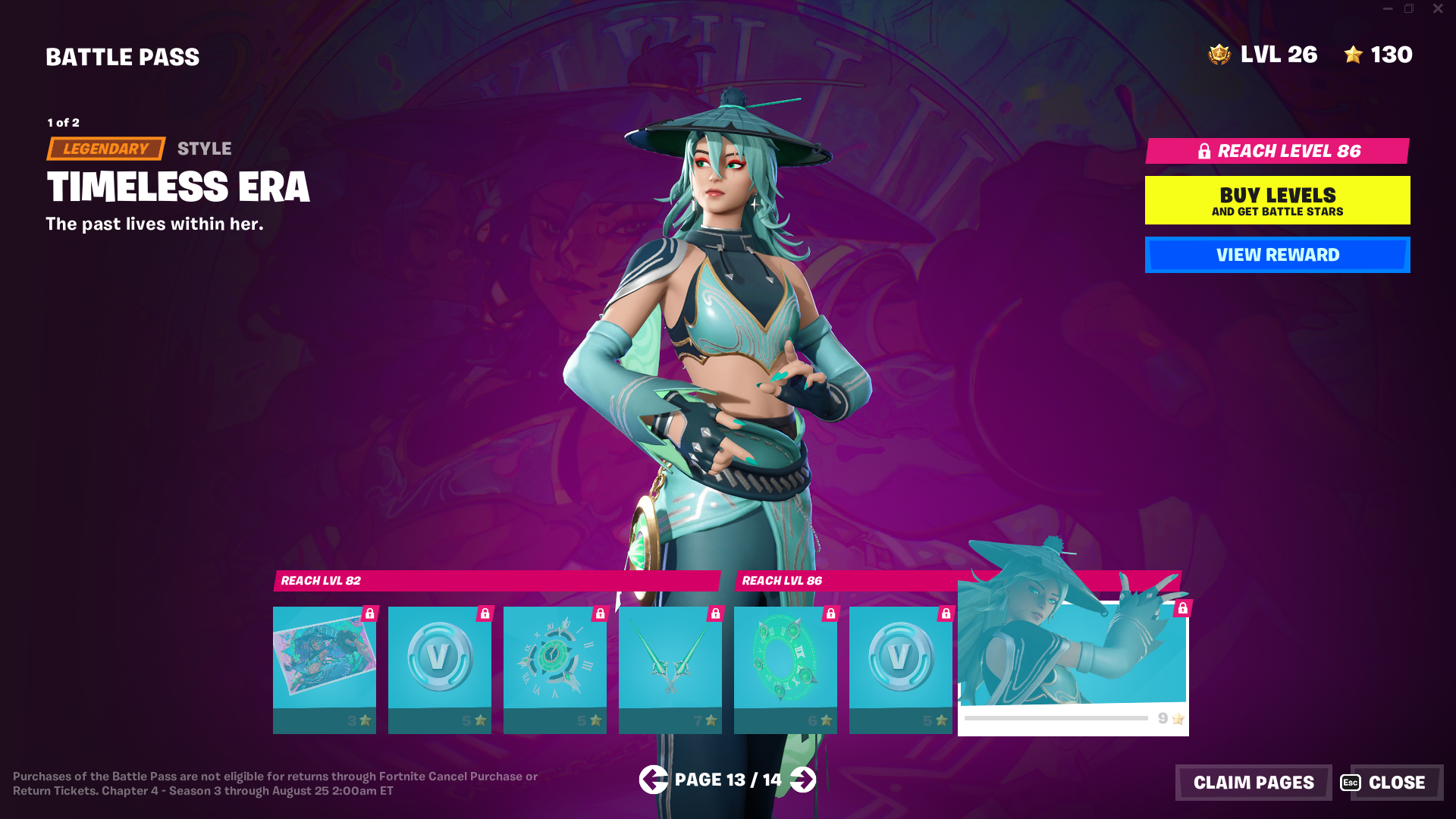 Page 14
Optimus Prime Loading Screen
Autobot Emblem Back Bling
G1 Optimus Prime Spray
Roll Out! Emoticon
Cybertronian Axe Pickaxe
100 V-Bucks
Optimus Prime Outfit
Barrage Cannon Built-in Emote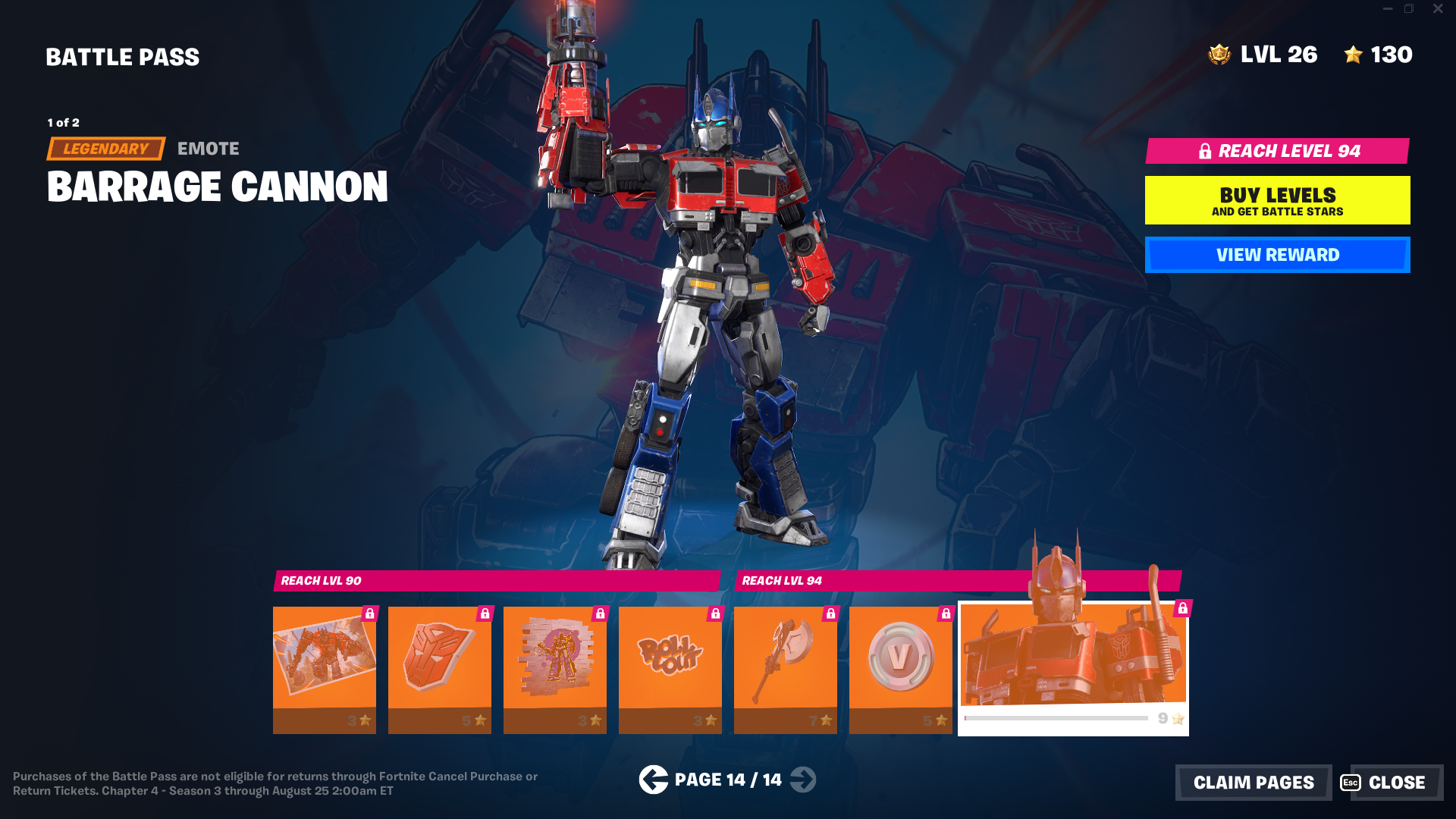 ---
Bonus Page 1
Lucha Slashers Pickaxe
Call of the Wilds Loading Screen
Sky Scout Glider
Beacon Glass Back Bling
Dynamo Mariposa Style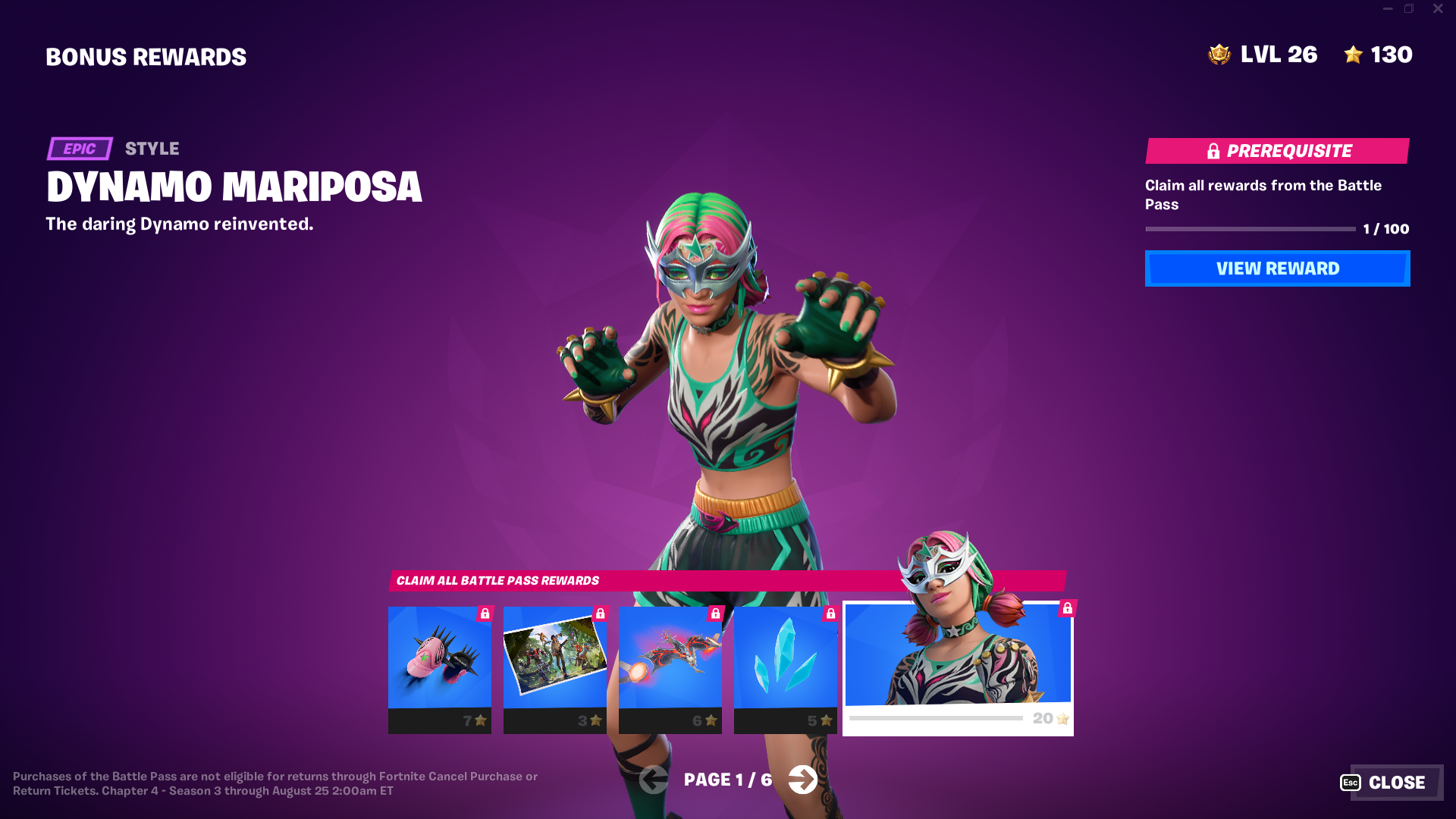 Bonus Page 2
Autobot Signal Flare Contrail
Signal Tracer Back Bling
Buzzsaw Breacher Glider
Marauder's Machete Pickaxe
Lorenzo the Reckless Style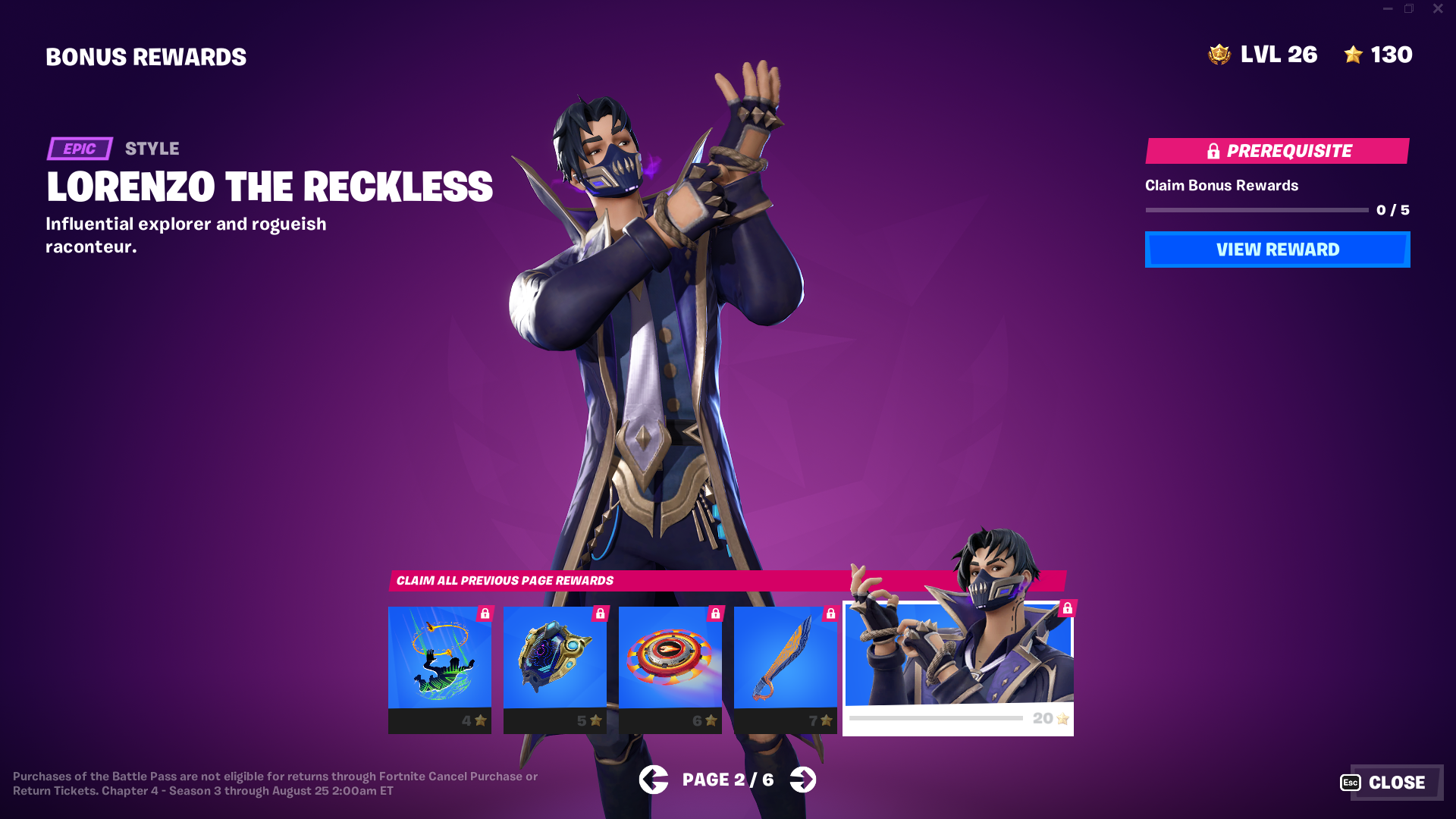 Bonus Page 3
Electric Shredder Back Bling
Nomad's Carvers Pickaxe
Psionic Surfer Glider
Rosa Libre Wrap
Battle-Tested Optimus Style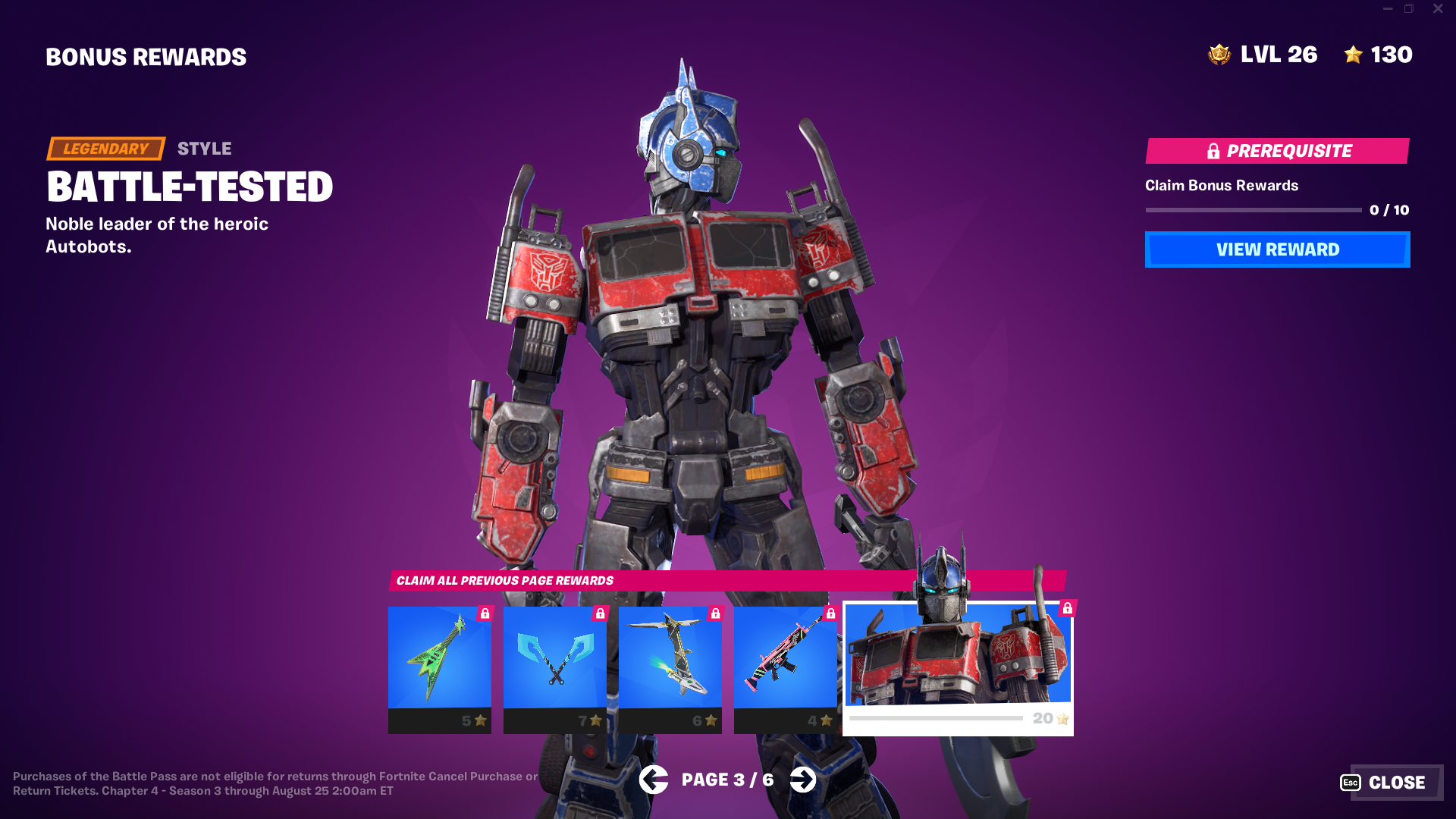 ---
What do you think of the Chapter 4, Season 3 Battle Pass? React below!
Follow us on Twitter (@FortniteBR) and Instagram (@FortniteBR) to keep up with the latest Fortnite news, leaks and more.