Fortnite Party Hub now available on mobile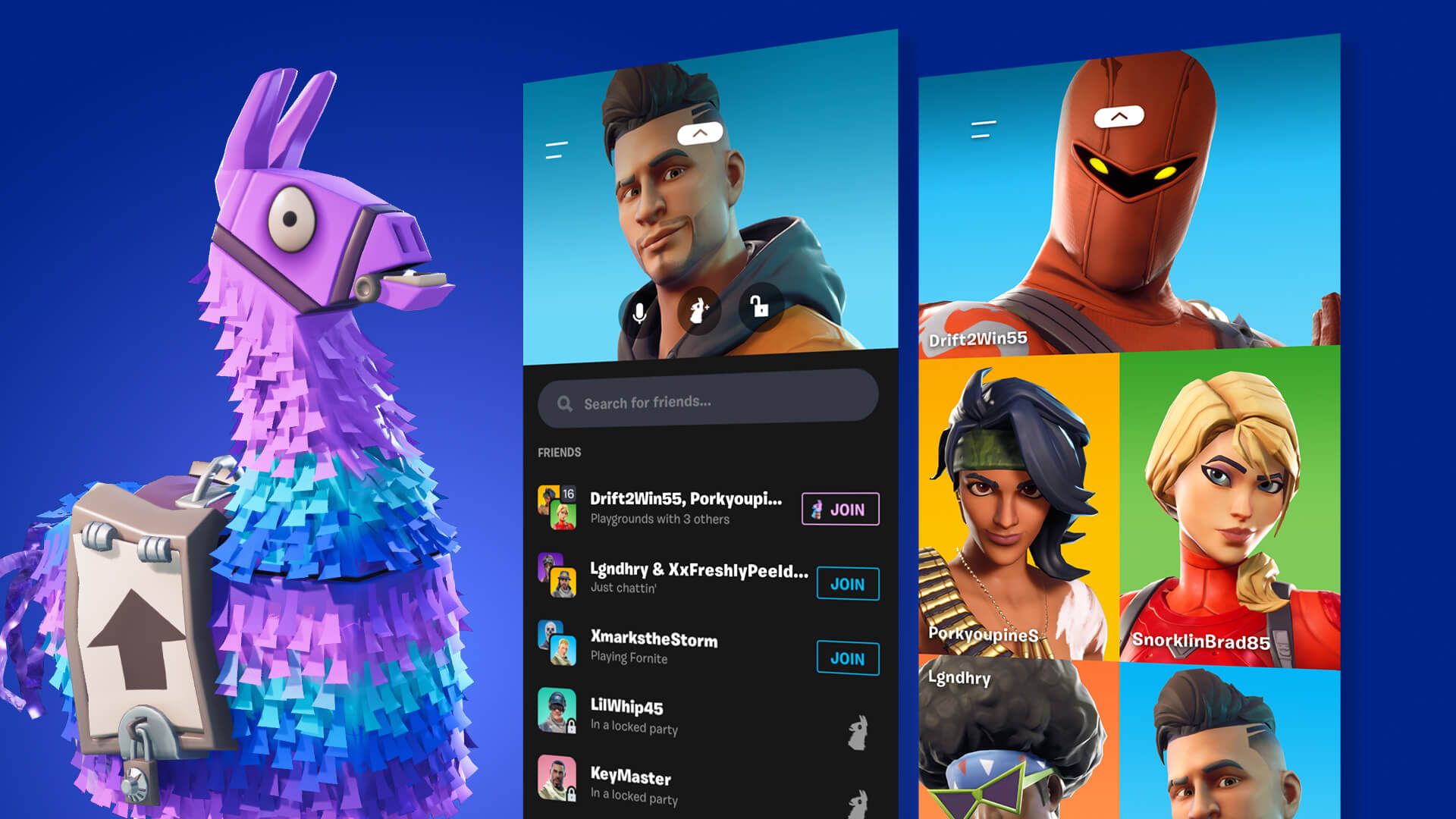 Epic has just released an FAQ on their website to announce the addition of a new feature to Fortnite Mobile: Party Hub. According to the post, it should be available with the latest update (v10.31) which released today. You can head over to fortnite.com/download to get it if you don't already.
The Party Hub is "a new feature that provides a space to link up with your friends as you prepare to drop into Fortnite". Here's a list of questions and answers to sum up how it works:
Q: What is Party Hub?
A: It's a new feature in Fortnite on mobile that lets you see which friends are online, start a party, and voice chat with that party before jumping in game on any platform or downloading the game on your mobile device.
If you play on mobile, you can now party up while you're downloading an update.
Q: How do I use Party Hub?
A: If you already have Fortnite installed on your mobile device, make sure you're updated to the latest version to get started. If you don't, from your mobile device, head over to
fortnite.com/download
.
Q: I wanted to download the game on mobile but this looks different - did I download the wrong thing?
A: Nope, the Fortnite mobile app main screen just looks a little different. When you open the app, the top of the main screen has a button to jump in-game, while the bottom of the main screen gets you into the Party Hub to party up before you're in-game.
Q: How do I play Fortnite on mobile?
A: Tap the yellow "Install" or "Play" button on the main screen or, if you're in the Party Hub, tap the arrow at the top of the screen or scroll down while at the top of the screen to pull down the Fortnite button. After it installs, just tap play! You'll remain in a group if you've joined a party and can hop right into a game together.
Note: some mobile devices can download the Fortnite app on mobile and get into the Party Hub but don't meet the required specs to run Fortnite the game - if that's the case, a prompt will appear letting you know (these requirements haven't changed since the Party Hub launched, but we're working on adding more devices).
Q: Can I message my friends via Party Hub instead of voice chatting?
A: Not yet, but work is in progress for this functionality.
Q: Can I talk to my friends while they are in a match, even if I'm not?
A: Yes!
Q: How do I transfer my party from my phone to PC/Console?
A: Just launch Fortnite on your preferred platform while you still have the app open. Your party and voice chat will transfer to the game.
Q: Can I join a friend who is in-game while I am in Party Hub?
A: Yes!
Q: If I have a friend in my party who is in Party Hub, but not in game, am I forced to queue for bigger match types? Will players in Party Hub and in my party affect how I queue for matches?
A: No. Your friends in your party who are in Party Hub will appear as if they are sitting out.
Q: What if I want to use my phone to talk with my party instead of my PC/Console headset?
A: If you have the app open while in a party on your PC/Console, just tap the "Transfer Voice to This Device" button. You will be able to use your mobile device to communicate with your friends, but you will still only be able to control parties from your game lobby.
Q: How do I stop other players from joining me while in Party Hub?
A: The lock icon over your avatar will lock your party so that other players can only join by invite. If you want to stop people from voice chatting with you or joining your party, make sure you press the lock icon. You will be prompted when you first open the app to adjust this setting.
Q: How do I invite someone to my party from Party Hub?
A: Llama Bells! You can ring your friend's Llama Bell in many different places to invite them to your party. You can ring it from the home screen, friend screen, party screen, or the Llama Bell menu. Be careful not to ring it too many times - there's a limit on llama bells so you can't spam your friends.
Q: Is there any way to turn off Party Hub? Do I have to use the social features in Party Hub?
A: No, but if you do not want to interact with other players you can set your party to private.
Q: Why was I unable to join my friend's party?
A: First make sure you have a stable internet connection. Second, try joining again. It's possible their party state had changed while you tried to join. They also may have backgrounded or closed their app when you tried to join.
Q: Can I access Party Hub from Console/PC?
A: The Party Hub feature is only available on mobile. However, anyone in the Party Hub can party up with players on any other platform.
Q: What should I do if I am on mobile and I've joined a party started by console friends but they can't hear me?
A: Some console parties require players to choose between chat audio either from their party or from in-game. Fortnite cross platform parties need chat audio to come from in-game in order for this feature to work.
PlayStation: Go to your party in the PlayStation menu, select [Party Settings] > [Chat Audio] and select Prioritize Game Chat
Xbox: [Xbox home button] > [Party tab] > [Select party] > Press the Options button to switch to game chat
Q: How do I switch my profile photo? What about my background color?
A: Open the profile menu from the top left hamburger button. Tap on "Edit Profile" and then tap on your avatar icon. You will have the option to choose from any outfit you have in game, as well as a few free options. This is where you can change your background color, too.
Since Party Hub is an all-new communication platform for Fortnite, we recommend all players review the Epic Games' Community Rules. You can read them
here
.
Party Hub creates new possibilities for syncing up with your squad and staying in touch with friends, and right now we're just scratching the surface of what's possible. We can't wait to hear your feedback as we iterate on this new feature. Try it out and let us know what you think.
SOURCE: Epic Games