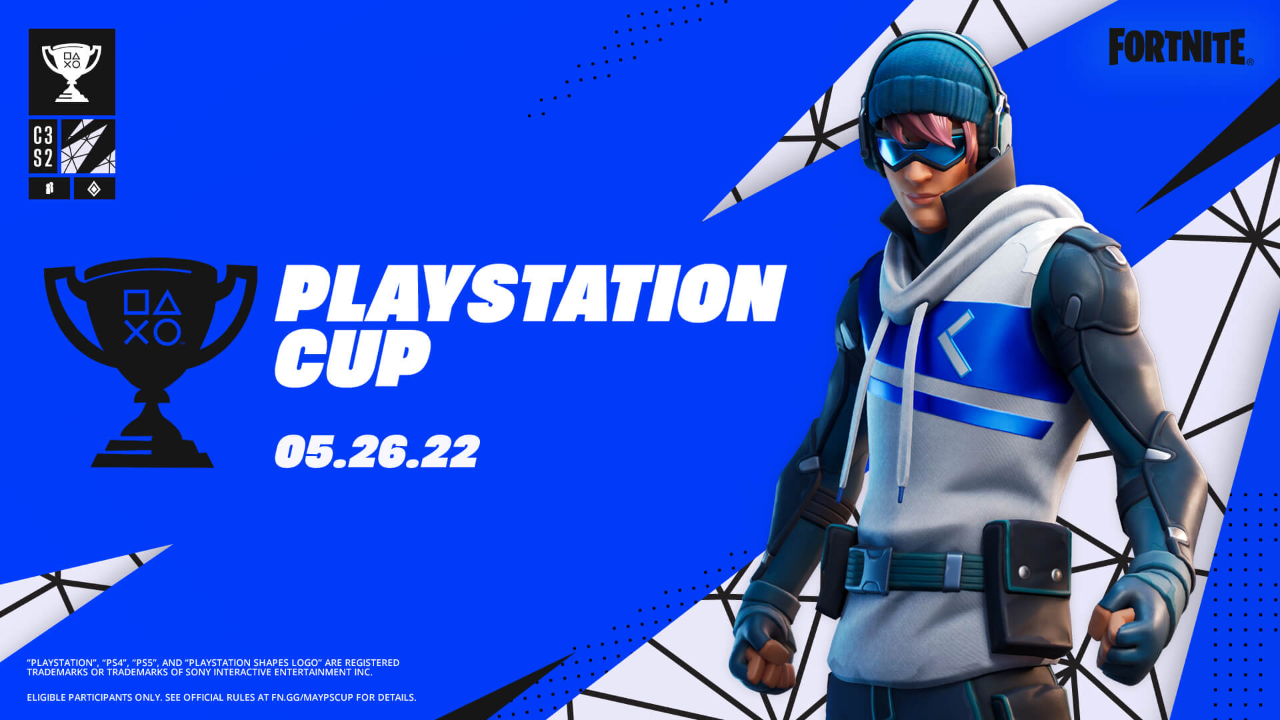 Fortnite has teamed up with PlayStation once again to bring players an exclusive tournament with big prizes to be won. Players will have an opportunity to compete for a share of $116,750 from May 26 through May 28. Unlike the previous PlayStation tournament, the new cup will be based on Fortnite's classic Battle Royale modes - with building enabled.
The PlayStation Cup is a Duos competition with three rounds. Round 1 is an open competition and will give players 3 hours to compete in a maximum of 10 matches to earn as many points as possible. Only the top 500 Duos in each region will advance to Round 2, and then the top 50 Duos from each region will advance to Round 3. Round 3 consists of 6 total matches. The top-performing players in Round 3 will earn a prize in each region.
All players who earn at least 8 points in Round 1 will earn the new 'The Greatest' in-game Spray.

---
The Points format for Round 1 and 2 of the PlayStation Cup is as follows:
Victory Royale: 25 Points
2nd: 22 Points
3rd: 20 Points
4th: 18 Points
5th: 17 Points
6th: 16 Points
7th: 15 Points
8th: 14 Points
9th: 13 Points
10th: 12 Points
11th: 11 Points
12th: 10 Points
13th: 9 Points
14th: 8 Points
15th: 7 Points
16th: 6 Points
17th: 5 Points
18th - 19th: 4 Points
20th - 21st: 3 Points
22nd - 23rd: 2 Points
24th - 25th: 1 Point
Each Elimination: 1 point
---
The Points format for Round 3 of the PlayStation Cup is as follows:
Victory Royale: 32 Points
2nd: 28 Points
3rd: 26 Points
4th: 24 Points
5th: 23 Points
6th: 22 Points
7th: 21 Points
8th: 20 Points
9th: 19 Points
10th: 18 Points
11th: 17 Points
12th: 16 Points
13th: 15 Points
14th: 14 Points
15th: 13 Points
16th: 12 Points
17th: 11 Points
18th: 10 Points
19th: 9 Points
20th: 8 Points
21st: 7 Points
22nd: 6 Points
23rd: 5 Points
24th: 4 Points
25th: 3 Points
26th - 30th: 2 Points
31st - 35th: 1 Points

Each Elimination: 3 Points
For more information, see the PlayStation Cup Official Rules.
---
In other news, Pac-Man is coming to Fortnite on June 2.
Follow us on Twitter (@FortniteBR) and Instagram (@FortniteBR) to keep up with the latest Fortnite news, leaks and more.