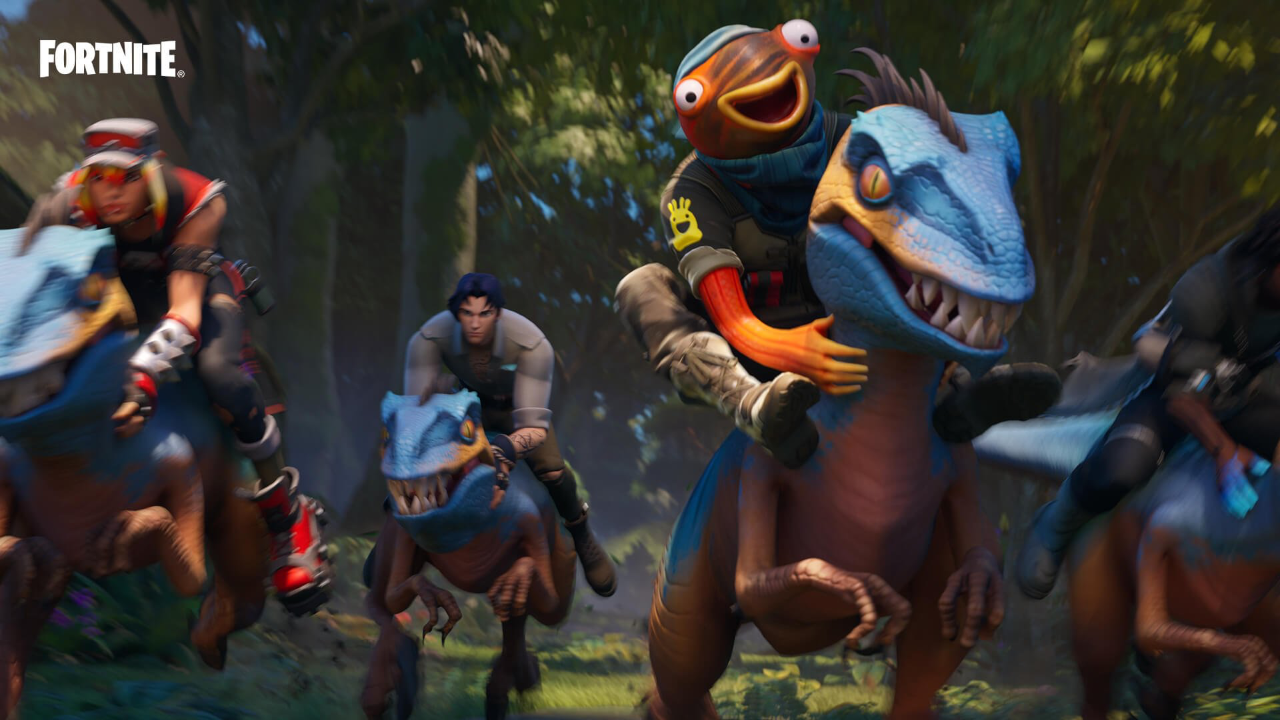 The Wilds await in Fortnite Battle Royale Chapter 4 Season 3. The center of the Island has collapsed, revealing a vast, hidden jungle with ancient secrets to discover. Ascend to canopies, ride raptors, and slide in the mud for speed and camouflage. Detect enemies from the canopies with the "Thermal DMR," skate on vines firing the "Flapjack Rifle," and turn opponents into spectators with the "Cybertron Cannon."
Ride a Raptor!
Raptors are running wild in the jungle – take command of these jurassic creatures by jumping on top of them. Unleash your arsenal and leap to new heights as you ride.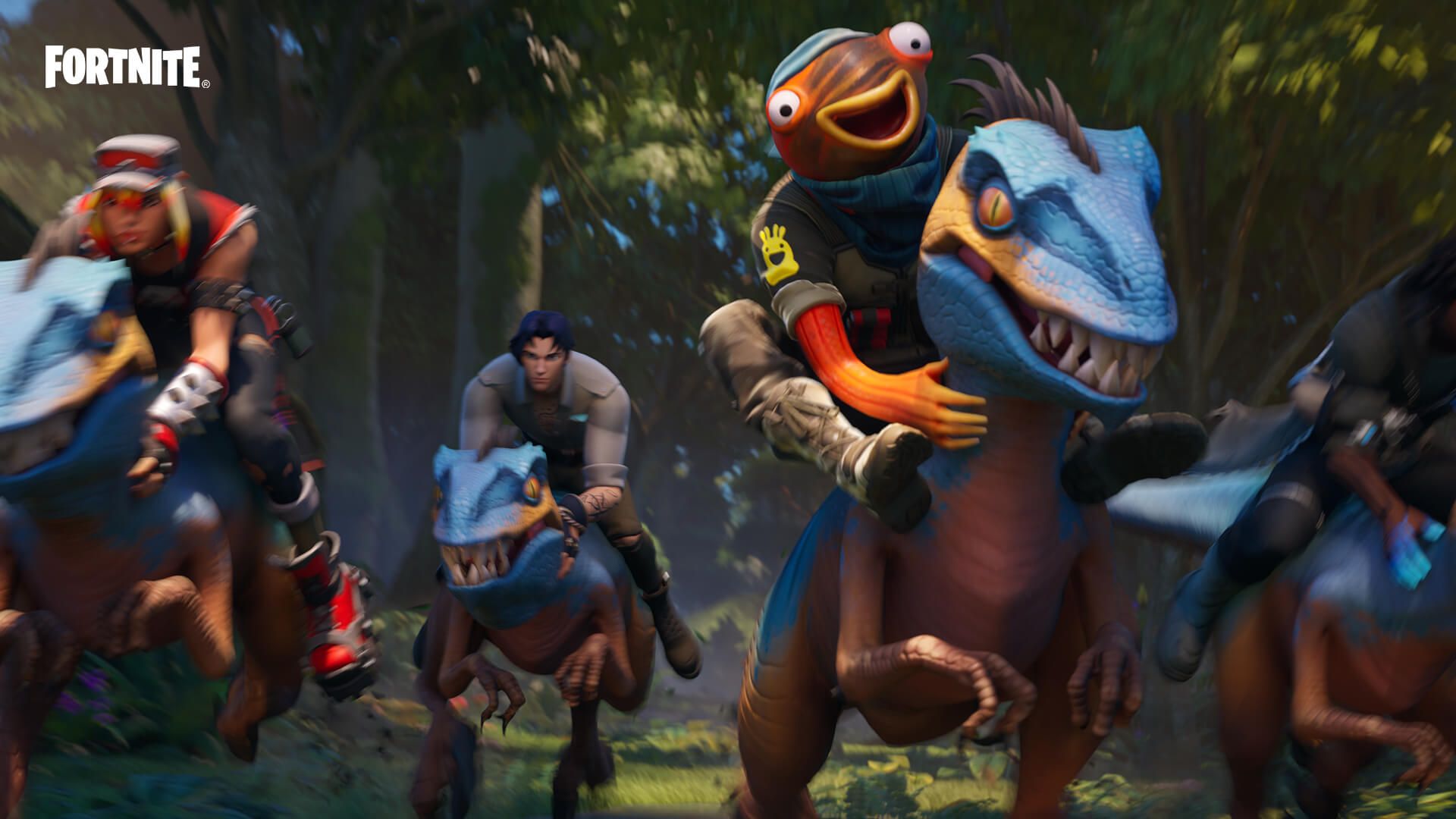 What if you see a raptor egg instead? Nurture it and it'll automatically be your raptor when it hatches!
Go Wild With New Weapons
Thermal DMR

Flapjack Rifle

Kinetic Boomerang

Cybertron Cannon

Wildwasp Jar

Go Back in Time with Unvaulted Weapons
Drum Shotgun

Combat SMG

Be MEGA Prepared
There's the new weapons, there's the unvaulted weapons, but don't forget about these Chapter 4 Season 2 carryovers:
Havoc Pump Shotgun
Maven Auto Shotgun
Havoc Suppressed Assault Rifle
Red-Eye Assault Rifle
Submachine Gun
Tactical Pistol
Heavy Sniper Rifle
Chug Cannon
Heisted Breacher Shotgun
Heisted Accelerant Shotgun
Heisted Run 'N' Gun SMG
Shadow Tracker
Slide for Stealth
A jungle climate means mud, so master the terrain: slide in the mud for more speed than regular sliding and gain camouflage in the process.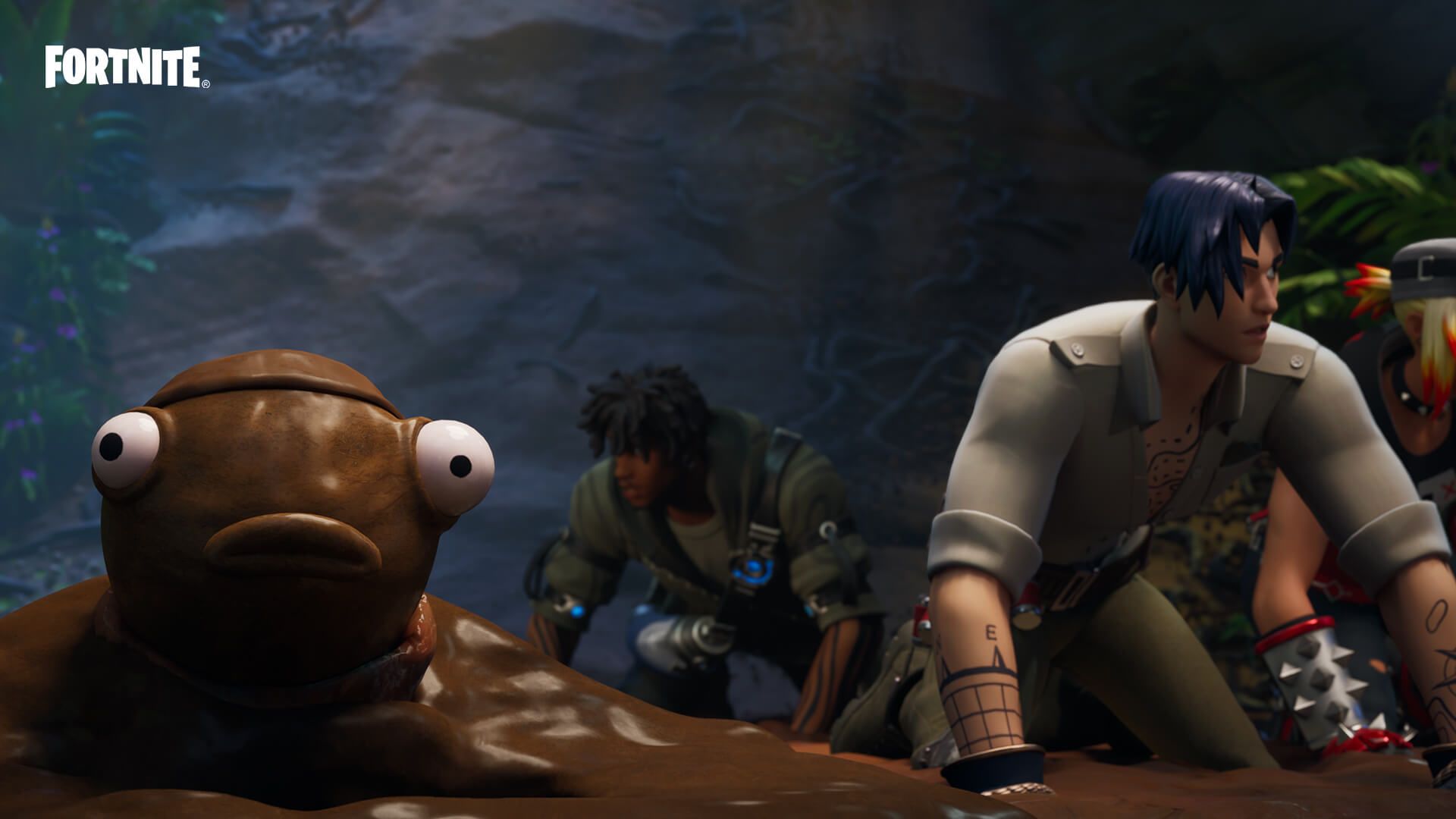 Grind Vines for Victory
Take an adrenaline-pumping ride on grind vines, being able to use weapons at the same time.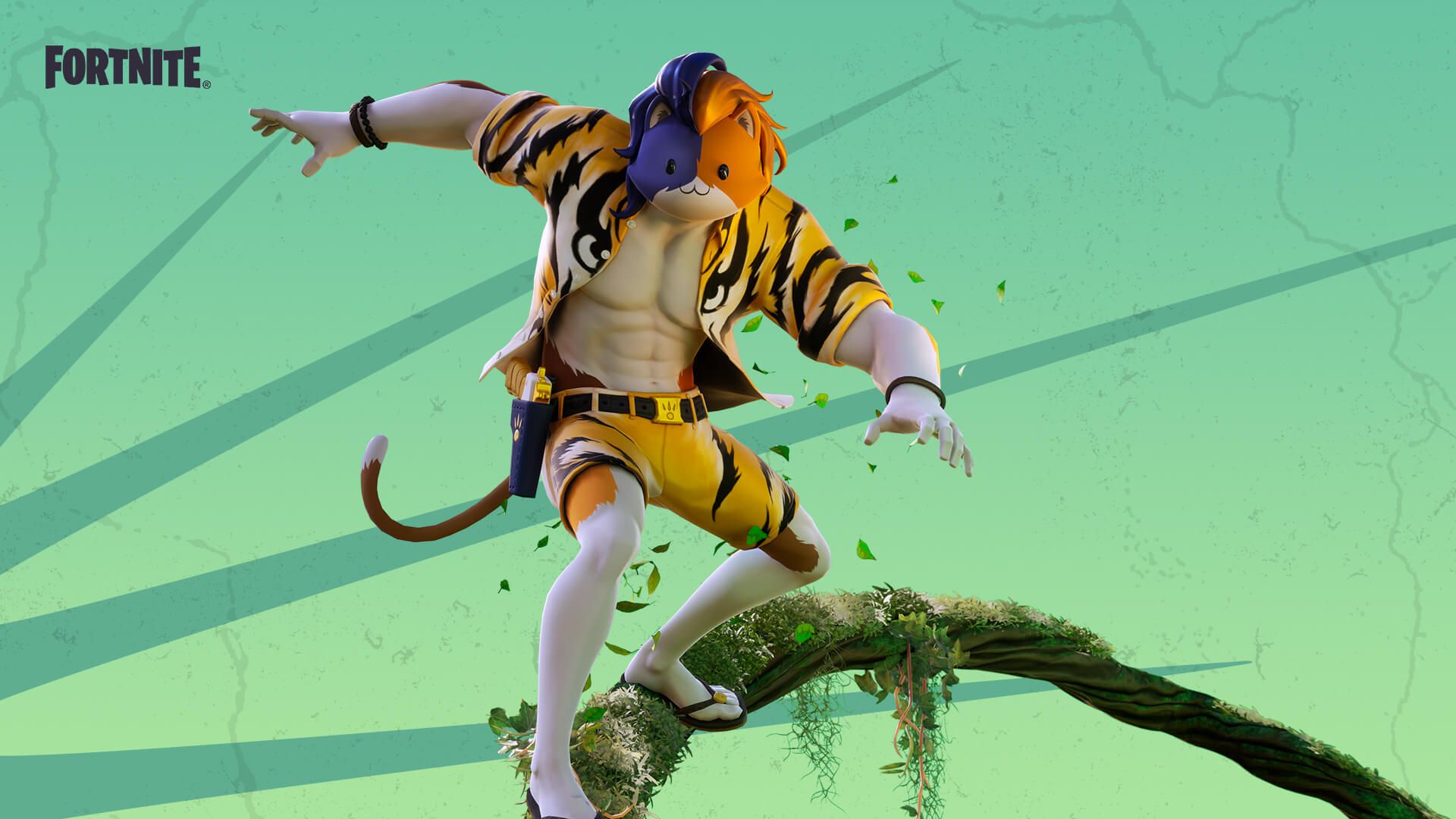 Contend from the Canopies
You don't need the ground to gain the high ground. Ascend to the jungle's canopies and fire high from above! When you get back on the ground, find some mud for a clean (but also not really clean) getaway.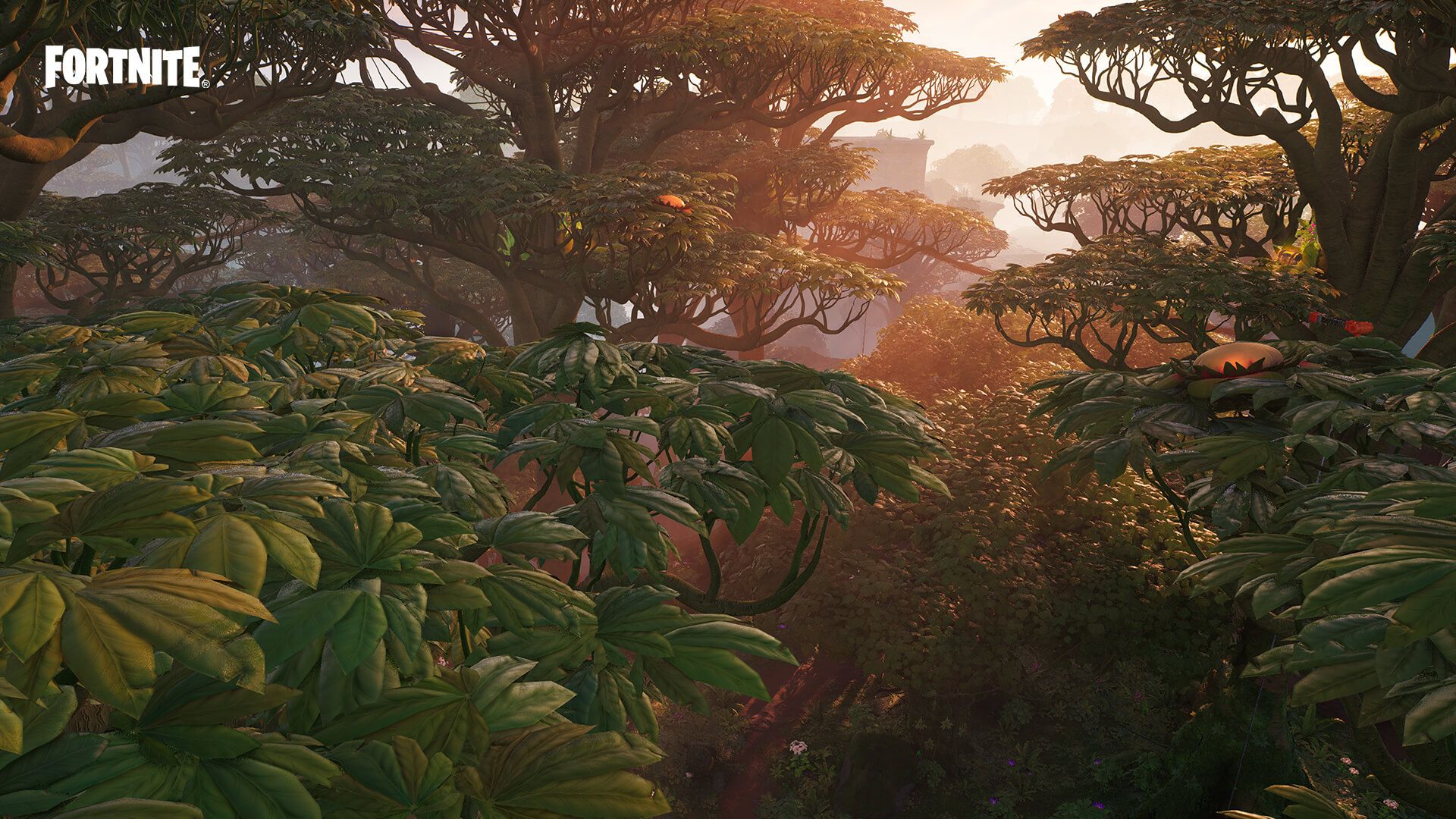 Fight with Flora
Use the power of new, dangerous vegetation to your advantage. Shoot a Bomb Flower to create an explosion, or shoot a Stink Flower to unleash toxic gas on nearby enemies. Need to heal up? Swing your Pickaxe at the helpful Slurp Plants.

There's also a flower for mobility. Run into Hop Flowers to bounce around the jungle without worrying about fall damage!

Adapt to the Jungle with New Reality Augments
Primal Companion

WildWasp Weaponry

Sprint Lines

Shell Slide

Swift Shotgun Reload

Reckless Rifle Reload

Medium Ammo Acquired

Let the Wild Times Roll
In addition to new Reality Augments, roll returning ones:
Traversal Warrior (formerly known as Rail Warrior)
Aquatic Warrior
Light Fingers
First Assault
Bloodhound
Steady Hands
SMG Sign Off
Exotic Grab Bag
Soaring Sprints
Mythic Munition
Keymaster
Rarity Check
Shotgun Striker
Work Wild
Bounty Boards are back in the form of Job Boards! Upon interacting with a Job Board, you'll be given a choice of three jobs, including a bounty. Complete jobs for Bars!

A Wild Change
With Chapter 4 Season 3, Pickaxes are now officially called 'Pickaxes' instead of 'Harvesting Tools'.
---
In other news, Epic Games has announced the removal of Siphon on Elimination in tournaments. Click here to read more.
Follow us on Twitter (@FortniteBR) and Instagram (@FortniteBR) to keep up with the latest Fortnite news, leaks and more.