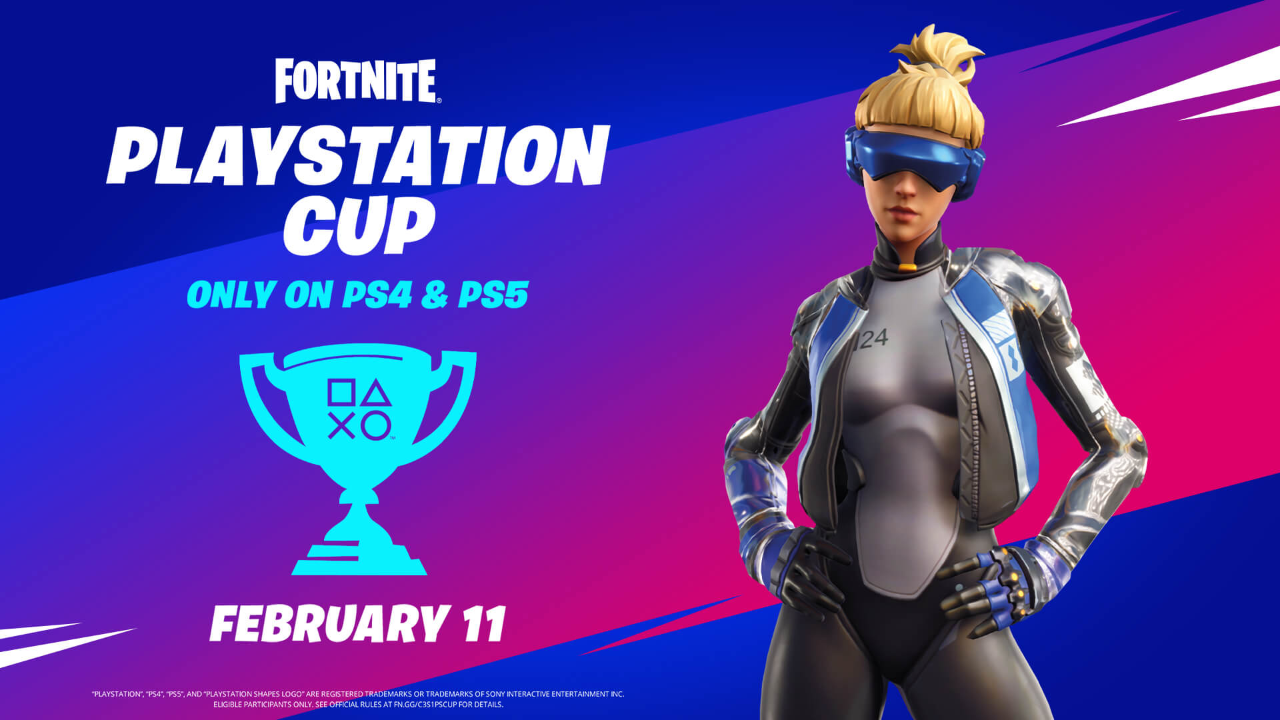 Fortnite has teamed up with PlayStation once again to bring players an exclusive tournament with big prizes to be won.
Like the previous PlayStation Cups, the latest edition is set to give away over $100,000 in prizes. Fortnite has noted in their blog that the cup will not be available for the Asia server region and players in Japan are ineligible to compete.
The PlayStation Cup is a solo competition with two rounds. Round 1 is an open competition and players will have 3 hours to compete in a maximum of 10 matches to earn as many points as possible. Round 2 will only be available to the top 100 players in each region from Round 1. Round 2 will only consist of 6 matches in total, with the top performing players earning a prize in each region.

EU, NAE, NAW & Brazil Prizing
1st    $1,200
2nd   $1,100
3rd   $1,000
4th  $800
5th     $725
6th     $600
7th  $550
8th     $500
9th  $450
10th - 25th $400
26th - 50th $300
51st - 64th $200
Oceania & Middle East Prizing
1st       $650
2nd    $600
3rd     $550
4th     $500
5th        $450
6th        $400
7th     $350
8th - 9th $300
10th - 20th $200
PlayStation Cup Points Format
Victory Royale: 30 points
2nd: 25 points
3rd: 22 points
4th: 20 points
5th: 19 points
6th: 17 points
7th: 16 points
8th: 15 points
9th: 14 points
10th: 13 points
11th - 15th: 11 points
16th - 20th: 9 points
21st - 25th: 7 points
26th - 30th: 5 points
31st - 35th: 4 points
36th - 40th: 3 points
41st - 50th: 2 points
51st - 75th: 1 point
For more information, check out the official blog post from the Fortnite website.
---
In other recent news, Fortnite has announced the latest Creative Mayhem Event. Read more here.
Follow us on Twitter (@FortniteBR) and Instagram (@FortniteBR) to keep up with the latest Fortnite news, leaks and more.